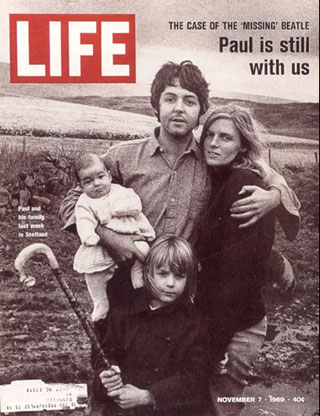 On October 12, 1969, disc jockey Russ Gibb of WKNR-FM in Detroit, MI takes a call from a listener who tells him that in "Revolution 9," a voice says, "Turn me on, dead man." And it's a sign that Paul McCartney is dead. He plays the song as instructed and his listener phone line lights up with more callers offering clues that indicate that Macca "blew his mind out in a car" accident a few years earlier and was replaced by a lookalike to spare Beatles fans the grief of losing their hero.
The rumors had started with an article about three weeks earlier in the college paper at Drake University in Iowa that explored whether McCartney is dead and mentioned the backwards masked voice on "Strawberry Fields…" and other clues. Two days after Gibb's broadcast a University of Michigan student publishes a satirical review of Abbey Road that details the clues to McCartney's demise on the album, a number of which he simply made up. Soon after, they are being picked up by wire services and printed in newspapers across America. On October 19, WKNR devotes a two-hour show to the mystery.
Eventually hundreds of "clues" are "discovered" by fans. The armband Paul wears on the cover of Sgt. Pepper's supposedly reads "OPD" for "officially pronounced dead" (though it actually reads "OPP" for Ontario Provincial Police and was given to McCartney while on tour in Canada) – just one of the many hints of Paul's death people read into that cover. Similarly, the four Beatles striding across the street on Abbey Road represent an undertaker (Ringo in black), gravedigger (George in denim), minister (John in white) and corpse (Paul barefoot and out of step with the others). The license plate of the Volkswagen in the background reads "28 IF," meaning McCartney would have been age 28 if he lived (though he was only 27 at the time).
If you have the time, you can spend hours on the Internet examining the plethora of clues. The fact that McCartney was in seclusion on his Scottish farm as the rumors swirled didn't help matters. Eventually he allowed a Life magazine reporter and photographer to visit for a cover story to prove he was alive. The supreme irony is that while millions were wondering if Paul was dead, The Beatles were on their last legs as a band.
Related: 'Paul is Dead' radio DJ Russ Gibb died in 2019

Latest posts by Best Classic Bands Staff
(see all)