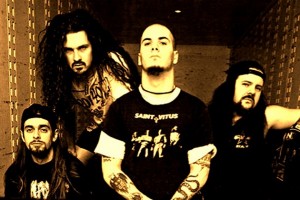 Heroes to headbangers everywhere, Pantera is giving fans plenty look forward to in the coming months, as the raucous metal band releases a brand new single "best of" disc centering primarily on the Philip Anselmo era on October 30th and a compilation box set on December 11th.
History of Hostility is essentially a nine-track primer featuring the band's biggest hits from all five of their studio albums (i.e. your ticket to creating new Pantera converts over the holidays).
For the full experience, though, the band will also be issuing The Complete Studio Albums 1990-2000, a box set of all their albums on CD and vinyl, including Cowboys From Hell (1990), Vulgar Display of Power (1992), Far Beyond Driven (1994), The Great Southern Trendkill (1996), and Reinventing the Steel (2000). 1990 was the year that they debuted their signature jackhammer grooves, heavyweight riffs and guttural howls, going on to earn four platinum albums and a #1 debut on the Billboard charts in the decade that followed.
The LP version will also include two rare tracks on a 7-inch 45 that are finally making their debut on vinyl – "Piss," a song that can be found on the 20th Anniversary Edition of Vulgar Display of Power, and "Avoid the Light," from the Dracula 2000 soundtrack.
Best start prepping that gift list right now.
History of Hostility Track List:
1. "Cowboys from Hell"
2. "Cemetery Gates" (Demon Knight Edit)
3. "Mouth for War"
4. "Walk"
5. "Fucking Hostile"
6. "I'm Broken"
7. "5 Minutes Alone"
8. "Drag the Waters"
9. "Revolution is My Name"

Latest posts by Best Classic Bands Staff
(see all)