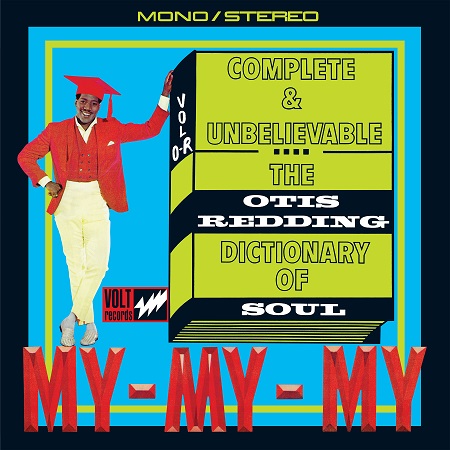 Rhino Records is celebrating the 50th anniversary of the release of soul great Otis Redding's 1966 classic album Complete & Unbelievable: The Otis Redding Dictionary of Soul with a two-disc deluxe edition. The expanded collection includes stereo and mono mixes of the album (remastered from Ian Sefchick's vinyl masters) plus eight rare bonus tracks. Complete And Unbelievable… The Otis Redding Dictionary of Soul (50th Anniversary Edition) will be available on CD October 7. (Pre-order here.) The collection will also be released digitally.
Rhino will also release Dictionary of Soul as a double-LP set featuring both mono and stereo versions of the album, the latter of which has been out-of-print for decades. Both LPs will be pressed on 180-gram vinyl. The set comes with a bonus 7-inch reissue of the single: "Try A Little Tenderness" b/w "I'm Sick Y'all." (Pre-order the vinyl here.)
The original album, Redding's fifth studio set, was recorded in the summer of 1966 at Stax Studios in Memphis. Together with Booker T. and the M.G.'s, pianist Isaac Hayes and the Memphis Horns, Redding recorded 12 songs for the album, including "Try A Little Tenderness" and "Fa-Fa-Fa-Fa-Fa (Sad Song)." The album peaked at #5 on the U.S. R&B charts and was once praised by critic Jon Landau as "The finest record ever to come out of Memphis and certainly the best example of modern soul ever recorded."
Here's a great live version of "Try a Little Tenderness"…
The eight rare bonus tracks include several studio outtakes in mono, among them "Trick or Treat" and "Loving By the Pound." Also featured is a nearly seven-minute version of "Try A Little Tenderness" recorded live in 1967 during the Stax/Volt Revue's European tour.
Dictionary of Soul was the last solo studio album released during Redding's lifetime. Just a year after its release, Redding lost his life in a plane crash while flying to a show in Wisconsin.
Related: An expanded version of Redding's Live at the Whisky a Go Go is also being released
Track Listing (CD edition)
Disc One: Original Album in Mono
"Fa-Fa-Fa-Fa-Fa (Sad Song)"
"I'm Sick Y'all"
"Tennessee Waltz"
"Sweet Lorene"
"Try A Little Tenderness"
"Day Tripper"
"My Lover's Prayer"
"She Put The Hurt On Me"
"Ton Of Joy"
"You're Still My Baby"
"Hawg For You"
"Love Have Mercy"
Bonus Tracks
"Don't Mess With Cupid" (Mono)
"Trick Or Treat" (Mono)
"Loving By The Pound" (Mono)
"You Left The Water Running" (Mono)
"Try A Little Tenderness" (Take 1, Stereo)
Disc Two: Original Album in Stereo
"Fa-Fa-Fa-Fa-Fa (Sad Song)"
"I'm Sick Y'all"
"Tennessee Waltz"
"Sweet Lorene"
"Try A Little Tenderness"
"Day Tripper"
"My Lover's Prayer"
"She Put The Hurt On Me"
"Ton Of Joy"
"You're Still My Baby"
"Hawg For You"
"Love Have Mercy"
Bonus Tracks
"Fa-Fa-Fa-Fa-Fa (Sad Song)" (Stereo)
"Day Tripper" (Stereo)
"Try A Little Tenderness" (Stereo)
Track Listing (Vinyl edition)
(1LP Mono/1LP Stereo)
"Fa-Fa-Fa-Fa-Fa (Sad Song)"
"I'm Sick Y'all"
"Tennessee Waltz"
"Sweet Lorene"
"Try A Little Tenderness"
"Day Tripper"
"My Lover's Prayer"
"She Put The Hurt On Me"
"Ton Of Joy"
"You're Still My Baby"
"Hawg For You"
"Love Have Mercy"
Vinyl Bonus: 7″ Single
"Try A Little Tenderness" (b/w) "I'm Sick Y'All"

Latest posts by Best Classic Bands Staff
(see all)