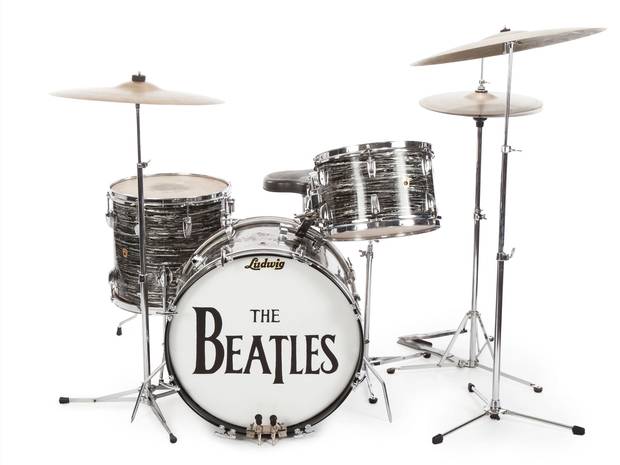 Update (12/6): Oh my my! Ringo Starr's 1963 Ludwig Oyster Black Pearl three-piece drum kit – used to play early hits like "She Loves You" and "Can Buy Me Love" – sold for $2.2 million to Indianapolis Colts owner Jim Irsay on Friday (December 4th). Irsay is an avid music collector who owns about 30 famous guitars, including instruments played by Paul McCartney, George Harrison, John Lennon, Bob Dylan, Jerry Garcia and Eric Clapton.
"Finally, after 45 years, the Beatles are together again," Irsay said in a text message to the Associated Press. Hmmm…
Ringo's copy of The Beatles album, aka the White Album, numbered A0000001, far exceeded the pre-auction estimate of $200,000. With the auction house's fees included, the 2-LP set went for a whopping $790,000, believed to be the highest price an album has sold at auction.
We thought, 'What are we going to do with all this?'" So said Ringo Starr to the Associated Press the other day, explaining the decision made by him and his and his wife of 34 years, Barbara Bach, to auction hundreds of their personal possessions, many of which are Beatles collectors dreams. For Starr, it's really a matter of owning too much stuff: the website celebrityworth.com estimates that the Fab Four drummer's net worth is $350 million.
So from December 3-5, Beverly Hills, CA-based entertainment auction house Julien's Auctions, will auction Property from The Collection of Ringo Starr and Barbara Bach. The once-in-a-lifetime collection curated by the couple features items from their London estate and Beverly Hills and Monaco residences. (The couple met in 1980 on the Caveman movie set and married in 1981.) The collection is comprised of musical instruments including drum sets, career memorabilia from the Beatles era and Ringo's solo career (including his All-Starr Band tours), fine antiques, custom-made eclectic furnishings, fine art and personal items.
The highlight for any classic rock fan? The auction includes what the auction house calls "the most important drum kit to ever hit the auction block." Among the seven of Starr kits in the auction is the former Beatle's first 1963 Ludwig Oyster Black Pearl three-piece set. The kit was used by Starr in more than 200 performances between May 1963 and February 1964 and to record some of The Beatles biggest hits including "Can't Buy Me Love," "She Loves You," "All My Loving," "I Want to Hold Your Hand," "Money," "I Wanna Be Your Man," and many others. Paul McCartney also used the Oyster Black Pearl kit on his first solo album, McCartney. This specific drum kit has not been seen in public for more than 50 years ( Estimated value: $300,000 to $500,000).
"We have so much stuff and a lot of it we haven't seen in 20 to 30 years," Starr, 75, said to the AP interviewer from London. "It started with me looking at storage units we have all around the world it seems… we found we had so much stuff," he said. "We thought, 'What are we going to do with all this'?"
Ringo's other kits offered for sale each carry unprecedented provenance of the Beatles association and Ringo Starr's solo career.
Among the hundreds of items to be offered are some of Starr's other percussion instruments – tambourines, bongos, a hand drum inscribed to Starr by Harry Nilsson, and homemade noisemakers. A limited number of Starr's own custom-made drum sticks used onatage will also be offered in the sale. Guitars gifted to Starr by fellow Beatles are also part of the rare and remarkable items in the auction. George Harrison gave Starr a Gretsch guitar (estimated at $100,000 to $200,000). John Lennon gave his 1964 325FG Rose-Morris model Rickenbacker with a fire-glo sunburst finish (estimated at $600,000 to $800,000) to Starr after he played it on stage during The Beatles 1964/65 Christmas shows and later in his home studio. The guitar model became known as the "Beatle-Backer" and Lennon's likeness was used in advertisements for the guitar.
Also on the auction block is Starr's copy of The Beatles so-called White Album. What makes this item extra valuable? It's number: 0000001. When the vinyl LP of the two-record set was first pressed, each included a serial number and Ringo got it.
Stage garb worn by Starr as well as personal clothing from the wardrobes of former Bond girl Bach and Starr are also among the many highlights and include Ringo's personal and stage worn clothing by designers Armani, Gucci and John Varvatos. Tour jackets personalized for both Bach and Starr are also included. The tuxedo Ringo  wore when he was inducted into the Rock and Roll Hall of Fame as one of The Beatles is included as well as the gown that Barbara wore that same night.
Baby You Can Own My Car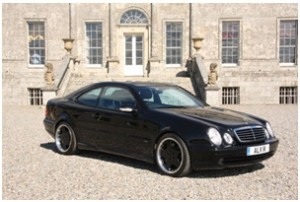 A 2000 Mercedes Coupe owned by two Beatles will be offered in the auction. It first belonged to George Harrison, who purchased the car new; it was later bought by Starr (estimate: $60,000 to $80,000). George and Ringo are the only two owners of the car.
If you want to bid but can't attend the Beverly Hills event, you can register to bid online or via phone here. If one of the six-figure items is out of reach, you can always buy a limited edition catalog signed by both Starr and Bach for a cool thousand bucks.
Portions of the auction proceeds will benefit The Lotus Foundation, a charity founded by Starr and Bach that assists a wide range of causes around the world, focusing primarily on family and child welfare, women's issues, addiction recovery and education.

Latest posts by Best Classic Bands Staff
(see all)