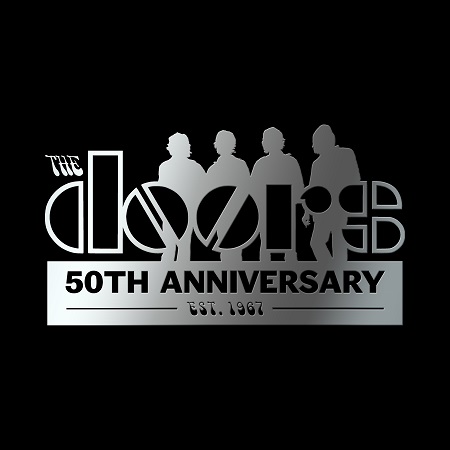 Fifty years to the day of the release of their debut album, January 4, 2017 will be proclaimed "Day of The Doors" in the city of Los Angeles. The day will be marked by a public event at 4:30 p.m. at the intersection of Pacific and Windward Avenues, the location of the iconic "Venice" sign. Founding Doors members John Densmore and Robby Krieger will attend as will family members of the late Ray Manzarek and Jim Morrison.
The announcement notes that The Doors "are quite possibly the most legendary Los Angeles band of all time," and who are we to argue? Formed in Venice, The Doors went on to become one of the defining sounds and voices of the 1960s and early '70s with a pair of #1 hits "Light My Fire" and "Hello, I Love You," as well as such classic rock songs as "Touch Me" (#3), "Riders on the Storm" and, of course, "L.A. Woman."
The Doors are celebrating their 50th Anniversary in 2017. Their self-titled debut album was released by Elektra Records on January 4, 1967, giving fans "Break On Through (to the Other Side)," "The Crystal Ship," "Back Door Man," "Alabama Song (Whisky Bar)," "The End," "Light My Fire" and more.
The Doors was like nothing that had come before. Most of the attention, from the start—aside from his raw, bad-boy sex appeal—was focused on the sophistication and visual power of Morrison's poetic lyrics.
Related: Our Album Rewind for The Doors' second LP, Strange Days
Says Densmore: "Very apropos that The Doors are jumpstarting our 50th in Venice where we started. Our songs sprang up out of the Pacific like beautiful, edible silver fish… and apparently the world took a big bite."
The January 4, 2017 event will be presided over by Los Angeles City Councilmember Mike Bonin, who notes: "Venice is a place where many have chased their pleasures or dug their treasures. It is a place that birthed The Doors and taught us all to cherish the funky, weird, and world-renowned vibe that Jim, Ray, Robby, and John helped make famous."

Watch a video for "L.A. Woman" that features many iconic Los Angeles landmarks…
The band's earliest known live recordings, only recently discovered, at a Los Angeles club called the London Fog from May 1966 were released earlier this month. London Fog 1966 is a seven-track set that finds the quartet mixing blues covers with early versions of Doors originals.
Related: The Doors perform on American Bandstand in 1967

Latest posts by Best Classic Bands Staff
(see all)