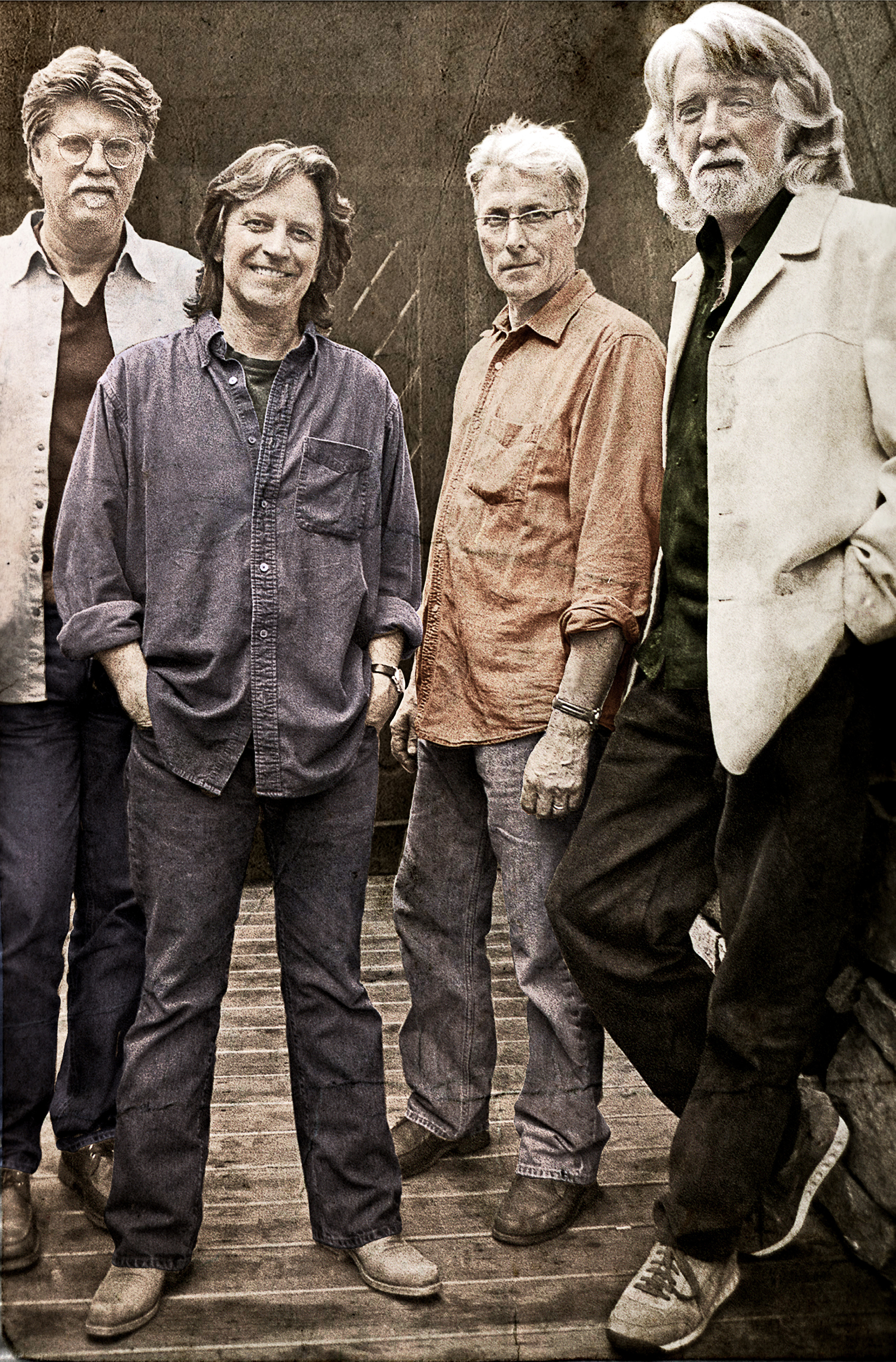 The Nitty Gritty Dirt Band and Friends will release Circlin' Back: Celebrating 50 Years, a concert album available as a CD or CD/DVD combo, on September 30 on the band's own NGDB Records. Recorded live at Nashville's historic Ryman Auditorium, the collection captures the American roots music group joined onstage by John Prine, Sam Bush, Vince Gill, Jerry Jeff Walker, Alison Krauss, Rodney Crowell, Byron House, and Jerry Douglas. Jackson Browne and longtime Nitty Gritty Dirt Band member Jimmy Ibbotson also appear on the recording, which features current NGDB members Jeff Hanna (guitars/vocals), Jimmie Fadden (drums/harmonica/vocals), Bob Carpenter (keyboards/accordion/vocals) and John McEuen (banjo/fiddle/guitar/mandolin). Pre-order the album here.
The Nitty Gritty Dirt Band remains best known for their landmark album Will the Circle Be Unbroken, released in 1972, six years after the group formed in Southern California. That album paired young Americana artists and the band with country legends such as Roy Acuff, Doc Watson, Earl Scruggs and Mother Maybelle Carter.
Watch Jackson Browne and the Nitty Gritty Dirt Band at the Ryman in Nashville
The Circlin' Back track list and the current band's touring schedule follow.
CD Track Listing:
1. "You Ain't Going Nowhere"
2. "Grandpa Was A Carpenter" Feat. John Prine
3. "Paradise" Feat. John Prine
4. "My Walkin' Shoes"
5. "Tennessee Stud" Fest. Vince Gill
6. "Nine Pound Hammer" Feat. Sam Bush With Vince Gill
7. "Buy For Me The Rain"
8. "These Days" Feat. Jackson Browne
9. "Truthful Parson Brown" Feat. Jackson Browne With Jerry Douglas, Sam Bush And Byron House
10. "Keep On The Sunny Side" Feat. Alison Krauss
11. "Catfish John" Feat. Alison Krauss
12. "An American Dream" Feat. Rodney Crowell With Alison Krauss
13. "Long Hard Road (The Sharecropper's Dream)" Feat. Rodney Crowell
14. "Mr. Bojangles" Feat. Jerry Jeff Walker
15. "Fishin' In The Dark" Feat. Jimmy Ibbotson
16. "Bayou Jubilee/Sally Was A Goodun"
17. "Jambalaya"
18. "Will The Circle Be Unbroken"
DVD track listing:
1. "You Ain't Going Nowhere"
2. "Grandpa Was A Carpenter" Feat. John Prine
3. "Paradise" Feat. John Prine
4. "My Walkin' Shoes"
5. "Tennessee Stud" Fest. Vince Gill
6. "Nine Pound Hammer" Feat. Sam Bush With Vince Gill
7. "Buy For Me The Rain"
8. "These Days" Feat. Jackson Browne
9. "Truthful Parson Brown" Feat. Jackson Browne With Jerry Douglas, Sam Bush And Byron House
10. "Keep On The Sunny Side" Feat. Alison Krauss
11. "Catfish John" Feat. Alison Krauss
12. "An American Dream" Feat. Rodney Crowell With Alison Krauss
13. "Long Hard Road (The Sharecropper's Dream) Feat. Rodney Crowell
14. "Mr. Bojangles" Feat. Jerry Jeff Walker
15. "Ripplin' Waters" Feat. Jimmy Ibbotson
16. "Fishin' In The Dark" Feat. Jimmy Ibbotson
17. "Bayou Jubilee/Sally Was A Goodun"
18. "Jambalaya"
19. "Will The Circle Be Unbroken"
Nitty Gritty Dirt Band Tour Schedule (Tickets available here and here):
Sept. 02 Honeywell Center – Wabash, Ind.
Sept. 04 Central Wisconsin State Fair – Marshfield, Wisc.
Sept. 09 The Strand Theatre – Shreveport, La.
Sept. 10 Muscadine Jubilee – Pelahatchie, Mo.
Sept. 11 Silver Dollar City – Branson, Mo.
Sept. 15 Britt Pavilion – Jacksonville, Ore.
Sept. 16 Sonoma State University – The Green Music Center – Rohnert Park, Ca.
Sept. 17 Folk Revival Festival – Long Beach, Calif.
Sept. 22 Reynolds Performance Hall – Conway, Ark.
Sept. 23 Halloran Centre for Performing Arts – Memphis, Tenn.
Sept. 24 Belterra Resort & Casino – Florence, Ind.
Sept. 30 Red Hat Amphitheater – Raleigh, N.C.
Oct. 01 Anderson Music Hall – Hiawassee, Ga.
Oct. 04 Schermerhorn Symphony Center – Nashville, Tenn.
Oct. 06 Oxford Performing Arts Center – Oxford, Ala.
Oct. 07 Clayton Center for the Arts – Maryville, Tenn.
Oct. 08 The Roanoke Rapids Theater – Roanoke Rapids, N.C.
Oct. 10 Georgia National Fair – Perry, Ga.
Oct. 21 Dosey Doo – The Woodlands, Texas
Oct. 22 The Majestic Theatre – Dallas, Tex.
Nov. 10 Grand Theatre – Frankfort, Ky.
Nov. 11 Midland Theatre – Newark, Ohio
Nov. 12 Temple Theatre – Saginaw, Mich.
Nov. 13 MotorCity Casino Hotel – Detroit, Mich

Latest posts by Best Classic Bands Staff
(see all)