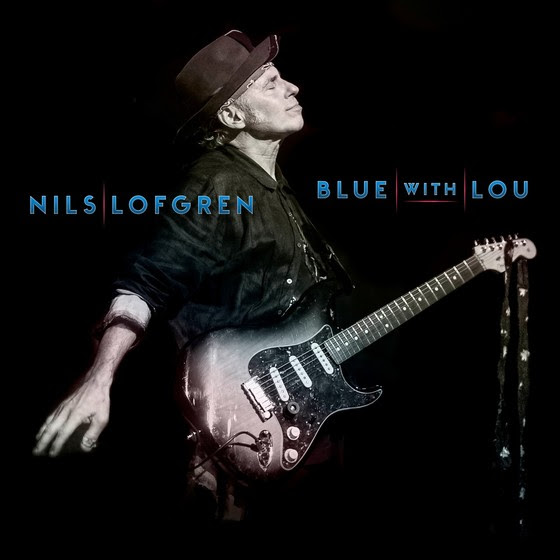 Nils Lofgren, best known as a longtime member of Bruce Springsteen's E Street Band, will release Blue With Lou, an all-new collection featuring a dozen songs, half of which were penned in collaboration with the late Lou Reed. The release date is April 26.
The collection, issued on Nils Lofgren's own Cattle Track Road Records in single-CD and double-LP configurations, was produced by the musician and his wife Amy. Basic tracks were recorded live at his home studio in Arizona with longtime collaborators Andy Newmark (drums) and Kevin McCormick (bass). Saxophonist Branford Marsalis is featured on a new recording of the Lofgren-Reed composition "City Lights."
Five more co-written songs have never seen the light of day and have remained in the trunk for decades.
Producer Bob Ezrin, who had worked with Lofgren, and previously worked with Reed on his concept album Berlin, suggested the collaboration, leading to Lofgren and Reed spending a long night at Reed's New York City apartment discussing the collaboration, which led to 13 songs penned together.
Related: When Lou Reed met Metallica
"I kind of forgot about the idea," Lofgren recalls in a press release. "About a month after that, I was sound asleep, the phone rang at 4:30 in the morning, and I answered it in the dark. 'Hey, Nils, it's Lou Reed.' That woke me up. He said, 'I've been listening to the tape you sent, and I love it. I've been up for three days and nights straight. I haven't slept. I've been working on your tape. I've completed 13 sets of lyrics that I love.' And I'm like, 'You've gotta be kidding me.' Then he said, 'If you wanna get a pad and pencil, I'll dictate them to you.' We spent two more hours on the phone. You can imagine my excitement."
Ultimately, the co-written songs "A Fool Like Me," "I Found Her," and "I'll Cry Tomorrow" (the last co-written with guitarist Dick Wagner) appeared on Nils, while Reed included "City Lights," "Stupid Man" and "With You" on his own 1979 album The Bells. The pair's "Life" appeared on Lofgren's Damaged Goods (1995), while "Driftin' Man" was recorded for his Breakaway Angel (2001).
After Reed's death in 2013, Lofgren revisited the idea of recording their unheard songs. He says, "They got left by the wayside. Years went by, and it kept nagging at me. I thought, look, Lou's not here to deliver these lyrics. He was inspired when he did this. It would be a shame not to share it."
Lofgren began shaping those tunes and refining his own new original songs during his stint with the E Street Band during the group's tour in Australia in 2017.
Captured live in the studio following a solid week of rehearsal time with the rhythm section, the newly recorded Lofgren-Reed compositions are "Attitude City," "Give," "Talk Thru the Tears," "City Lights," "Don't Let Your Guard Down," and "Cut Him Up."
Blue With Lou takes its title from a song honoring Lofgren's late colleague. "I had the title and the groove," he says, "and I worked from that like a jigsaw puzzle on this homage to Lou and what I took from him, which is, yes, we're in a mess here, but there's beauty and hope in all art. The theme of the record is about being expressive, keeping it live and raw, and moving forward, trusting your instincts."
In early May, Lofgren will kick off a U.S. tour in support of the album.
Nils Lofgren Tour Dates (Tickets available here and here)
May 10 Minneapolis, MN Dakota
May 11 Milwaukee, WI Potawatomi Casino
May 12-13 Chicago, IL City Winery
May 15 Cincinnati, OH Longworth-Anderson Series At Memorial Hall
May 16 Kent, OH Kent Stage
May 18 Boston, MA City Winery
May 19-20 New York, NY City Winery
May 21-22 Alexandria, VA The Birchmere
May 24-2Nashville, TN City Winery
May 26-27 Atlanta, GA City Winery
May 30 Austin, TX 04 Center
May 31 Houston, TX The Heights Theater
June 1 Beaumont, TX Jazz & Blues Fest At Jefferson Theatre
June 2 Dallas, TX The Kessler Theater
Listen to "Attitude City" from Blue With Lou

The BCB team brings you the latest Breaking News, Contests, On This Day rock history stories, Classic Videos, retro-Charts and more.

Latest posts by Best Classic Bands Staff (see all)