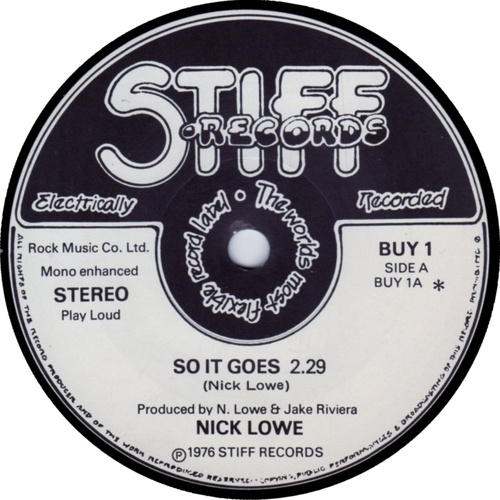 On August 14, 1976—a new single, "So It Goes," was released on a new label in the U.K., Stiff Records. The artist, Nick Lowe, had a bit of a track record in his own country—he'd been the bassist and vocalist of a popular pub-rock group called Brinsley Schwarz (named after its guitarist)—but he was hardly a household name. With the demise of that band, Lowe and his manager, Jake Riviera, attempted to find the artist a solo deal but luck evaded them. With some borrowed money, Riviera and former Brinsleys manager Dave Robinson set up their own independent label, Stiff, and sent Lowe into the studio.
"So it Goes," written by Lowe, was the result. With the exception of drummer Steve Goulding (of Graham Parker's band the Rumour), Lowe played all of the instruments and co-produced the track with Riviera. Released with the catalog number Stiff Buy 1, it was paired with a killer rocking B-side, "Heart of the City," and sold 10,000 copies—not enough to send it into the charts in the U.K. but enough to attract the attention of British music critics. Besotted by the newly emerging punk movement, they loved it, and Lowe's solo career took off from there.
Although Lowe didn't play true punk, his songs were smart, spirited and just eclectic enough to catch on with the audience that was rejecting the established classic rock of the day. Soon enough Nick Lowe would become a major figure on the new wave scene that followed in punk's wake: His 1978 debut solo album, called Jesus of Cool in England and Pure Pop for Now People in the U.S., was one of the most highly touted releases of 1978 in the U.K. and made a dent in America as well. But it was Lowe's new quartet, Rockpile, featuring the veteran rock 'n' roll guitarist Dave Edmunds, Billy Bremner (vocals, guitar) and Terry Williams (drums), that really brought Lowe's name to the masses. Simply one of the all-time great live bands, Rockpile easily filled midsized venues on both sides of the Atlantic until their 1981 split.
Related: Dave Edmunds' final concert appearance
As for Stiff Records, it enjoyed a decade-long run as one of the most adored cult labels in history, releasing music by Elvis Costello, Lene Lovich, Ian Dury, Wreckless Eric, the Damned, Madness and dozens of other oddballs who never would have stood a chance in the more conformist world of the major labels.
And Nick Lowe? Well, he has written many other classics including "(What's So Funny 'Bout) Peace, Love and Understanding," "I Knew the Bride (When She Used to Rock 'n' Roll)" and his biggest hit, 1979's "Cruel to Be Kind." He's still going strong today, mostly playing solo acoustic but no less engaging.
Here's "So it Goes" with Rockpile in 1978; our Classic Video
Lowe was born on March 24, 1949. He's on tour; tickets are available here and here.

Latest posts by Best Classic Bands Staff
(see all)