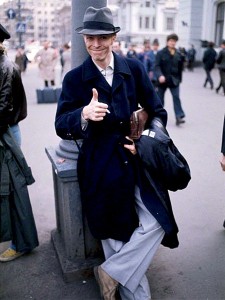 Update (11/19): Bowie has released the video for "Blackstar" – all ten minutes of it. We're frankly not sure what to make of it.
Update: Contrary to initial reports, the new Bowie single "Blackstar" will not be in his upcoming musical play Lazarus. Good news is that means even more new Bowie songs on the way.
And when we say new David Bowie album – titled ★ (pronounced, not surprisingly, Blackstar) and out on January 8th, Bowie's 69th birthday – we mean new. England's The Times describes it as "an album of long, jazzy jams mixed with the kind of driving beat pioneered by Seventies German bands Can and Kraftwerk." Other aspects include "Gregorian chants, a soul section, various electronic beats and bleeps and Bowie's distinctive vocals." A Bowie insider says the seven-song LP – his 26th – is "completely bonkers." In a good way, of course. After all, Bowie has made "bonkers" work for him many times over his long career.
It was recorded at New York's The Magic Shop studio with some of the city's top jazz players. The title track "Blackstar" is its first single, out on November 19th.
Bowie is also co-writing Lazarus, the musical based on The Man Who Fell to Earth that is now in previews off-Broadway in 2016 (see our Breaking News item for more info). The track is also used as the theme for U.K. TV crime series The Last Panthers.

Latest posts by Best Classic Bands Staff
(see all)