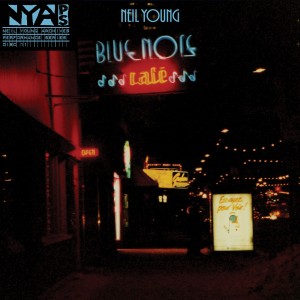 Fresh from his recent new protest album The  Monsanto Years and tour backed by the band Promise of the Real, Neil Young offers from his archives Bluenote Café, a collection of performances captured during the musician's funky, R&B-tinged tour in 1988 following his This Note's for You LP. So far, Young's archive series has focused mostly on solo material from the earlier part of his career (1968-1970). The forthcoming release explores his more stylized late '80s sound, complete with a full horn section. Best Classic Bands will be giving it away as a prize in an upcoming contest.
The two-CD, four-vinyl LP set features seven previously unreleased songs culled from eleven concerts that took place from April to November 1988: "Soul of a Woman," "Bad News Comes to Town," "Ain't It the Truth," "I'm Goin'," "Crime of the Heart," "Doghouse," "Fool for Your Love," plus an extended version of "Tonight's the Night" (over 19 minutes long).
The double album will be released November 13th via Reprise Records.
Bluenote Café Track List:
Disc 1:
1. Welcome To The Big Room (11/07/87 Mt. View, CA – Mt. View Theater)
2. Don't Take Your Love Away From Me (11/12/87 San Francisco, CA – The Fillmore)
3. This Note's For You (04/13/88 – Hollywood, CA – The Palace)
4. Ten Men Workin' (04/18/88 – New York, NY – The World)
5. Life In The City (04/18/88 – New York, NY – The World)
6. Hello Lonely Woman (04/18/88 – New York, NY – The World)
7. Soul Of A Woman (04/18/88 – New York, NY – The World)
8. Married Man (04/21/88 – New York, NY – The World)
9. Bad News Comes To Town (04/23/88 Cleveland, OH – Agora Ballroom)
10. Ain't It The Truth (04/23/88 Cleveland, OH – Agora Ballroom)
11. One Thing (04/23/88 Cleveland, OH – Agora Ballroom)
12. Twilight (04/23/88 Cleveland, OH – Agora Ballroom)
Disc 2:
1. I'm Goin' (08/18/88 Toronto, ON – CNE)
2. Ordinary People (08/23/88 Bristol, CT – Lake Compounce)
3. Crime In The City (08/27/88 Wantagh, NY – Jones Beach)
4. Crime Of The Heart (08/30/88 New York, NY – Pier 84)
5. Welcome Rap (08/30/88 New York, NY – Pier 84)
6. Doghouse (08/30/88 New York, NY – Pier 84)
7. Fool For Your Love (08/30/88 New York, NY – Pier 84)
8. Encore Rap (08/30/88 New York, NY – Pier 84)
9. On The Way Home (08/16/88 Hoffman Estates, IL – Poplar Creek Music Theatre)
10. Sunny Inside (08/30/88 New York, NY – Pier 84)
11. Tonight's The Night (08/30/88 New York, NY – Pier 84)

Latest posts by Best Classic Bands Staff
(see all)