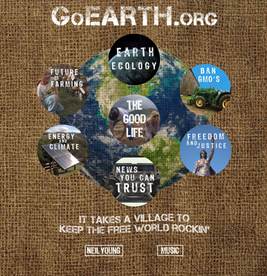 "It takes a village to keep the free world rockin'." That's the motto of Neil Young's latest venture, a website called GoEarth.org that serves as a resource for finding services and organizations to help people lead healthy and informed lives. Just a few of the crucial topics covered are species conservation, GMOs, climate change and the future of farming.
Young's no stranger to activism. He's currently winding down an epic tour with Promise of the Real in support of the album he released in June, The Monsanto Years, which criticizes the agribusiness of the same name as well as big-box retail stores, Starbucks and other modern ills as he sees it. His self-proclaimed "Village" of grassroots organizations, advocates and national non-profits joined him on this "Rebel Content" tour to engage attendees about sustainability and earth-friendly living. The two-time Grammy winner also oversaw the making of a mini protest doc called Seeding Fear, which tells the story of a farmer and his father who took on Monsanto in court.
This week Young hosts the Bridge School Benefit Concert (see our earlier item here) at the Shoreline Amphiteatre in Mountain View, CA on Saturday (10/24) and Sunday. Tickets are still available here.

Latest posts by Best Classic Bands Staff
(see all)