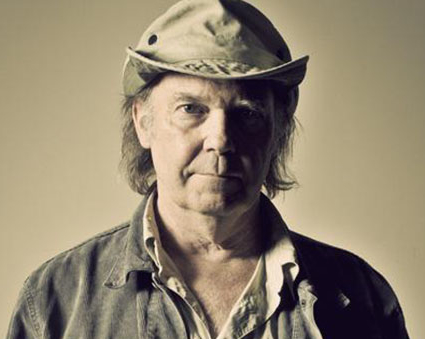 A word of advice to fans of Neil Young: If you plan on seeing your hero in concert, keep your voices down!
And watch the stage, not your phone!
Young has posted a "Personal Note" on his NYA Times-Contrarian website about a "rough night" he experienced in Detroit's Fox Theatre during a live-streamed solo concert on July 3. "It was not half as rewarding personally as the St. Louis and Chicago shows," he wrote, then went on to elaborate:
"It was the fourth of July holiday and some folks were celebrating, already high when they arrived at the show. Because it was a holiday, I could see it coming. They were focused on their celebration, kind of like a festival.
"Any subtle solo performance of songs is very challenged under those conditions. Of course, if I had a band, I could just blast out the show and rock on. So I came away from Detroit a bit mentally bruised and battered, yet still happy that so many people enjoyed the performance that I had tried to give them, even though they were somewhat short changed by circumstance."
The source of Young's annoyance was a "rowdy crowd" that insisted on talking during his performance. Young castigated the "yellers" in the audience in his website post, stating, "They are having the time of their lives out there. Unfortunately for the audience, everyone else misses out on what might have happened while I am distracted by those celebrating their favorite song titles, yelling them as loud as they can."
Related: Things went better for Young at last fall's Farm Aid concert
Young has expressed his disdain for inattentive fans before. At a 2012 concert he was annoyed by a pair of young women in the front rows who continued to look down at their phones and text even while he stopped his performance to mock them and stare them down. At one point, Young reportedly threw a glass of water in their direction in order to get their attention, which caused the "fans" to finally look up long enough to call him an unpleasant name and then bolt from the venue.
One fan site, Neil Young News, includes a special section on etiquette at a Young concert, with details on smartphone use and texting, among other subjects.
"Every time I go through this type of experience, part of me does not ever want to go through it again, yet it is a risk taken every time I walk out to a solo stage," Young wrote about the Detroit show. He ended his missive by thanking the crowd and insisting, "I always appreciate you."
Neil Young Setlist: Detroit, July 3, 2018
On the Way Home
Homefires
Only Love Can Break Your Heart
Love Is a Rose
Cowgirl in the Sand
Mellow My Mind
Ohio
There's a World
Broken Arrow
I Am a Child
Are You Ready for the Country?
Tonight's the Night
Speakin' Out
After the Gold Rush
Angry World
Love and War
Peaceful Valley Boulevard
Out on the Weekend
The Needle and the Damage Done
Heart of Gold
Encore:
Tumbleweed
Watch Young play "Love is a Rose" at the Detroit show (video taken, of course, by one of the phones that bothers him)

Latest posts by Best Classic Bands Staff
(see all)