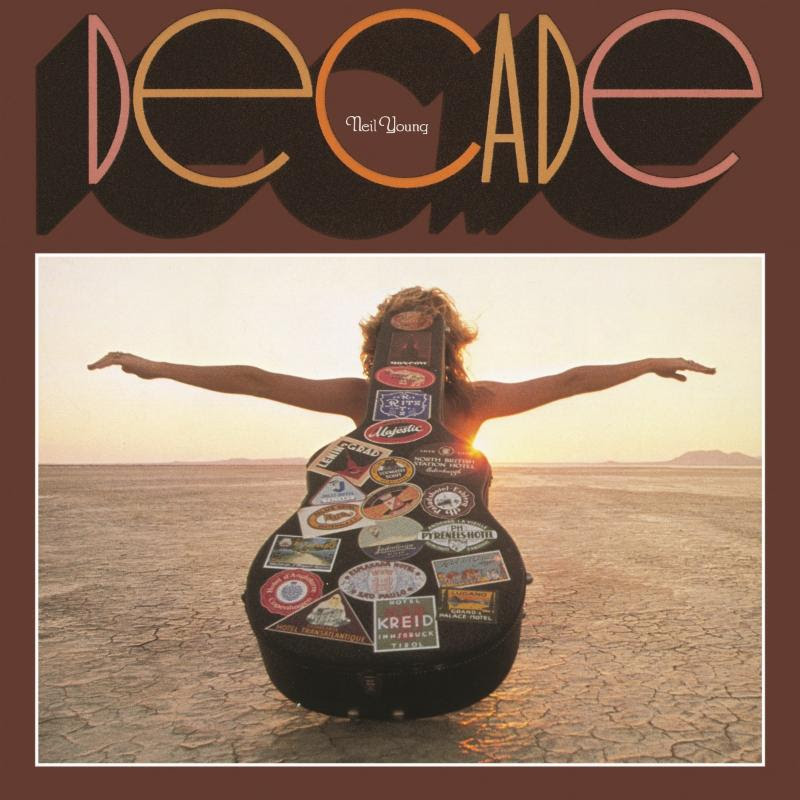 Reprise Records has released Neil Young's long-out-of-print Decade anthology today (June 23) to commemorate its 40th anniversary. Originally released on October 28, 1977 on a triple vinyl set and compiled by Young, Tim Mulligan and David Briggs, Decade, according to a press release, "has long been considered the definitive 35-song collection of material covering the years between 1966-1976."
The collection features Young solo and with Crazy Horse, Buffalo Springfield, CSNY and the Stills-Young Band. Each of the tracks has been remastered with the original artwork and restored with inside photos by Joel Bernstein, Gary Burdan, Henry Diltz and Tom Wilkes.
Decade was the first Neil Young compilation dedicated to his own career and thus the first Young compilation to chart. It entered the Billboard LPs chart on Nov. 26, 1977, and rose to #43, remaining on the chart for a total of 18 weeks. Young participated in the track selection and wrote the liner notes himself . It included the then-unreleased tracks "Down to the Wire" (a Buffalo Springfield recording with Dr. John on piano); "Love is a Rose" (which became a hit for Linda Ronstadt); "Winterlong" and "Campaigner."
Decade remained the only Neil Young compilation on the market until 1993's Lucky Thirteen.
Recently, Decade was re-released to its original three-LP vinyl configuration for Record Store Day 2017 in a limited pressing. It is now widely available once more on vinyl, as a two-CD set and digitally.
Related: Neil Young will no longer host the annual Bridge School benefit concert
Purchase Decade on CD or vinyl.
Track listing for the two-CD edition:
DISC 1:
Down To The Wire
Burned
Mr. Soul
Broken Arrow
Expecting To Fly
Sugar Mountain
I Am A Child
The Loner
The Old Laughing Lady
Cinnamon Girl
Down By The River
Cowgirl In The Sand
I Believe In You
After The Gold Rush
Southern Man
Helpless
DISC 2:
Ohio
Soldier
Old Man
A Man Needs A Maid
Harvest
Heart Of Gold
Star Of Bethlehem
The Needle And The Damage Done
Tonight's The Night (Part 1)
Tired Eyes
Walk On
For the Turnstiles
Winterlong
Deep Forbidden Lake
Like A Hurricane
Love Is A Rose
Cortez The Killer
Campaigner
Long May You Run

Latest posts by Best Classic Bands Staff
(see all)