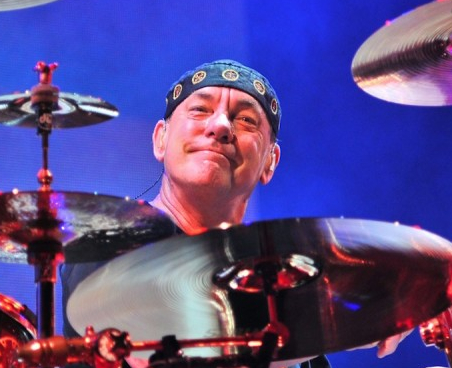 Following the news that broke on Jan. 10 of the passing of Neil Peart on Jan. 7, fellow musicians and other entertainers shared their grief with glowing tributes of praise for the Rush drummer.
On Jan. 17, the band's surviving members, Geddy Lee and Alex Lifeson, offered thanks for the "outpouring of love" that they had received.
"Our most heartfelt thanks go out to family, friends, musicians, writers and fans from around the globe for the incredible outpouring of love and respect for Neil since his passing. These touching tributes help to lessen the pain of this terrible loss and remind us all to celebrate his remarkable life and our connections to it. – Geddy & Alex"
On Jan. 10, the band announced the news on the Rush Facebook page:
"It is with broken hearts and the deepest sadness that we must share the terrible news that on Tuesday our friend, soul brother and band mate of over 45 years, Neil, has lost his incredibly brave three and a half year battle with brain cancer (Glioblastoma). We ask that friends, fans, and media alike understandably respect the family's need for privacy and peace at this extremely painful and difficult time. Those wishing to express their condolences can choose a cancer research group or charity of their choice and make a donation in Neil Peart's name.
Rest in peace brother."
Here are some other tributes…
From fellow drummer, Foghat co-founder Roger Earl:
"It is so sad to hear about Neil Peart. Foghat has done many many shows with Neil & Rush over the years. He was a fantastic drummer, great songwriter and he "burned for Buddy". But it wasn't until I went out front & listened to the band with the audience, that I truly appreciated how he played. Because his fans knew every drum break, drum hit, fill and anticipation. And standing there as a drummer to see 10-15,000 other 'drummers' putting their hands together in the air was truly amazing & special! He reached his audience and turned them on. Rest in Peace Neil. You are missed."
I only met Neil Peart once. He was a great drummer and a gentleman! He will be remembered as being one of the most innovative drummers in the Prog world. He made it it a better place for all of us. I was always a Rush fan and he was the perfect drummer for them. I will miss him.

— Carl Palmer (@ELP_carl) January 11, 2020
I am profoundly sad about the loss of our drumming brother #NeilPeart
My heart goes out to his family, friends & band mates. I'm grateful for the times we hung out & got to work together: Jeff Berlin's album Champion and the Burning For Buddy project. Rest In Peace my friend.

— Steve Smith (@stevesmithdrums) January 11, 2020
Rest In Peace, Neil Peart pic.twitter.com/s7COUggkze

— Cheap Trick (@cheaptrick) January 10, 2020
Gil, Mike, and Rik mourn the loss of @rushtheband's great drummer Neil Peart, one of the greats gone too soon. A wonderful man whose soul and music touched us. We will never forget him and our hearts go out to his family, Alex and Geddy RIP pic.twitter.com/UFuCElcFhu

— TRIUMPH (@TriumphTheBand) January 11, 2020
Former Yes drummer, Bill Bruford, wrote in part, "Very sad to learn of the death of Neil Peart, drummer, author, lyricist, and a gentle man, too. Carolyn and I offer our heartfelt condolences to Neil's family, and of course to Geddy and Alex."
Grateful to have shared the stage with the fantastic Neil Pert. We have lost an incredible drummer & lyricist from one of Canada's greatest bands. He will be greatly missed but I believe music transcends time and space. Other worlds to rock in my friend, play on. #RushTheBand pic.twitter.com/j3bLi4c9rK

— Randy Bachman (@RandysVinylTap) January 12, 2020
So sad to learn Neil is gone. What a immense talent and influence on the course of rock music for all time.
He was such a magical cornerstone in the Temple of Rush. Rush is forever timeless. #rush #NeilPeart pic.twitter.com/TPnsGGTxxv

— Nancy Wilson (@NancyWilson) January 11, 2020
I'm gonna go spend the day air drumming. R.I.P. Neil Peart. That dude fucking shredded. https://t.co/QzsOwBDKY8

— Flea (@flea333) January 11, 2020
Public Enemy's Chuck D shared his thoughts about their Rock and Roll Hall of Fame ties…
At the end of a crazy @rockhall night in 2013 where @rushtheband & @PublicEnemyFTP were inducted. It was just myself & Neil PEart alone talkin & laughing low in relief the long night was over-a small table backstage sharing a unique moment without much word. Rest in Beats my man

— Chuck D (@MrChuckD) January 10, 2020
Dave Grohl wrote, in part: "Today, the world lost a true giant in the history of rock and roll. An inspiration to millions with an unmistakable sound who spawned generations of musicians (like myself) to pick up two sticks and chase a dream. You will be forever remembered and sorely missed by all of us. And my heartfelt condolences to the Rush family."
Fellow Foo Fighters member, Taylor Hawkins, wrote: "Neil Peart had the hands of God. End of story."
So sorry to hear the news of Neil Peart passing. We've lost another one of the greats. RIP. pic.twitter.com/hOr0x4hnDm

— Tony Iommi (@tonyiommi) January 11, 2020
We've lost a legend. But his influence and legacy will live on forever in the hearts of music lovers in Canada and around the world. RIP Neil Peart. 🇨🇦

— Justin Trudeau (@JustinTrudeau) January 11, 2020
I just heard about Neil Peart passing. I feel real bad about this – he was way too young. Neil was one of the great drummers and he'll be missed. Love & mercy to Neil's family.
– Brian pic.twitter.com/T5qjECWX1W

— Brian Wilson (@BrianWilsonLive) January 10, 2020
From Kiss' Gene Simmons: "My prayers and condolences to the Peart Family, Fans and Friends. Neil was a kind soul. R.I.P."
From an actor, and fellow Canadian…
RIP Neil Peart. Pound for pound greatest of all time. There will never be another like him.

— Jay Baruchel 🇨🇦 (@BaruchelNDG) January 10, 2020
Rest in peace Neil Peart, legendary drummer of Rush. Thank you for all the music and memories over the years. pic.twitter.com/uJl7szj7hg

— MSG (@TheGarden) January 10, 2020
We can't get enough of this epic Peart drum solo

The BCB team brings you the latest Breaking News, Contests, On This Day rock history stories, Classic Videos, retro-Charts and more.

Latest posts by Best Classic Bands Staff (see all)