Photographer Neal Preston on His Wild Start and Shooting Led Zeppelin
by Greg Brodsky
A select group of internationally famous photographers has launched an online gallery of their never-before-seen images of rock's greatest performers. The website, Outtake Gallery, features photos of artists ranging from Led Zeppelin to Bruce Springsteen, Joni Mitchell, Bob Dylan, David Bowie, Queen and more, taken by Neal Preston, Joel Bernstein, Michael Grecco, Andrew Kent and Ken Regan. [One Best Classic Bands reader can win a 11×14 print; see below.]
In his more than five-decade career, Preston has photographed many of the world's biggest music, sports and film stars. His iconic images have appeared on the cover of countless magazines and newspapers. He told Best Classic Bands that the new Outtake Gallery site is "a little peak inside the file cabinet. Collectors know the famous pictures but everyone asks. 'What do you have in your back pocket?' This allows us to offer stuff that people haven't seen and can't buy from any other gallery. If someone wants to own a copy of Robert Plant holding the dove, I'll send them over to the Morrison Hotel Gallery.
"With Outtake Gallery, we can pull stuff that's never been seen. Once we take something down, it will no longer be available to purchase, which is unlike any other gallery." Collectors will want to keep coming back to the site so that they don't miss something.
"You would otherwise never get to see these images unless you were sitting here with me," he says. None of the stuff on Outtake has been offered for sale by any gallery.
[Outtake Gallery has a contest especially for Best Classic Bands readers. One winner will be given the choice of one of three Neal Preston 11×14 prints displayed at Outtake Gallery: Jimmy Page 1977, Freddie Mercury 1981 or Stevie Nicks 1981. The images can be seen here. Simply subscribe to the BestClassicBands.com free newsletter and to the Outtake Gallery mailing list here before 11:45 PM Eastern time on November 27, 2022. (Existing subscribers to the BestClassicBands.com newsletter are automatically entered.)]
Preston is a natural storyteller, and the one of how he got his start is memorable. "Life has all those forks in the road," he says. He grew up in the New York City borough of Queens, in Forest Hills. "When I was 16, I had two buddies, and we were all into photography. There used to be a concert series at the Singer Bowl [which became Louis Armstrong Stadium for the U.S. Tennis Open]. My friends had gone and brought their cameras and got up to the front and shot some pictures of the Doors or someone like that. Then I went with them to another show. We had all these pictures and we wanted to get free tickets. We knew there was a ticket office for the concert series two blocks from where we lived. We brought a bunch of the prints over to see if we could scam some tickets. And it turned out it wasn't a ticket office, it was actually the promoter's office!"
The promoters were Shelly Finkel and Gary Kurfirst. The pair managed Leslie West and Mountain, among many other acts of the era. Finkel went on to become a well known boxing manager and promoter.
The pair loved the photos and the teenagers' chutzpah. "All of a sudden, we have carte blanche at all their shows," says Preston. "It was a weird twist of fate. Had we not gone up to that office that day, I'd probably be working at a camera store. I remember a day when I was about 15 or so and I was walking down Queens Boulevard and wondering what will happen to me when I get older. What my job will be? But because of what happened that day, I started to be let into all these shows. That's how it happened. It was pure blind luck.
"I used to buy hash from Leslie Weinstein's [Mountain's Leslie West] brother," he recalls, laughing. "We were all hippies back then, so to speak."
Before he knew it, Preston and his friends were being let into all the promoters' shows all over New York. "I met the people from the Fillmore East and we used to get photo passes while still in high school." He graduated from Forest Hills High in 1970 and was expecting to go to Philadelphia College of Art. "One Sunday morning, I said to my parents, 'I'll go out and pick up the lox and bagels, I'll get the Sunday Times, I'm not gonna go to college, and I'll get the dry cleaning.' I tried to slip a knuckleball in there, which didn't quite work. But luckily I had an uncle who told my mom and dad that I actually had real photographic talent. So I decided not to go to college." A year later, on October 15, 1971, he left their apartment, got on a plane and moved to Los Angeles. "That's when I really starting my career. It was just one miraculous thing after another that happened."
Preston formed a partnership with another young photographer, Andy Kent, who had been the staff photographer for the Los Angeles Free Press. The pair negotiated a retainer deal with Atlantic Records, "not for a lot of money," he says. "Well, it was a lot of money for us in those days, like 250 bucks a month or something like that." The deal specified that one of them always had to be in town to cover whatever Atlantic needed them to cover. "When Zeppelin would be in town, I'd need to shoot the show. I had actually photographed them before I even moved to LA. They had a very famous press conference in 1970. They had just been voted the most popular band in the world by Melody Maker and the Beatles had won like the last seven years in a row. So I got into the press conference and I shot their show at the Garden."
"Cut to me moving to L.A. and we had that retainer deal for two and a half years, or so, and I shot them in Long Beach." When the band started their Atlantic-distributed label, Swan Song, they had two launch parties, one in Los Angeles and one in New York. Preston knew Danny Goldberg, who ran Swan Song's U.S. office. "I remember pulling Danny aside [at the party] and I said, 'I heard you guys are going on the road next year. If you're looking for someone to come along and shoot, I'd like to throw my hat in the ring.' Two months later, in November or December of '74, the phone rings and it's Danny and he says, 'Are you still into becoming a tour photographer?' And I said, 'Absofuckinglutely.' In January '75 I started with them officially [as opposed to for Atlantic]. Years later, I asked Danny, 'How did you land on me?' And he said, 'Well, you were the obvious choice because you were close to their age and all the other rock and roll photographer were nuts.' (laughs) It's what he told me. That's how I ended up with Led Zeppelin. Jimmy [Page] ran the show. But [the band's manager Peter Grant] really ran the show. And Peter, for whatever reason—he had street smarts—he trusted me implicitly. As I like to say, 'It never hurts to have the words "Led" or "Zeppelin" on your resume.' That's how it started." I had a bit of a relationship with Peter beforehand but Danny was the big kahuna."
He's asked why the band hired a tour photographer and what their expectations were.
"Here's basically what happened. The Rolling Stones toured in '72 and in '75. the Stones got all this press because Andy Warhol [and other celebrities were] going backstage. And Zeppelin, who were notoriously unfriendly toward the press, thought, 'We're the biggest and baddest in the land. Fuck the Rolling Stones.' So they made the decision that they would become more press-friendly. Cameron [Crowe] came on the road and did the Rolling Stone cover and the idea was that they were going to need pictures for all these interviews that they were going to be doing. So that's the real reason that I was hired: If they were going to do interviews, they wanted current pictures. I have a famous story that I tell. I used to travel with a Kodak carousel and a projector, with these trays that held 80 slides. One night I went upstairs to Jimmy's room with a couple of these trays and a big sheet to put up on the wall. And I start showing him. We're racking through photos and I'm showing him the most beautiful, pristine, razor-sharp, gorgeous photos and he goes, 'Yeah, next.' And then another one. And he goes, 'Yeah, next.' And then I showed him a weird, blurry one and he says, 'I love it.' This went on for a little while and I said, 'Jimmy, can we just stop for a second? I'm just trying to get a fix on what you're looking for.' Because I couldn't figure it out! He's rejecting all these obvious, beautiful magazine cover-type photos in favor of these bizarre amorphous crazy photos. And he said, 'I want romance, mystery and the hammer of the Gods.' The line out of 'The Immigrant Song.' So the idea was they had to approve everything that went out but I owned all the photos, to this day."
Preston did the '75 and '77 tours, and they flew him over for the 1979 Knebworth festival. "I was literally starting to get ready for the 1980 tour when I heard the news about Bonzo [the death of drummer John Bonham]."
Did he ever talk to the bands that he's toured with about their setlist? "There is one that I used to do that with all the time, Emerson, Lake and Palmer. They did that big tour with the orchestra in 1977 and then they had to let the orchestra go because it was costing them like a million bucks a week! They decided to continue as a three-piece until they got to Madison Square Garden where they brought the orchestra back just for that one show. But I distinctly remember being on the bus with Greg [Lake] telling him what should be in the setlist as a three-piece. (laughs) He didn't listen to me! Keith and Greg were really close friends of mine and I could get away with that stuff with them." He mentions an instance where he suggested a song to another artist who said, "Too hard to sing." (laughs) "Part of having my job… for lack of a better expression… keeping your eyes and ears open, and your mouth shut. Which I didn't always do." (laughs)
Preston's iconic works are available for purchase at the Morrison Hotel Gallery.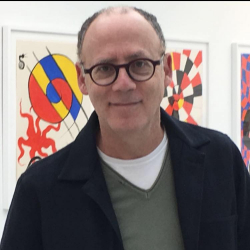 Latest posts by Greg Brodsky
(see all)