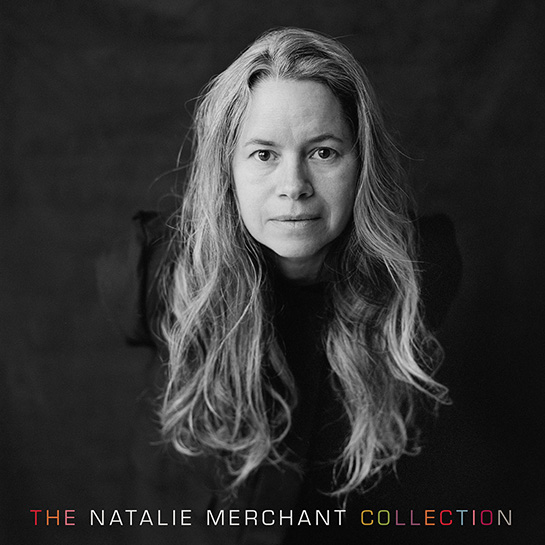 Nonesuch Records will release The Natalie Merchant Collection—a deluxe 10-CD box set compiled by Merchant—on July 14. The box includes all eight of her solo studio albums from the past three decades. A ninth disc, Butterfly, is a new studio set featuring four new songs and six reinterpreted selections from her catalog, all arranged for string quartet. The final disc is Rarities, a collection of 15 rare and previously unreleased tracks recorded between 1998 and 2017, including studio demos, album outtakes, live tracks and collaborations with artists like Billy Bragg, David Byrne, the Chieftains, Cowboy Junkies, and Amy Helm. The complete track listing is below.
The package includes a 100-page lyric book and pictorial history of the singer-songwriter's solo career. Pre-orders are available now at nonesuch.com with an instant download of the new recording of "Frozen Charlotte" from the Butterfly disc as well as an exclusive, limited-edition print autographed by Merchant.
Related: Record executive Bob Krasnow dies
To coincide with the release of the boxed set, Merchant will tour the U.S. this summer with "Natalie Merchant: 3 Decades of Song," performing songs from across her entire career (dates below). A portion of the tour's proceeds will be donated to the environmental organization Food & Water Watch, which champions healthy food and clean water. Tickets are on sale now here, and more information may be found at nataliemerchant.com.
The Natalie Merchant Collection Track Listing
DISC 1 – TIGERLILY (1995)
San Andreas Fault
Wonder
Beloved Wife
River
Carnival
I May Know The Word
The Letter
Cowboy Romance
Jealousy
Where I Go
Seven Years
DISC 2 – OPHELIA (1998)
Ophelia
Life Is Sweet
Kind & Generous
Frozen Charlotte
My Skin
Break Your Heart
King Of May
Thick As Thieves
Effigy
The Living
When They Ring the Golden Bells
DISC 3 – MOTHERLAND (2001)
This House Is on Fire
Motherland
Saint Judas
Put The Law on You
Build a Levee
Golden Boy
Henry Darger
The Worst Thing
Tell Yourself
Just Can't Last
Not in This Life
I'm Not Gonna Beg
DISC 4 – THE HOUSE CARPENTER'S DAUGHTER (2003)
Sally Ann
Which Side Are You On?
Crazy Man Michael
Diver Boy
Weeping Pilgrim
Soldier, Soldier
Bury Me Under the Weeping Willow
House Carpenter
Owensboro
Down On Penny's Farm
Poor Wayfaring Stranger
DISC 5 – LEAVE YOUR SUPPER (2010)
Nursery Rhyme of Innocence and Experience
Equestrienne
Calico Pie
Bleezer's Ice-Cream
It Makes a Change
The King of China's Daughter
The Dancing Bear
The Man in the Wilderness
maggie and milly and molly and may
If No One Ever Marries Me
The Sleepy Giant
The Peppery Man
The Blind Men and the Elephant
DISC 6 – LEAVE YOUR SLEEP (2010)
Adventures of Isabel
The Walloping Window Blind
Topsyturvey-World
The Janitor's Boy
Griselda
The Land of Nod
Vain & Careless
Crying, My Little One
Sweet & a Lullaby
I Saw a Ship A-Sailing
Autumn Lullaby
Spring and Fall: to a young child
Indian Names
DISC 7 – NATALIE MERCHANT (2014)
Ladybird
Maggie Said
Texas
Go Down, Moses
Seven Deadly Sins
Giving Up Everything
Black Sheep
It's A-Coming
Lulu (Introduction)
Lulu
The End
DISC 8 – PARADISE IS THERE: THE NEW TIGERLILY RECORDINGS (2015)
San Andreas Fault
Beloved Wife
Carnival
River
The Letter
Where I Go
I May Know the Word
Seven Years
Cowboy Romance
Jealousy
Wonder
DISC 9 – BUTTERFLY (2017)
Butterfly
She Devil
Baby Mine
Frozen Charlotte
Ophelia
The Worst Thing
The Man in the Wilderness
My Skin
Vain & Careless
Andalucía
DISC 10 – RARITIES (1998–2017)
The Village Green Preservation Society
Too Long at the Fair
Order 1081 (with David Byrne & Fatboy Slim)
To Love Is to Bury (with Cowboy Junkies)
Saint Judas
Birds & Ships (with Billy Bragg)
The Lowlands of Holland (with The Chieftains)
Sonnet 73
Learning the Game
My Little Sweet Baby
Political Science
Build a Levee
Sit Down, Sister
The Gulf of Araby
Portofino
Natalie Merchant: 3 Decades of Song Tour
Friday, June 30
Poughkeepsie, NY
The Bardavon
Sunday, July 2
Lenox, MA
Tanglewood
Wednesday, July 5
Kennett Square, PA
Longwood Gardens
Thursday, July 6
Vienna, VA
Wolf Trap (Filene Center)
Saturday, July 8
Cleveland, OH
Connor Palace
Sunday, July 9
Chicago, IL
Chicago Theatre
Wednesday, July 12
Denver, CO
Denver Botanical Gardens
Saturday, July 15
Santa Barbara, CA
Santa Barbara Bowl
Sunday, July 16
Los Angeles, CA
Greek Theatre
Tuesday, July 18
San Diego, CA
Copley Symphony Hall
Wednesday, July 19
Saratoga, CA
The Mountain Winery
Thursday, July 20
San Francisco, CA
Masonic Auditorium
Sunday, July 23
Portland, OR
Oregon Zoo Amphitheatre
Listen to "Frozen Charlotte" from the boxed set

Latest posts by Best Classic Bands Staff
(see all)