Muhammad Ali: Greatest Showman of a Generation
by Greg Brodsky
This appreciation of the Champ originally appeared on June 3, 2016.
If you're north of your mid-50s, then you had the privilege of seeing Muhammad Ali in the boxing ring while he was still in his prime at an age when you were old enough to appreciate it. That would mean any bout through 1975's "Thrilla in Manila," his third fight against Joe Frazier. A 56 year old today would've been 15 then. Consider yourselves fortunate because you were witness to greatness. Or better still, you got to appreciate The Greatest, as the Champ, who died June 3, 2016, at 74, after battling a respiratory infection, accurately proclaimed himself.
Ali was born Cassius Marcellus Clay in Louisville, Kentucky, on January 17, 1942. [To celebrate his birthday, the city announced in 2019 it would rename its airport Louisville Muhammad Ali International Airport.]
In an era when social media wasn't even contemplated, the Champ was as much of a "rock star" as perhaps a handful of genuine rock stars were, during his roughly 10 years of his athletic prime, from his May 25, 1965 defeat of Sonny Liston – did you know that bout was held in Lewiston, Maine at the Central Maine Youth Center? – to Ali-Frazier III on October 1, 1975.
Who were the biggest popular culture icons of that mid-'60s to mid-'70s era? Mick Jagger was one. Elton John another. Sinatra for sure. In death, JFK. Dylan. Warhol. The Beatles. Mickey Mantle. Hendrix.
Muhammad Ali was as big as any of them. He was movie star handsome. He was as eloquent as any actor and the camera loved him. And at 6′ 3″ he had a sizable height – and reach – advantage over many of his marquee opponents.
When he became eligible to be drafted into the U.S. military, Ali famously declared, "I ain't got no quarrel with them Viet Cong." As he was being stripped of his Heavyweight crown – first by the New York State Boxing Commission and then by everybody else – he found an unlikely ally in ABC Sports announcer Howard Cosell.
"It was an outrage; an absolute disgrace," Cosell said when referring to the boxing commissions' stripping Ali of his titles. "Due process of law hadn't even begun, yet they took away his livelihood because he failed the test of political and social conformity." The descendant of pre-Civil War slaves became an unwitting face of the anti-war movement.
It would be four years – in 1971 – before the U.S. Supreme Court ruled in Ali's favor. And although Ali fought his way back to earn the Heavyweight Championship again – not once, but twice – he was deprived of earning his livelihood at what may have been his prime years of 25-29.
The frequent Cosell-Ali interviews for ABC's Wide World of Sports made for great theater. Many of their highlights begin at the 1:23 mark of this clip…
Related: Billy Crystal delivers moving, funny eulogy
Ali was diagnosed with Parkinson's syndrome in 1984 at just 42 years of age and his slow, steady decline zapped this proud man of his physical attributes. I saw him on a Manhattan street once in the 1990s and gasped "Hi, Champ!" Although he was speaking with an associate as he walked, he acknowledged me with a nod and a wink. Along with "Rope-a-Dope" with George Foreman, the three epic bouts with Smokin' Joe Frazier and his sometimes serious/sometimes goofy times with Cosell, that's how I'll remember him.
RIP, Champ. You are the Greatest of All-Time.
Watch highlights of 1974's legendary Rumble in the Jungle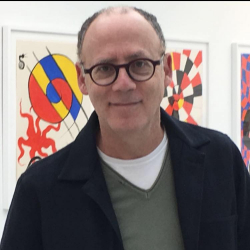 Latest posts by Greg Brodsky
(see all)