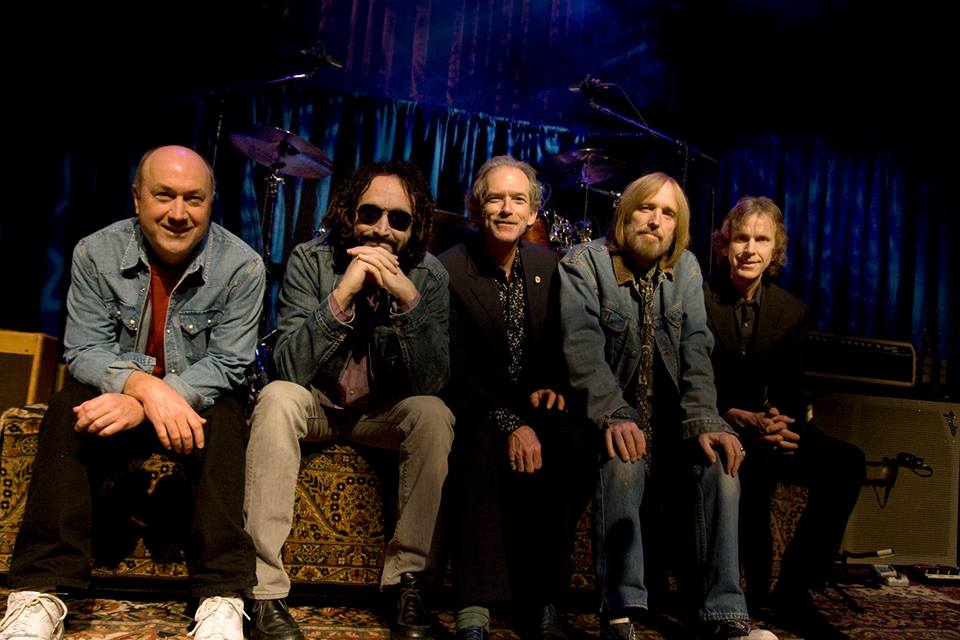 We're huge TP fans. Any day we can say "There's a new Tom Petty album out" is a good day. No, make that a great day. Best Classic Bands has been reporting on the second album from his original band, Mudcrutch, since it was first announced on March 25. And now 2 has been released on Warner Bros.' Reprise label.
2 is produced by Petty, Mike Campbell and Ryan Ulyate, the same team that oversaw Mudcrutch's 2008 self-titled debut, which featured "Shady Grove" and "Lover of the Bayou" among its tracks. The band dates to the early 1970s; its members are Petty, Campbell, Benmont Tench, Tom Leadon and Randall Marsh.
Don't miss a post! Sign up for Best Classic Bands' Newsletter; form is on every page.
The album's first release was "Trailer." If it sounds familiar to you, it's because it was originally recorded during the sessions for Tom Petty and the Heartbreakers' 1985 Southern Accents album and included on the excellent "Playback" box set.
"Beautiful World" was the next song released, written and sung by Marsh.
The band's brief tour will be at small venues, beginning May 23 in Northridge, CA and concluding June 30 in San Diego, CA. The performance halls include New York's Webster Hall, Los Angeles' Fonda Theater and Washington DC's 9:30 Club, as well as several festivals. Best Classic Bands will be reviewing one of their NYC concerts.
Tickets for all shows appear to be sold-out. We suggest you search via our re-sale partners at Ticket Network. (See complete itinerary below.)
And here's "Hungry No More," a mesmeric six-minute number that is rich with Beatlesque harmonies, chord changes and riffs, all with a Southern accent.
The 2 tracklist:
1. "Trailer"
2. "Dreams of Flying"
3. "Beautiful Blue"
4. "Beautiful World"
5. "I Forgive It All"
6. "The Other Side of the Mountain
7. "Hope"
8. "Welcome To Hell"
9. "Save Your Water"
10. "Victim of Circumstance"
11. "Hungry No More"
Mudcrutch 2016 Tour Dates:
May 23 – Northridge, CA – Plaza del Sol Performance Hall – CSUN
May 24 – Northridge, CA – Plaza del Sol Performance Hall – CSUN
May 26 – Denver, CO – Ogden Theater
May 28 – Chicago, IL – The Riviera Theatre
May 29 – Chillicothe, IL – Summer Camp Music Festival
May 31 – Nashville, TN – Ryman Auditorium
June 2 – Atlanta, GA – The Tabernacle
June 3 – Cincinnati, OH – Bunbury Music Festival
June 6 – Washington, DC – 9:30 Club
June 7 – Philadelphia, PA – The Fillmore
June 10 – New York, NY – Webster Hall
June 11 – New York, NY – Webster Hall
June 14 – Port Chester, NY – Capitol Theater
June 15 – Boston, MA – House of Blues
June 19 – San Francisco – The Fillmore
June 20 – San Francisco – The Fillmore
June 22 – Oakland, CA – Fox Theater
June 25 – Los Angeles, CA – The Fonda
June 26 – Los Angeles, CA – The Fonda
June 28 – Santa Ana, CA – The Observatory
June 30 – San Diego, CA – Humphrey's Concerts by the Bay

Latest posts by Best Classic Bands Staff
(see all)