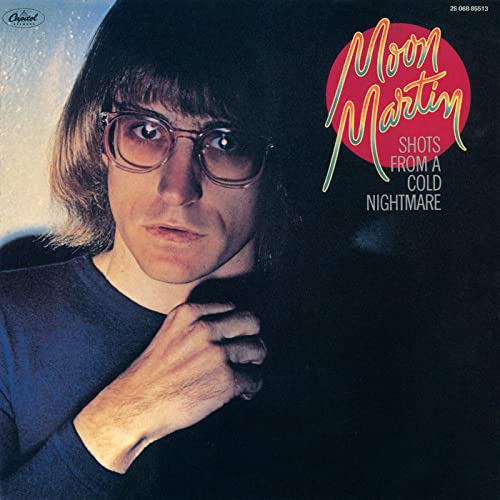 Moon Martin, a singer-songwriter, guitarist and power pop performer best known for his song "Bad Case of Loving You," a 1979 hit for Robert Palmer, died on May 11, 2020, in Encino, Calif., of natural causes. His death was confirmed by Tulsa World and Craig Leon, who produced several of his albums. Martin was 74 (though some reports say he was 69).
Born John David Martin on Oct. 31, 1945 – the nickname "Moon" came from his propensity to use the word in his song lyrics – Martin released a series of albums for Capitol Records, beginning in the late '70s. The power pop artist earned a pair of modest chart hits in 1979, "Rolene" (#30) and "No Chance" (#50), both from his Escape From Domination album.
But it was a song he recorded for his 1978 debut, Shots From a Cold Nightmare, that ultimately became his biggest hit. The catchy "Bad Case of Loving You (Doctor, Doctor)," released as a single by Palmer on July 21, 1979, from his Secrets album, reached #14 in the U.S.
Martin had other songs recorded by other performers including "Cadillac Walk" by Willy DeVille, and "Victim of Romance" for a Michelle Phillips solo album.
Martin was born in Altus, Okla. After attending the Univ. of Oklahoma, he went to Los Angeles, where his scant biographical materials indicated that he briefly performed with Linda Ronstadt's band. Her longtime producer and manager, John Boylan, confirmed this to blogger Bob Lefsetz:
"At Linda's suggestion, I hired him to be in her band for one Troubadour gig in 1971," he wrote. "The rest of the band consisted of Glenn Frey, Don Henley, Michael Bowden (on bass), Byron Berline on occasional fiddle, and me on occasional acoustic guitar or Wurlitzer electric piano. I recorded three or four sets for a possible live album, using the old Wally Heider truck, but nothing came of it. We did release one track – a version of "Rescue Me," and it shows Moon's uncanny ability to add something fresh while still fitting in. He takes a very rock and roll approach to an R and B song and it works great."
Listen to Martin's own recording of "Bad Case…"

Latest posts by Best Classic Bands Staff
(see all)