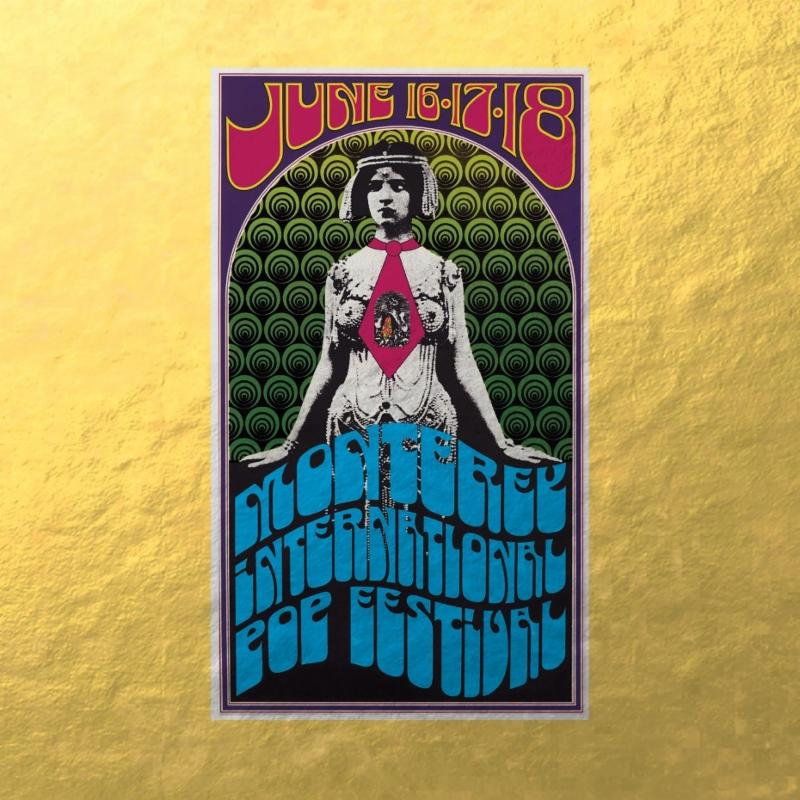 The Monterey International Pop Festival Foundation has released an anniversary edition CD/digital album, titled Iconic Performances From The Monterey International Pop Festival to celebrate the Monterey International Pop Festival's 50th anniversary. The album features previously unreleased performances by the Grateful Dead and Laura Nyro, as well as performances from the festival by Jimi Hendrix, Otis Redding, Big Brother and the Holding Company featuring Janis Joplin, the Who, Jefferson Airplane, Simon and Garfunkel, Buffalo Springfield, the Electric Flag, the Mamas and the Papas and others. (See the complete track listing below.)
The album includes a new essay by NME journalist Keith Altham, who attended the festival in 1967, in addition to a reproduction of the original festival artist pass, 16-page booklet and a gold-foil package to mark the 50th anniversary of the festival.
To order the album, scroll down to the bottom.
According to a press release, "The Monterey International Pop Festival has been called one of the most important events in the history of rock 'n' roll music. It was the first major rock festival and rock charity, a forerunner and blueprint for charity concerts such as Live Aid, Farm Aid, as well as the commercial festivals, Coachella and Outside Lands. The festival was a historic musical and cultural explosion, introducing to the world Janis Joplin, Jimi Hendrix, Otis Redding and the Who, to name a few. With its motto, 'Music, Love and Flowers,' Monterey International Pop Festival drew hundreds of thousands of people to Northern California in 1967. It was a celebration of benevolence and cultural change, the key event of the Summer of Love, and presented rock music as a movement, not just in California, but globally."
Related: The story behind Eric Burdon and the Animals' hit song "Monterey"
Track Listing:
Buffalo Springfield "For What It's Worth"
Paul Butterfield Blues Band "Driftin' Blues"
Grateful Dead "Cold Rain and Snow"
Simon & Garfunkel "The Sound of Silence"
Laura Nyro "Poverty Train"
Electric Flag "Wine"
Jefferson Airplane "White Rabbit"
Big Brother & the Holding Company "Ball and Chain"
The Who "My Generation"
Hugh Masakela "Bajabula Bonke (The Healing Song)"
Otis Redding "I've Been Loving You Too Long (To Stop Now)"
The Jimi Hendrix Experience "Like a Rolling Stone"
Mamas and the Papas "California Dreamin'"
Another Planet Entertainment, Goldenvoice and the Monterey International Pop Festival Foundation will be presenting a 50th anniversary celebration festival from June 16-18 at the Monterey County Fairgrounds, the exact date and location where the festival took place 50 years ago. It will feature performances by Jack Johnson, Norah Jones, Phil Lesh and the Terrapin Family Band, Booker T. Jones, Father John Misty, Jim James and more.
Watch Best Classic Bands for daily coverage of the 50th anniversary festival.
Watch Laura Nyro perform "Poverty Train" at Monterey

Latest posts by Best Classic Bands Staff
(see all)