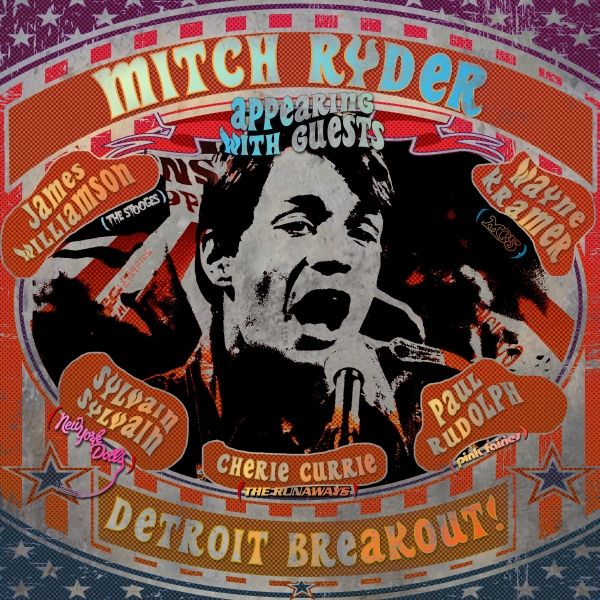 Following up his Christmas-themed release of 2018, Detroit rock and soul great Mitch Ryder returns with a collection of all-new recordings, Detroit Breakout! The album, released June 14, celebrates both the music of Detroit as well as the songs of Ryder's generation. The track list includes a new version of Ryder's own hit single "Devil With A Blue Dress On," the Capitols' "Cool Jerk," Otis Redding's "(Sittin' On) The Dock Of The Bay" and several other rock and soul classics.
The album includes guest performances by fellow Motor City alumni James Williamson of the Stooges and Wayne Kramer of MC5, as well as blues artists Joe Louis Walker and Arthur Adams, plus the New York Dolls' Sylvain Sylvain, the Runaways' Cherie Currie, Shirley King (the daughter of B.B. King) and more.
Listen to the remake of "Devil With a Blue Dress On"
Several of the guests commented on their participation.
"I love Mitch Ryder and I love 'Devil With A Blue Dress On.' Always one of my favorite songs. I had fun playing on the track. The finished version with Mitch sounds really current. Wow…just killer!" said James Williamson.
"I've been smitten with Mitch Ryder since I first heard 'Devil With A Blue Dress On.' When asked if I'd like to back this legend? Heck! I've worked all my life for this!" said Currie.
Listen to "(I'm Not Your) Steppin' Stone"
"[Mitch Ryder] is among the greatest soul singers of our generation and the opportunity to play guitar on his version of 'Cool Jerk' is a distinct honor for me. It's one of the greatest songs in recording history. Perfect in every way. I count this as a high-point in my career," said Kramer.
Watch Mitch Ryder perform "Devil With a Blue Dress On/Good Golly Miss Molly" in 2019
Related: Ryder was inducted into the R&B Hall of Fame in 2017
Watch Mitch Ryder and the Detroit Wheels lip-syncing "Jenny Take a Ride/C.C. Rider" on Hullabaloo

Latest posts by Best Classic Bands Staff
(see all)