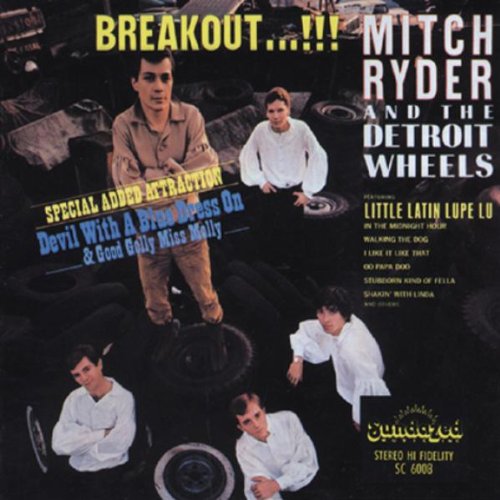 Blue-eyed soul rocker Mitch Ryder, whose '60s hits included "Jenny Take a Ride" and "Devil With a Blue Dress On," will be inducted into the Rhythm and Blues Hall of Fame on June 11, along with Patti LaBelle, Gladys Knight and the Pips, the Impressions, Larry Williams and posthumous inductees James Brown, Isaac Hayes and Mary Wells. The ceremony will take place in Ryder's hometown, at the Detroit Music Hall.
Ryder responded to the announcement with the following statement: "I looked at the names of some of those who came before me and it became a celebration of joy for me. I mean, Aretha Franklin, David Ruffin, Marvin Gaye, Otis Redding, Jackie Wilson, Sam Cooke and so many other voices that brought me great pleasure throughout my life and career. It is still thrilling me and I'm afraid to wake up from the dream!"
Ryder, whose other hits included "Little Latin Lupe Lu" and "Sock It to Me, Baby!," was born William Levise Jr. He took the stage name Billy Lee when he fronted a high school band that would play the Village, one of Detroit's top black soul clubs. At 17, he recorded an R&B single for the local gospel label, and went on to sing lead in a black vocal group, the Peps.
Related: What were the highlights in rock for 1967?
In 1964, he formed Billy Lee and the Rivieras, a rock 'n' soul group that drew the attention of Four Seasons producer Bob Crewe. Crewe changed the Rivieras to the Detroit Wheels and Levise found his new, and permanent, name while flipping through the Manhattan phone book. In 1969, Ryder hooked up with Booker T. and the MG's for the album The Detroit-Memphis Experiment. He later reunited with his old Wheels drummer John Badanjek in a band named Detroit. Their sole album featured a standout cover of Lou Reed's "Rock 'n' Roll" that impressed Reed enough to lure guitarist Steve Hunter to his own group.
John Mellencamp produced Ryder's album Never Kick A Sleeping Dog, which featured a cover of Prince's "When You Were Mine." Ryder has released 31 studio albums and 11 live records. His most recent U.S. release was the Don Was-produced The Promise.
Ryder also wrote a memoir, Devils & Blue Dresses: My Wild Ride as a Rock and Roll Legend.
The 5th Annual Black Tie Rhythm and Blues Hall of Fame Induction Ceremony & Concert will be held on Sunday June 11 at the Music Hall (350 Madison Street, Detroit). The Red Carpet festivities begin at 5 p.m., with the ceremony itself commencing at 6 p.m. The event will serve as a fund-raiser to help find a permanent building for the Rhythm and Blues Hall of Fame. For more information and ticket details, go here.
Watch Mitch Ryder and the Detroit Wheels lip-syncing "Jenny Take a Ride/C.C. Rider" on Hullabaloo

Latest posts by Best Classic Bands Staff
(see all)