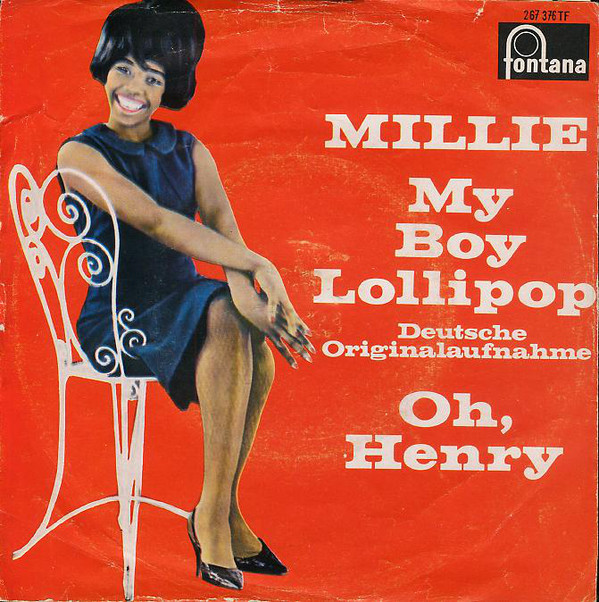 Millie Small, the Jamaican singer who scored a worldwide pop hit as a teenager with her 1964 pre-reggae recording of "My Boy Lollipop," died May 5, 2020, from a stroke at age 73. Her death was announced by Island Records founder Chris Blackwell.
Small had come to the attention of Blackwell when she recorded several songs in her mid-teens. "I would go to New York now and again and buy records," Blackwell said in a 2010 interview. "I'd make a copy of each one on a reel-to-reel tape. When I brought Millie over to England I sat down trying to work out if we can find a song for her and I found the original [1956] version of 'My Boy Lollipop' and I said, 'that's the song we should do,' so it was really really lucky that I found the tape."
With Blackwell as producer, Small's recording with her playful, schoolgirl vocal, was released in March 1964. The song became a worldwide success, reaching #2 in the U.K. On July 4, it also topped out at #2 in the U.S, bested only by the Beach Boys' "I Get Around." It sold a reported six million copies.
That September, Small appeared on Murray The K's Big Holiday Show, in Brooklyn, NY, along with such artists as Marvin Gaye, The Miracles, Martha & the Vandellas, The Supremes, The Temptations, The Searchers, Dusty Springfield, Jay & the Americans, and The Ronettes.
Watch Small perform the song
Speaking about his friend, and the artist who put Island Records on the map, Blackwell said: "Millie opened the door for Jamaican music to the world. It became a hit pretty much everywhere in the world. I went with her around the world because each of the territories wanted her to turn up and do TV shows and such, and it was just incredible how she handled it. She was such a really sweet person, very funny, great sense of humour. She was really special."
Small was born Millicent Small on October 6, 1946 in Clarendon, Jamaica. Though she toured and appeared on the occasional TV special to perform "My Boy Lollipop," she had only one other minor hit, and her career ended in the early 1970s.

Latest posts by Best Classic Bands Staff
(see all)