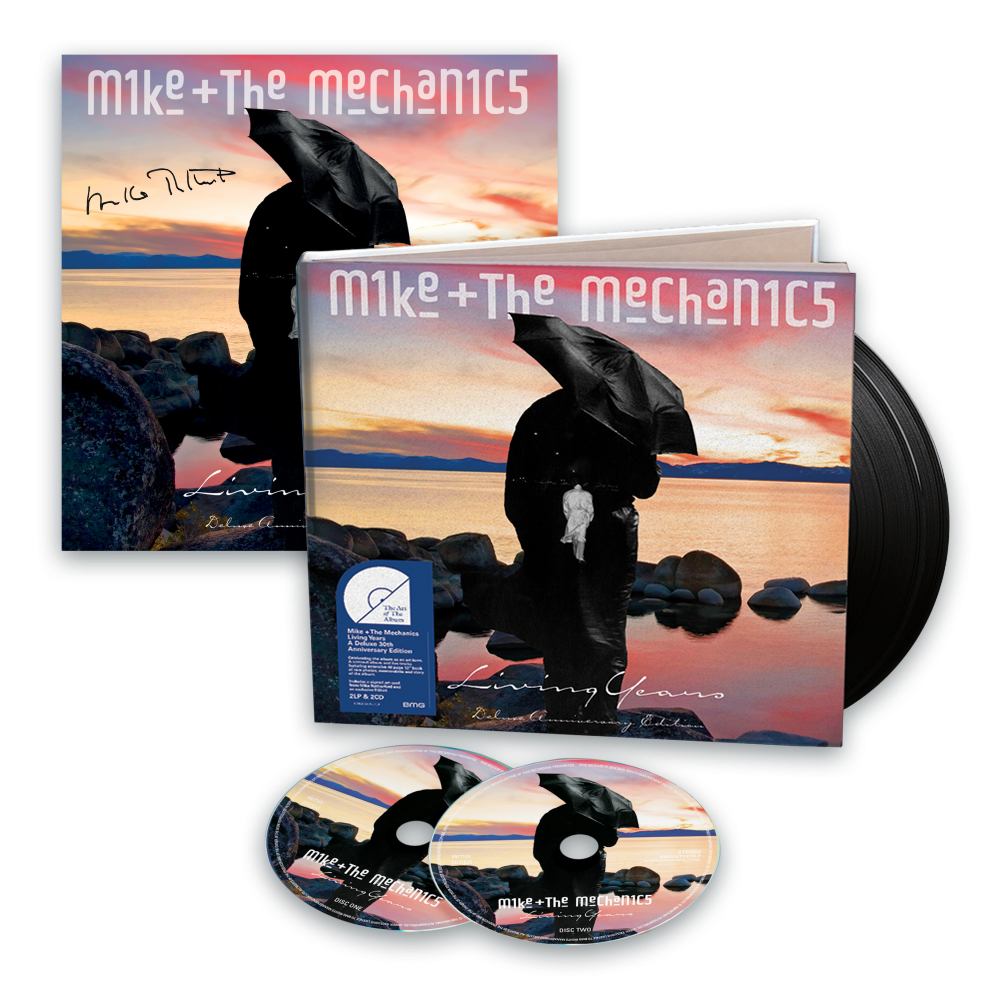 In celebration of the 30th anniversary of Mike + The Mechanics' Living Years, the album will be reissued in deluxe double CD and double vinyl formats through BMG Records direct to fans on October 26 and through all other outlets on November 30.
The band was formed by Genesis' co-founder and bass guitarist Mike Rutherford in 1985. The current edition of Rutherford's group have 2019 tour dates. See the schedule below.
From the August 31 announcement: "Available on vinyl for the first time ever, this set is re-imagined into a double LP and CD deluxe 40-page hardback book. There are brand new liner notes written by music journalist Neil McCormick and rare behind-the-scenes photos and memorabilia from the band. As well as the original album, there are live bonus tracks many of which are being made available for the first time, as well as a never-before-released 2014 version of their global smash hit single, 'The Living Years'."
The anniversary editions are available for pre-order now here. There are also a limited 1,000 copies with additional signed art cards, as well as an exclusive T-Shirt with all direct to customer purchases.
Originally released in October 28, 1988, Living Years was Mike + The Mechanics' second album and found global success charting at #2 in the U.K. and #2 in the U.S. The title cut, with lead vocals sung by then-member Paul Carrack, was a worldwide smash reaching #1 in the U.S. and several other countries, and #2 in the U.K.
Related: Mike Rutherford granted us our first interview, in 2015, for which we're eternally grateful
Watch the original video for "The Living Years"
2019 Tour Dates (Tickets are available here)
18/02 – National Stadium, Dublin
20/02 – Theatre Royal, Norwich
21/02 – G Live, Guildford
23/02 – Philharmonic Hall, Liverpool
24/02 – Sage, Gateshead
25/02 – Concert Hall, Perth
27/02 – Aberdeen Music Hall, Aberdeen
28/02 – Usher Hall, Edinburgh
01/03– Royal Concert Hall, Glasgow
03/03 – Sands Centre, Carlisle
04/03– Victoria Hall, Stoke
05/03 – Venue Cymru, Llandudno
07/03 – Corn Exchange, Cambridge
08/03 – De Montford Hall, Leicester
10/03 – Royal Centre, Nottingham
11/03 – Opera House, Buxton
12/03 – New Theatre, Oxford
14/03 – G Live, Guildford
15/03 – Symphony Hall, Birmingham
16/03– City Hall, Sheffield
18/03 – Bridgewater Hall, Manchester
19/03 – Barbican, York
21/03 – St Davids Hall, Cardiff
22/03 – Pavilion, Bournemouth
23/03 – Cliffs Pavilion, Southend
25/03 – Winter Gardens, Margate
26/03 – Hexagon, Reading
27/03 – Dome, Brighton
29/03 – Pavilions, Plymouth
30/03 – Guildhall, Portsmouth
01/04 – Royal Albert Hall, London
02/04 – Colosseum, Watford
03/04 – Anvil, Basingstoke
05/04– Congress Theatre, Eastbourne
07/04 – Milton Keynes Theatre, Milton Keynes
08/04 – Hippodrome, Bristol
09/04 – City Hall, Sailsbury

Latest posts by Best Classic Bands Staff
(see all)