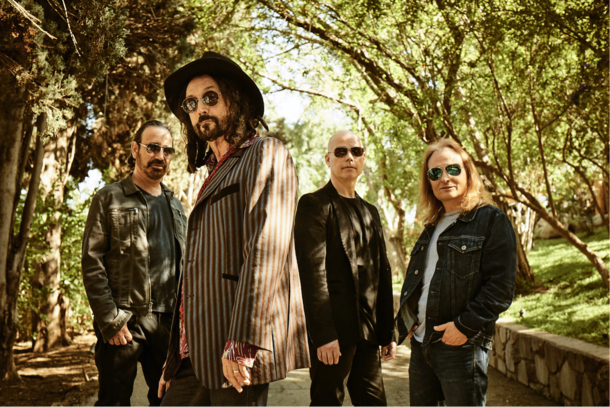 On January 27, 2018, the Heartbreakers' Mike Campbell performed with his side project, the Dirty Knobs, at Imperial Ball, a charity event at the Anaheim Center for the Performing Arts in Anaheim, Calif., to benefit formerly homeless people in the Los Angeles area. The Los Angeles-based band also features Jason Sinay, Matt Laug and Lance Morrison.
[The Dirty Knobs released their Wreckless Abandon album in 2020 and a follow-up, External Combustion, in 2022. (Tickets to them perform are available here and here.]
Stephen Stills was a guest musician during the Dirty Knobs' set, singing and playing his 1970 solo hit, "Love the One You're With."
Campbell, born February 1, 1950, said to the audience: "I want to do something for my friend–your friend–who we lost about four months ago. I want to explain why I want to do this tonight. I never play Heartbreakers songs with the Dirty Knobs out of respect. But I was talking to a friend of mine… and I told her how sad I was that I'll never play these songs again with my friend. And she said, 'That's right; you won't. But some night you'll play them for him. So tonight, these two songs are for my friend Tom. We all miss you Tom."
Watch "Something Good Coming" from the Tom Petty & the Heartbreakers album, Mojo
The Dirty Knobs also played a song that Campbell's fans are well-familiar with: "Runnin' Down a Dream," which he co-wrote with Tom Petty and Jeff Lynne for Petty's 1989 solo album, "Full Moon Fever." The song, with its well known guitar riff, has long been a highlight of Tom Petty & the Heartbreakers' concerts, as it concludes with an extended Campbell guitar solo.
At the Imperial Ball concert, Campbell also sang lead vocal.
Watch the Dirty Knobs perform "Runnin' Down a Dream"
Later that year, Stephen Stills presented his annual concert, Light Up the Blues, to benefit Autism Speaks. The fifth such event featured performances from such classic rock favorites as Neil Young and Sheryl Crow, and more. Oh, and the house band were three prominent members of the Heartbreakers: Campbell, keyboardist Benmont Tench and drummer Steve Ferrone. Others on the 2018 bill included Patti Smith, Judy Collins–whom Stills toured with extensively in 2017 and 2018–and Burt Bacharach. Jack Black emceed the event. Watch several clips from the April 21, 2018 event here.

Latest posts by Best Classic Bands Staff
(see all)