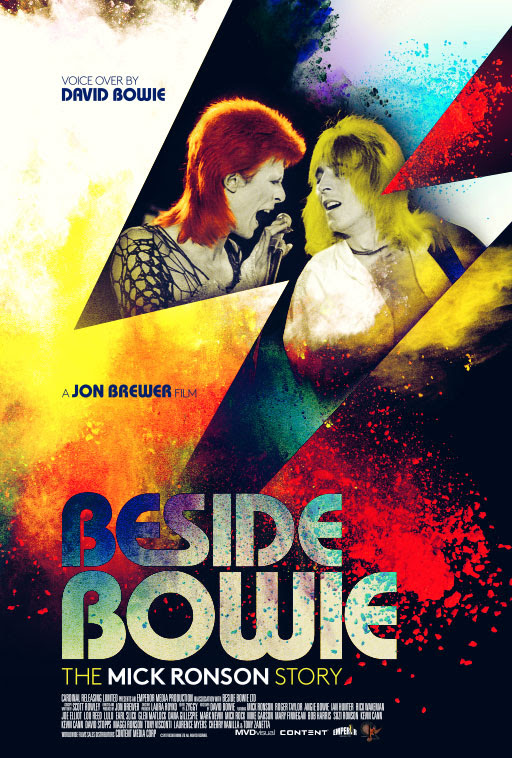 Beside Bowie: The Mick Ronson Story, a documentary several years in the making, focusing on the life and career of the late British guitarist best known for his work during the glam era, was released on home video in October 2017. A soundtrack album is coming June 8 on CD and as a 2-LP set.
Ronson died of liver cancer on April 29, 1993, at age 46.
The soundtrack is the first official career retrospective compilation for the guitar virtuoso, known affectionately as "Ronno." In addition to highlights from Ronson's solo records, the compilation includes material from his collaborations with David Bowie, Elton John, Ian Hunter, Michael Chapman and Queen. The album also includes a previously unreleased cover version of "This Is For You" by Def Leppard's Joe Elliott and a piano tribute to Ronson from Bowie's piano-man and band alumni Mike Garson (David Bowie, Nine Inch Nails, Smashing Pumpkins). See the complete track listing below.
The soundtrack includes an extensive essay and liner notes.
Bowie once said: "As a rock duo, I thought we were every bit as good as Mick and Keith, or Axl and Slash. Ziggy  and Mick were the personification of that rock and roll dualism."
Watch Ronson, Bowie and Queen's Brian May perform "Heroes," which is featured in the collection
The Beside Bowie documentary was produced and directed by Jon Brewer, whose previous credits include projects on B.B. King and Nat "King" Cole. The 104-minute film provides insight into the life and career-long associations of Ronson, who played most famously with David Bowie (on The Man Who Sold The World, Hunky Dory, The Rise and Fall of Ziggy Stardust and The Spiders From Mars and Aladdin Sane), as well as other greats including Bob Dylan, Ian Hunter (Mott The Hoople), Lulu and Lou Reed.
Watch the official trailer
Bowie narrates this celebration of the life and works of Ronson, described in a press release as "a rock hero virtually unknown despite his direct contribution and involvement in countless compositions, lyrics and recordings that changed the face of music forever." Now, "with unprecedented access to archival backstage footage–never before released–and iconic imagery from superstar photographer Mick Rock, this fascinating and at times controversial special reveals the ultimate authentic chronicle of the career of a cornerstone of rock," says the release.
Related: Def Leppard's Joe Elliott on Mott the Hoople
Beside Bowie: The Mick Ronson Story Soundtrack Track Listing
Queen, Ian Hunter, David Bowie, Mick Ronson, Joe Elliott & Phil Collen – "All The Young Dudes" (Live) Recorded at the Freddie Mercury Tribute Concert For AIDS Awareness, April 20, 1992 at Wembley Stadium, London
Michael Chapman – "Soulful Lady" Originally appeared on Fully Qualified Survivor (1970)
Elton John – "Madman Across The Water" Originally appeared on Rare Masters (1992)
David Bowie – "Moonage Daydream" Originally appeared on The Rise and Fall of Ziggy Stardust and the Spiders from Mars (1972)
David Bowie – "Cracked Actor" Originally appeared on Aladdin Sane (1973)
David Bowie – "Time" Originally appeared on Aladdin Sane (1973)
Ian Hunter – "Once Bitten, Twice Shy" Originally appeared on Ian Hunter (1975)
Mick Ronson – "I'd Give Anything To See You" Originally appeared on Just Like This (1999)
Mick Ronson – "Hard Life" Originally appeared on Just Like This (1999)
Mick Ronson – "Midnight Love" Originally appeared on Heaven and Hull (1994)
Mick Ronson – "Like A Rolling Stone" Originally appeared on Heaven and Hull (1994)
Joe Elliott – "This Is For You" *
Queen, David Bowie and Mick Ronson – "Heroes" (Live) Recorded live at the Freddie Mercury Tribute Concert for AIDS Awareness, April 20, 1992 at Wembley Stadium, London
Mike Garson – "Tribute To Mick Ronson" *
* Previously Unreleased

Latest posts by Best Classic Bands Staff
(see all)