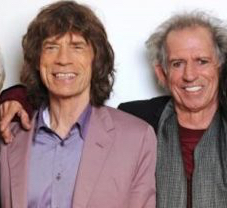 That's the claim in a new book by music journalist Rich Cohen, The Sun & The Moon & the Rolling Stones, that was just published on Tuesday (5/10). We know the two de facto leaders of The Rolling Stones have had their differences, and were highly estranged in the 1980s. But we'd like to think that the Glimmer Twins have ironed out most of the differences while playing together in recent years.
However, a New York Post article yesterday (5/11) blares in a headline that the two "can't stand each other." The article quotes Cohen as saying, "when you see Mick and Keith onstage, leaning together like Butch and Sundance, you're seeing actors. Their friendship was rock'n'roll…. What happens when that friendship dies?"
Cohen traces their friction back to the 1980s when Jagger tried to launch a solo career with his albums She's The Boss (1985) and Primitive Cool (1987). They failed to connect and that indicated that a mass audience wasn't much interested in Jagger outside the context of The Rolling Stones. Then Richards made a quite well-received album of his own in 1988, Talk Is Cheap.
"Keith's record sounded like the Stones," Cohen writes. "It made you reevaluate everything and wonder just who'd been responsible for what. In other words, Jagger's dash for freedom backfired."
Then, as the article says, Richards "'went "f - - king berserk' at news that Jagger had accepted a knighthood in 2003." The guitarist has always stayed true to his rock'n'roll rebel roots, while Jagger has increasingly become a socialite over the last 50 or so years.
Cohen's book also says that Keith's best-selling autobiography Life fueled Jagger's ire at his musical partner with such revelations as how Richards had mockingly nicknamed Mick "Brenda" and how the world-famous womanizer has, as Richards wrote, "a tiny todger." Richards reportedly let Jagger see the book before it was published but didn't make any of the changes that Mick requested.
Don't miss a post! Sign up for Best Classic Bands' Newsletter; form is on every page.
The money the Stones earn certainly offers an inducement for the two musical icons to at least pretend to get along. The band was recently ranked at #3 in Billboard's calculations of the highest-earning musical acts in 2015, bringing in nearly $40 million in tour income. The Post article says the Rolling Stones earned $558 million on the road from 2005 through 2007.
We feel like the real test of the Jagger/Richards partnership will be the quality and appeal of whatever songs they write together for the band's reported next album. After all, it's rather hard to fake magic on that count.

Latest posts by Best Classic Bands Staff
(see all)