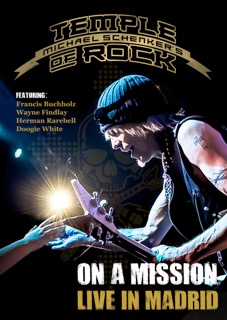 One of the most intriguing tours of recent times for fans of classic hard rock was when legendary guitarist Michael Schenker reunited with his former Scorpions bandmates, bassist Francis Buchholz and drummer Herman Rarebell, for a worldwide jaunt. And on May 6th, one of the standout performances of the entire tour will serve as the basis of a new CD and DVD release, On a Mission: Live in Madrid.
It was recorded and filmed at the Joy Eslava in Madrid on November 19, 2015 and also featured singer Doogie White – former vocalist for Rainbow and Yngwie Malmsteen – and guitarist/keyboardist Wayne Findlay. The performance touches on all phases of Schenker's long and winding career, including UFO ("Lights Out"), The Scorpions ("Coast to Coast"), MSG ("Victim of Illusion") and Temple of Rock ("Live and Let Die") along with several special surprises, such as a reading of The Scorpions' biggest hit, "Rock You Like a Hurricane."
In addition to being available for purchase as a two-CD set and on Blu-ray and DVD, there will be a limited edition "collector's box" (limited to only 5000 copies worldwide) that will include the double CD and two Blu-rays and extensive bonus material: footage from rehearsal, as the tour starts, outside the theater, at soundcheck, Michael with his guitars and interviews with the individual band members. Also included will be a booklet including unique and exclusive biographies written by the musicians themselves.
Please sign up for Best Classic Bands' Newsletter. Form is on every page.
Fans can soon relive one of Schenker's best-ever tours with the arrival of On a Mission: Live in Madrid. Pre-orders are now being taken on Amazon via the links below.
CD Track Listing:
Disc: 1
1. Ocean Odyssey – Intro
2. Doctor Doctor
3. Live And Let Live
4. Lights Out
5. Where The Wild Winds Blow
6. Natural Thing
7. Before The Devil Knows You're Dead
8. Victim Of Illusion
9. Lovedrive
10. Coast To Coast
11. Vigilante Man
12. Rock My Nights Away
Disc: 2
1. Saviour Machine
2. Too Hot To Handle
3. Only You Can Rock Me
4. Lord Of The Lost And Lonely
5. Rock You Like A Hurricane
6. Rock Bottom
7. Horizons
8. Attack Of The Mad Axeman
9. Communion
10. Blackout

Latest posts by Best Classic Bands Staff
(see all)