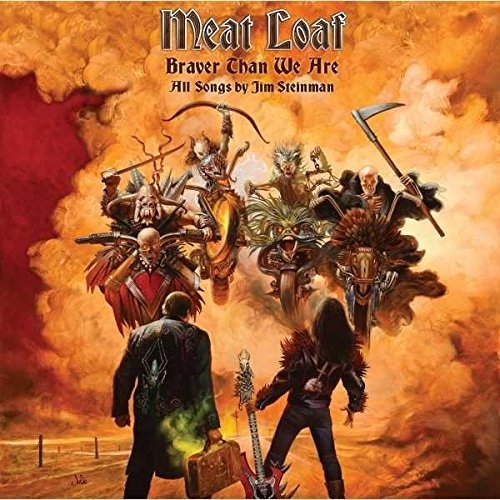 Update (September 1): Braver Than We Are is due September 16 (pre-order here). To support the new release, Meat will make a slew of TV and radio appearances, including NBC's Today and AOL Build on Sept. 12, Fox & Friends on Sept. 13, ABC's The Chew Sept. 14, Oprah's Where Are They Now, Access Hollywood, Entertainment Tonight, The Big Interview with Dan Rather, PBS' Metro Focus, CNBC's Closing Bell and many more, as well as multiple shows on SiriusXM and The Alan Colmes Show on Fox News Radio.
June 22: Just days after collapsing on stage in Edmonton, Meat Loaf has formally announced the release of a new album, Braver Than We Are, for 429 Records. Working closely again with his Bat Out Of Hell collaborator Jim Steinman, the release includes ten songs. The artist had previously announced the album last February on his Facebook page and had touted it in 2014 as well.
The tracks on Braver Than We Are were written by Steinman. While Paul Crook produced the album, Steinman acted as creative consultant throughout the recording process working alongside Crook and Meat Loaf sending suggestions, adding verses and contributing opinions on every aspect.
The first single, "Going All The Way," features another reunion: Meat Loaf is joined by vocalists Ellen Foley and Karla DeVito, decades after their first performances on the smash hit "Paradise by the Dashboard Light." Listen to it here.
Related: Meat Loaf returns to concert stage
On June 23, Meat Loaf wrote on his Facebook page: "To all of you who really like it , I say thank you very very much , to those who won't really listen . Nothing new to Jim and I . everyone dismissed Bat for almost 10 months . In fact they hated it . Some still do which is fine . You either hate it or love it . That is the way it should be !! Jim and I are fine with this . This album is great piece of work and Jim and I love the record along with Paul . If we didn't know one else could like it at all !! We make records we have to Love . AS Jim has said it has our History in the album !! It comes full circle . You will find out when you hear all the songs . Where some very famous lines you know very well came from !! M"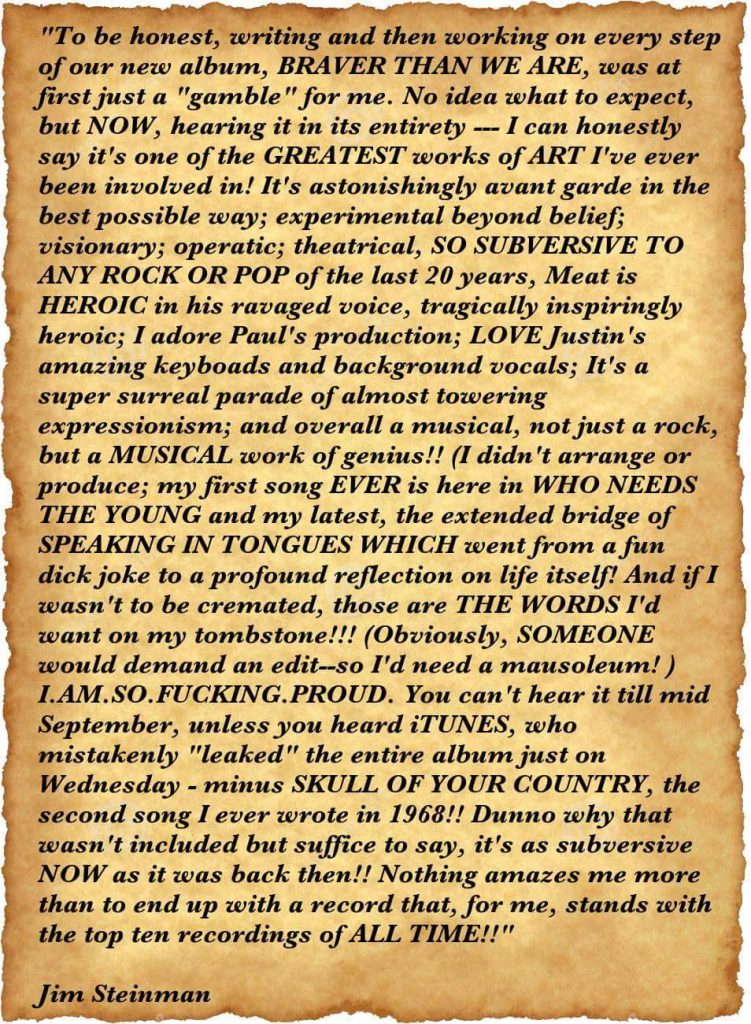 On June 26, Steinman released a statement (at left), which read in part: "Hearing it in its entirety – I can honestly say it's one of the GREATEST works of ART I've ever been involved in! Nothing amazes me more than to end up with a record that, for me, stands with the top ten recordings of ALL TIME!!"
Don't miss a post! Sign up for Best Classic Bands' Newsletter; form is on every page.
429 Records will release the album on CD and vinyl in Europe on September 9 and the U.S. and the rest of the world on September 16. You can hear previews of two new songs, as well as pre-order the album, via the Amazon link below.
Braver Than We Are Song Listing:
Who Needs The Young
Going All The Way (Is Just The Start)
Speaking in Tongues
Loving You's a Dirty Job (But Somebody's Gotta Do It)
Souvenirs
Only When I Feel
More
Godz
Skull of Your Country
Train of Love
Related: Meat Loaf collapses on-stage
In a career spanning over four decades, Braver Than We Are is Meat Loaf's fourth album featuring songs exclusively written by Jim Steinman. A painting featuring the two of them together for the first time is on the album cover. Their hugely successful collaborations – 1977's Bat Out of Hell and 1993's Bat Out of Hell II: Back Into Hell – together have sold a reported 67 million copies.
The album marks the singer's first since 2011's Hell in a Handbasket. It's his first new recording with Steinman since 1995's Welcome to the Neighbourhood which contained two Steinman compositions.
"It's a tribute to Jim Steinman really," said Meat Loaf. "It's a tribute to both of us and our work together."

Latest posts by Best Classic Bands Staff
(see all)