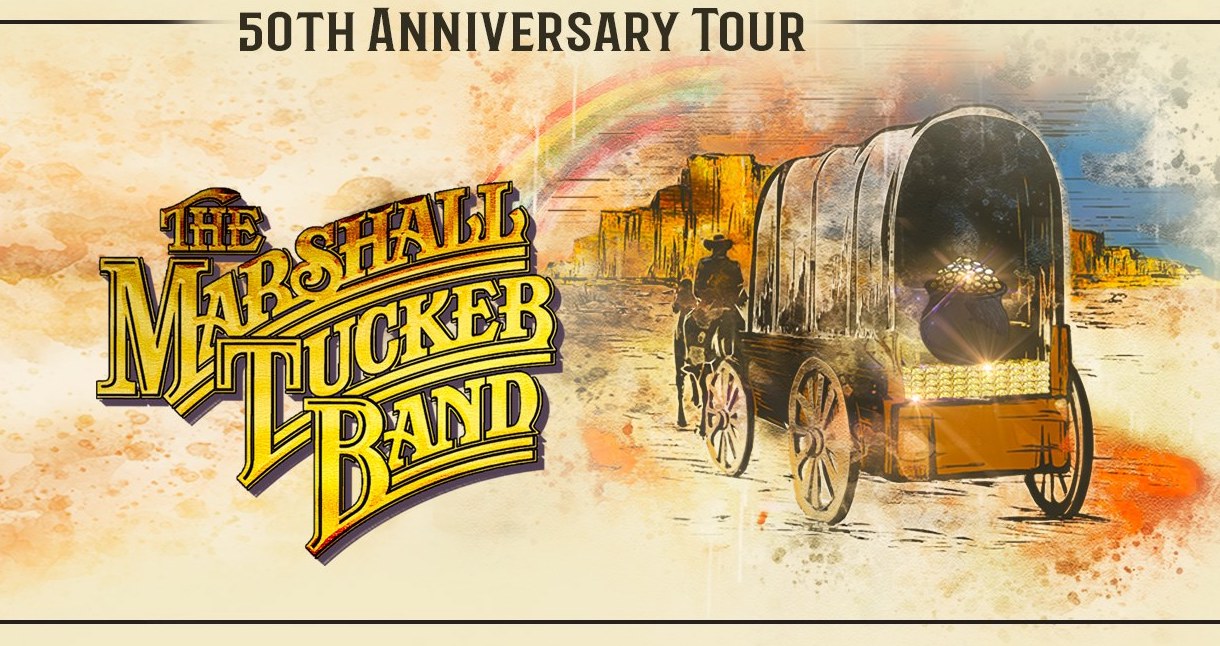 The Marshall Tucker Band continue to celebrate five decades since its inception with more dates of their 50th Anniversary tour, in 2023. Tickets are available at Ticketmaster.
"Five decades of the Marshall Tucker Band … sometimes it's still hard to understand," said MTB lead singer and founding member Doug Gray, when the run was first announced. "We are just regular people. The fans have given us so many special moments over these 50 years. I'm so proud of our band."
The band's namesake – yes, there really was a Marshall Tucker – died on Jan. 20, 2023, at the age of 99. In 1972, original members Toy Caldwell, Tommy Caldwell, Gray, Jerry Eubanks, George McCorkle and Paul Riddle came together in Spartanburg, S.C.
As the band wrote on their Facebook page on Jan. 21, "We are saddened to hear of the passing of someone very special to our hearts, for very obvious reasons. Our band's namesake, Mr. Marshall Tucker, passed away peacefully yesterday morning at the age of 99. Though he was never a member of our band, we wouldn't be here today without his historic name. In the early days when we were rehearsing in an old warehouse in Spartanburg, we found a keychain inscribed with his name. We needed a name asap… and the rest is history! Marshall was blind since birth but amazingly could play the heck out of the piano. He always said his talent was simply God-given. He tuned pianos in South Carolina for decades. We are thankful for Mr. Marshall Tucker and the life he lived! Sending blessings to his wife and family."
Thanks to hits like "Can't You See," "Heard It in a Love Song," "Fire on the Mountain," "24 Hours At a Time," and "Take the Highway," the 5x Gold, 3x Platinum-selling Southern Rock group has sold millions of albums worldwide.
Related: Our feature story on the band and their development
Watch the band perform "Can't You See" in 2019
Related: 11 great Southern Rock albums
Marshall Tucker Band 50th Anniversary Tour (Tickets are available here)
Jan 21 – Suquamish, WA – Suquamish Clearwater Casino Resort
Jan 23 – Solana Beach, CA – Belly Up
Jan 24 – Solana Beach, CA – Belly Up
Jan 26 – Vacaville, CA – Vacaville PAC
Jan 27 – Folsom, CA – Harris Center
Jan 28 – Campbell, CA – Heritage Theatre
Jan 29 – San Ramon, CA – Dougherty Valley PAC
Jan 31 – Feb 4 – Key West, FL – Key Western Fest
Feb 11 – Vinton, LA – Delta Downs Racetrack, Hotel & Casino
Feb 13-17 – Rock Legends Cruise 2023
Feb 19 – Jacksonville, FL – Florida Theatre
Feb 20 – St. Petersburg, FL – Mahaffey Theater
Feb 23 – Derry, NH – Tupelo Music Hall
Feb 24 – Rutland, VT – Paramount Theatre
Feb 25 – Warren, PA – Struthers Library Theatre
Mar 08 – Norwalk, CT – Wall Street Theater
Mar 09 – Patchogue, NY – Patchogue Theatre
Mar 10 – Collingswood, NJ – Scottish Rite Auditorium
Mar 11 – Carteret, NJ – Carteret Perf. Arts and Events Center
Mar 18 – Clewiston, FL – Clewiston Sugar Festival
Apr 01 – Atlanta, GA – State Farm Arena
May 25-28 – Axton, VA – Rooster Walk
Jul 21 – Batavia, NY – Batavia Downs Gaming
Related: Listings for 100s of classic rock tours

Latest posts by Best Classic Bands Staff
(see all)