Mark Knopfler's 'Local Hero' Soundtrack: A Musical Homecoming
by Sam Sutherland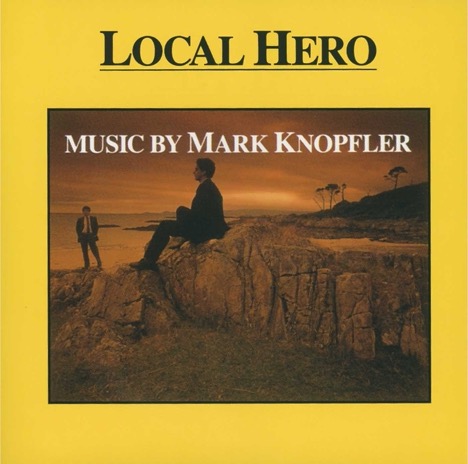 Stars in the northern sky above a coastal Scottish village serve as portents that move the plot in director Bill Forsyth's original script for Local Hero, the whimsical 1983 comedy that earned the Glaswegian filmmaker accolades on both sides of the Atlantic. The stars had aligned for Forsyth prior to production with the involvement of British producer David Puttnam, whose success two years earlier with Chariots of Fire bridged art house credibility and global box office success, then through Mark Knopfler's engagement to provide Local Hero's music. The Dire Straits singer, songwriter and guitarist delivered a score that was integral to the film's enduring appeal, launching a successful second career as a film composer.
Knopfler's notoriety was initially spurred by his prowess as a guitar hero, but the Glasgow-born, Newcastle-bred musician sought new challenges beyond his band's platinum album sales and successful tours. By early 1982, with three hit Straits LPs under his belt, Knopfler dispatched manager Ed Bicknell to court film work, translating Making Movies from album title to career goal.
In Puttnam, Bicknell found a receptive prospect. The balance of prestige and commercial success achieved by Chariots of Fire had been buttressed by Vangelis' score, which had sidestepped conventional orchestrations and period source cues with a boldly modern electronic score that won one of the feature's four Academy Awards and reaped global success for both its main title theme and soundtrack album, each topping their respective U.S. chart.
Mark Knopfler performing with Dire Straits in 1983As plans for Knopfler's first film score took shape, he began working on the next Dire Straits album at New York's Power Station, pushing the group beyond its original format of guitar, bass and drums with prominent keyboard orchestrations. By the time Making Movies was completed, his dominance had forced brother and rhythm guitarist David Knopfler out of the band, adding second guitarist Hal Lindes and keyboard player Alan Clark to the surviving rhythm section of bassist John Illsley and drummer Pick Withers.
After co-producing that album with Jimmy Iovine, Mark Knopfler stepped up to produce its sequel on his own, partnering with engineer Neil Dorfsman to push the band's sound even further, an ambition borne out by Love Over Gold in its epic 14-minute opening track, "Telegraph Road." If his band's new music bulked up with prog-rock power, however, the score Knopfler brought to the Forsyth film would diverge sharply, inspired by the delicate material at hand.
Watch the Criterion trailer for Local Hero
The sly charm of Local Hero lies beneath its leisurely pace and frequent sidebar conversations that pause the plot to let Bill Forsyth's characters reveal themselves. A droll synthesis of ecological fable, class satire and affectionate social satire, the story follows an ambitious young American oil executive sent to seduce the citizens of Ferness, a sleepy fishing village on Scotland's west coast, into selling their hamlet and its idyllic landscape to make room for a massive refinery. What generates the story's comic glow is its balance of screwball absurdism, oblique romance and magic realism as the protagonist encounters a rich cast of oddball characters worthy of Preston Sturges.
Related: Our review of Knopfler's Studio Albums 2009-2018 box set
Knopfler responds with cinematic empathy, letting locale and narrative guide stylistic choices that significantly depart from his band's more muscular sonic turf, despite the participation of the group in recording, save for departing drummer Withers. Coming closest to their ensemble style is a full-throttle country instrumental underscoring the opening sequence, depicting oil exec Mac MacIntyre as he drives his prized Porsche through Houston's rush hour traffic.
Designed as the sound bed for a drive-time DJ's drawled traffic report, "Freeway Flyer" is a fleet, shit-kicking platform for Knopfler's effortlessly fast, fluid electric solos, projecting a Music Row authenticity that anticipates Knopfler's subsequent Nashville collaborations with Chet Atkins, George Jones and Emmylou Harris alongside his Notting Hillbillies adventures.
The story's journey from Texas to Scotland informs Knopfler's stylistic contrasts, shifting from Houston's American accents (country and jazz) to traditional Celtic motifs for Ferness. A restrained acoustic guitar arrangement colored by Alan Clark's ethereal synths introduces a wistful melody that recurs as a motif signifying the landscape's natural beauty, while traditional Scottish dance music later takes stage at a community cèilidh, where characters and plot threads will collide. Considering the timeline for Knopfler's overall discography, these cues may have catalyzed his affection for traditional music closer to his Geordie heritage than the American and British rock models that were reflected in Dire Straits' early work
The Local Hero scoring sessions would be split between the Power Station and London's Eden Studios. After first working with jazz vibraphonist Mike Mainieri for Love Over Gold, Knopfler enlisted Mainieri, tenor saxophonist Michael Brecker and other New York jazz veterans for another stateside cue that colors a lonely late-night scene in Mac's apartment as he tries and fails to connect with a succession of ex-girlfriends. "Boomtown" adds a trace note of resignation to the sequence, giving the lie to Mac's bravado as prelude to the dislocation to follow in Scotland, where he's destined to be a fish out of water.
That Knopfler and Forsyth were more interested in mood and character than hunting for commercial bonuses is measured in the score's traditional focus on succinct melodic motifs that underline Forsyth's themes. A synthesizer figure morphs through three different cues that allude to celestial phenomena that emerge as both plot mechanism and punchline.
The soundtrack's solo vocal breaks from that discipline without breaking the movie's spell. Originally written for Love Over Gold, "The Way It Always Starts" is repurposed with Gerry Rafferty's vocal, singing in a warm pop lane familiar from the Scot's post-Stealers Wheel hits. Both the song and performance are pleasant but slight by either artist's standards, relegated appropriately to background radio music.
Such modesty serves Forsyth's film well while still allowing Mark Knopfler to punctuate his first soundtrack with an indelible instrumental theme that has become among his most recognizable works and a staple of live performances. The wistful Highland melody introduced as Knopfler's "Wild Theme" returns over the final footage after Mac has returned reluctantly to Texas, transformed from quiet folk motif to a rousing anthem that's equal parts celebratory and yearning. "Going Home (Theme of the Local Hero)" completes both movie and LP with a full band arrangement that gathers behind Knopfler's reflective electric guitar before handing off to Michael Brecker's soaring tenor sax refrain, which serves as the track's beating heart.
"Going Home" sent moviegoers smiling (and, perhaps, teary-eyed at leaving Ferness themselves) from theaters, with Local Hero outlasting its modest art house success to become recognized as filmmaker Bill Forsyth's crowning achievement, as well as a Scottish pop cultural treasure. Its endurance led to an adaptation as a stage musical pairing Knopfler's music with a book by Forsyth and David Grieg, premiering in 2019 in Edinburgh with a planned 2020 engagement at London's Old Vic sabotaged by the coronavirus pandemic.
Related: More about the musical
On its own, "Going Home (Theme for the Local Hero)" has ascended to arena glory as the official theme of Knopfler's hometown English football fans, Newcastle United, who grow teary-eyed themselves as it's played as the team runs out onto the pitch before home games.
More broadly, Local Hero inspired Mark Knopfler to delve consciously into traditional Scots Irish music, continuing with his next soundtrack project, the Irish drama Cal, then surfacing audibly on the next Dire Straits album, Brothers in Arms, before broadening as a key influence on Knopfler's subsequent solo work.
Watch Knopfler perform 'Going Home: Theme of the Local Hero' for the BBC concert program A Night In London in 1996

Latest posts by Sam Sutherland
(see all)