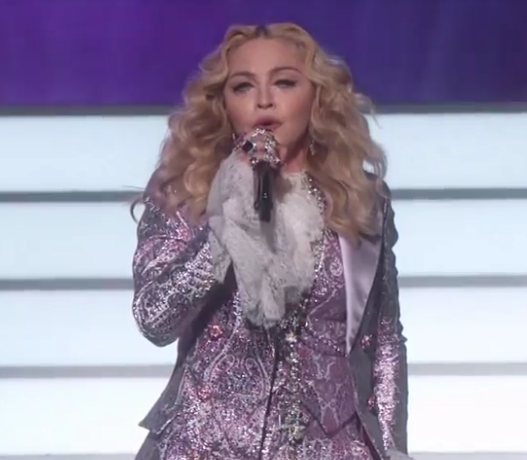 Depending on the source, Madonna's tribute to Prince on Sunday night's (5/22) Billboard Music Awards was either "touching" (Us Weekly, The Daily Beast), "beautiful" (HarpersBazzar.com) and "stunning" (Yahoo! Music)… or according to immediate Twitter responses afterwards "pitiful" and "completely disrespectful" or even, as one person tweeted, "sound[ed] like boiled dick" (Really?). Or like just about everything Madge ever does, a source of controversy (a word that was, let us remind everyone, a Prince album title). Even prior to the broadcast, a petition on Change.org objected. "We cannot let Madonna be the main and only artist tributing Prince during the 2016 Billboard Awards," it read. The show's Executive Producer Mark Bracco responded, "Listen, I think everybody is entitled to their opinion and everyone can have their own opinion, but I will say that we are honored and could not be more excited for Madonna to be on the show and to pay tribute to someone that was her friend and her peer and her colleague. I think it's going to be fantastic." Tweeting during the broadcast for the opposition, former Eurhythmic Dave Stewart:
Please don't have Madonna attempt a prince song

— Dave Stewart (@DaveStewart) May 23, 2016
Too late — Dave Stewart (@DaveStewart) May 23, 2016
The basic details: She sang Prince's song "Nothing Compares 2 U" and then was joined by Stevie Wonder – who seems to be inoculated against criticism – for a verse/chorus duet on "Purple Rain." You be the judge:
Simple facts: Love or loathe her – rarely is there any middle ground – Madonna is a veteran superstar on the same order as Prince, rose to fame in the same era (1980s), and was his friend (if at times the two were at odds) as well a musical collaborator. They briefly dated in 1985. They co-wrote and sang together in 1989 on "Love Song" for her Like A Prayer album, on which Prince also played guitar on the songs "Act of Contrition" and "Keep It Together." He reportedly offered her the female lead in his movie Graffiti Bridge, but she turned the part down. In the years since they were said to be feuding and were at least competitive, and on occasion both made pointed remarks in public or on social media about each other. Last year, following her show in St. Paul, MN on her Rebel Heart tour, Madonna and her entourage attended a late night show at Paisley Park by Prince and his band 3rd Eyed Girl.
We are of the mind that Madonna deserves neither excessive praise nor damnation for her salute. And agree with ?uestlove, who introduced her on the show:
Now anger is in the air w who (in our eyes) is allowed to mourn & how they are allowed to mourn.—none of us were prepared for his death

— Questlove Gomez (@questlove) May 23, 2016
So I know there is gonna be ALOT of "feel a certain ways" about who you want to see do his music justice—but you gotta put that aside yall — Questlove Gomez (@questlove) May 23, 2016
Every Prince rendition will not be a life changing orgasmic xperience. Just to SING his work is brave enough. Again feeling are on high

— Questlove Gomez (@questlove) May 23, 2016
And EVERYBODY wants and deserves a chance to say goodbye in their own way. But remember: there will be AMAs, SoulTrain, NAACP, mtv, GRAMMYS — Questlove Gomez (@questlove) May 23, 2016
We are sad we lost Prince. We miss him. The slams and sniping are in poor form. Everyone please chill…. BTW, overall ratings for the full broadcast were at a four-year low.
Don't miss a post! Sign up for Best Classic Bands' Newsletter; form is on every page.

Latest posts by Best Classic Bands Staff
(see all)