Update (September 7): A 6-LP 12″ vinyl edition of the lengthier previously announced boxed set, Lou Reed – The RCA & Arista Vinyl Collection, Vol. 1, will be available on  November 18, Legacy Recordings has announced. Each of the six album titles will be pressed on 150-gram vinyl and housed in a facsimile reproduction of the album's original packaging, including a 30-page book. Fully restored album titles included the 12″ vinyl edition of Lou Reed – The RCA & Arista Album Collection are: Transformer (1972), Berlin (1973), Rock n Roll Animal (1974), Coney Island Baby (1975), Street Hassle (1978) and The Blue Mask (1982).
Great news for Lou Reed fans. Legacy Recordings will release a definitive 17-disc collection of the legendary artist's music on October 7. Pre-order is available here.
The box set, named Lou Reed – The RCA & Arista Album Collection, will feature music from 1972 to 1986, notably one of most versatile periods of his career. Included in the anthology: 16 studio and live album titles written, recorded and often produced by Reed during his solo career. Timeless songs such as "Perfect Day," "Walk On The Wild Side," "Satellite of Love," and "I Love You, Suzanne" will be just a few of the songs within this immense body of work.
Lou Reed – The RCA & Arista Album Collection offers fans access to several titles which have been out-of-print, hard-to-find or unavailable in the CD and digital music eras. In addition to an 80-page hard-bound book featuring memorabilia from Reed's personal archives, rarely seen photos and artwork, and interviews with Reed, are in-depth liner notes, written by his longtime friend and the collection's co-producer Hal Willner, chronicling Reed's involvement with this long-term project, completed shortly before the 71 year-old artist's passing on October 27, 2013.
Willner wrote in his liner notes: "Everyone who was in that room or around Lou during this period witnessed a beautiful thing as he enthusiastically relived that whole period of his work with the joy of rediscovery, excitedly pointing out subtleties in sounds he hadn't heard in years. In retrospect, reminiscing about these sessions done less than four months before he died, the moments seem even more magnified."
Starting his career as a teenager in the 1950's, Lou Reed went on to shape music and define himself as the ultimate New York classic rocker. Founding Velvet Underground in 1965, the band released notable tracks such as "Heroin" and "Sunday Morning" before parting ways in 1970. This led Reed to begin his solo career, releasing a self titled album in 1972. His second solo album, Transformer in 1973, was co-produced by David Bowie and Mick Ronson. The single, "Walk on the Wild Side," was a huge hit from the album, becoming the most commercial mainstream track he would go on to have in his career. (In fact, it was the only song of his to reach the Hot 100, peaking at #16.) When first introduced to Reed's music, Bowie had said, "I had never heard anything quite like it. It was a revelation to me."
Here's a live version of the song from 1985's Farm Aid…
Reed was inducted into the Rock and Roll Hall of Fame as a solo artist on April 18, 2015. He was previously inducted into the Rock Hall, along with John Cale, Sterling Morrison and Maureen Tucker, as a member of the Velvet Underground in 1996.
"Lou put his heart into re-mastering these records. They are not smoothed out. Sometimes re-mastering revealed their details and roughness in the most exciting ways. They leap out at you with their original energy." says Laurie Anderson, an American musician/composer/performance artist and Reed's wife and partner for 21 years. "Anyone who has loved Lou's music will be so happy to have this."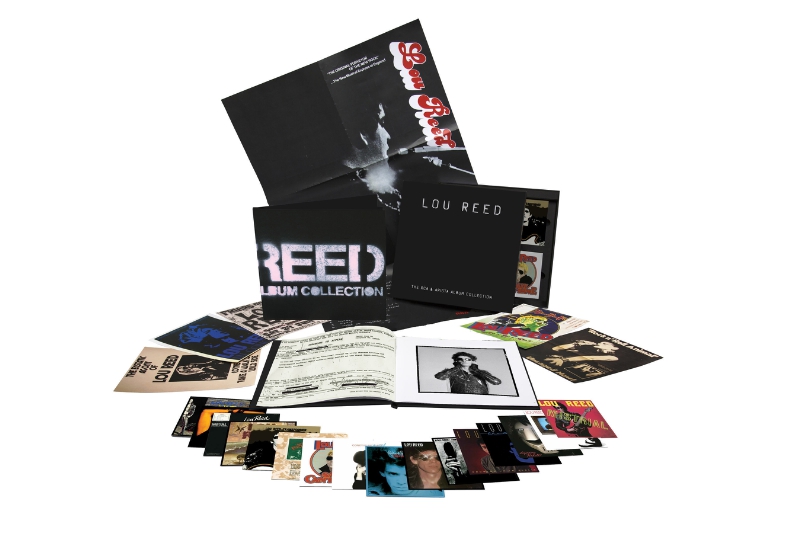 The CD version of Lou Reed – The RCA & Arista Album Collection includes:
Lou Reed (April 1972)
Transformer (November 1972)
Berlin (July 1973)
Rock n Roll Animal (live – February 1974)
Sally Can't Dance (August 1974)
Metal Machine Music (July 1975)
Coney Island Baby (December 1975)
Rock and Roll Heart (October 1976)
Street Hassle (February 1978)
Lou Reed Live Take No Prisoners (2 CDs – November 1978)
The Bells (April 1979)
Growing Up in Public (April 1980)
The Blue Mask (February 1982)
Legendary Hearts (March 1983)
New Sensations (April 1984)
Mistrial (June 1986)

Latest posts by Best Classic Bands Staff
(see all)