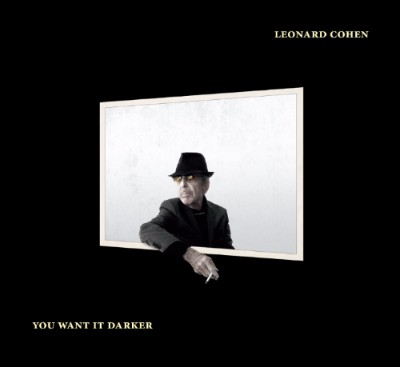 Singer-songwriter Leonard Cohen, age 82, will release a new album, You Want It Darker, this fall. (No firm release date has been announced.) The follow-up to 2014's Popular Problems, the new set, Cohen's 14th studio recording, was produced by his son, Adam Cohen, and will be released by Sony Music. We've got a brief NSFW preview of the title track below from an episode of the TV series Peaky Blinders that aired earlier this year.
Unfortunately, no information is available at this point other than the track list, which is as follows:
1. "You Want It Darker"
2. "Treaty"
3. "On the Level"
4. "Leaving the Table"
5. "If I Didn't Have Your Love"
6. "Traveling Light"
7. "It Seemed the Better Way"
8. "Steer Your Way"
9. "String Reprise/Treaty"
The title track, "You Want It Darker," was previewed recently on the BBC television drama Peaky Blinders. Steven Knight, creator of the program, which follows the exploits of a crime family in Birmingham, England, a hundred years ago, has said that Cohen wrote the new song specifically for the show, which also features music by artists such as Nick Cave and PJ Harvey.
The lyrics, in part, are:
"If you are the dealer
Let me out of the game
If you are the healer
I'm broken and lame
If thine is the glory
Mine must be the shame
You want it darker
We kill the flame"
Cohen was also in the news recently when Marianne Ihlen, the muse of one of his best known compositions, "So Long Marianne," lay dying of leukemia in Oslo. Cohen wrote his own "So long Marianne" letter to the woman, with whom he lived for some time in the '60s on a Greek Island.
'Well, Marianne," Cohen said in the letter, "it's come to this time when we are really so old and our bodies are falling apart and I think I will follow you very soon. Know that I am so close behind you that if you stretch out your hand, I think you can reach mine.
And you know that I've always loved you for your beauty and for your wisdom, but I don't need to say anything more about that because you know all about that. But now, I just want to wish you a very good journey. Goodbye old friend. Endless love, see you down the road." Ihler died two days after receiving Cohen's letter.

Latest posts by Best Classic Bands Staff
(see all)