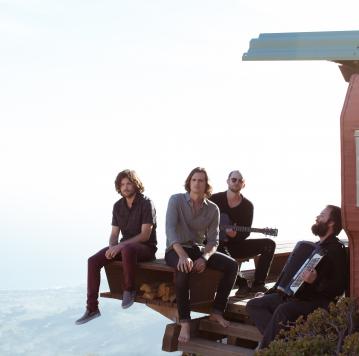 Best Classic Bands occasionally writes about newer acts that record and perform in the classic rock style. Case in point: Kongos, who broke through big time in 2014 with their two-million-selling hit, "Come With Me Now," off their Lunatic album. The rock quartet have just re-released their 2007 self-titled debut to all digital retailers.
And even better news: the band's four brothers – Johnny, Jesse, Daniel and Dylan – are putting the finishing touches on their third album, for Epic Records, due early 2016 (date still TBD).
Kongos received a limited independent release back in 2007. Its re-release brings things full circle for the brothers, showcasing the genesis of their unique alt-rock sound steeped in artful experimentation and explosive melodies. Before now, the album was only available at their merch booth on tour. Laying the foundation for their enigmatic style driven by accordion and energetic percussion, the debut would eventually pave the way for their international breakthrough on Lunatic.
The brothers grew up in South Africa but have lived in Phoenix since 1996. Their "Come With Me Now" video has been viewed an astounding 40 million times on YouTube.

Latest posts by Best Classic Bands Staff
(see all)