Janis Joplin Doc: 'Little Girl Blue'
by Noe Gold
Janis was nothing if not authentic. Her raspy delivery of blues-drenched, soul-power vocals has become the standard by which every rock and roll chanteuse – Laura Nyro, Nico, Sheryl Crow, Amy Winehouse among them – has measured herself, and she did not come by that distinction easily. Much has been written about this and much has been supposed, but the new Janis Joplin doc by director Amy Berg (Deliver Us From Evil, West of Memphis) is the real deal, telling the tragicomic – yes, because Janis knew how to laugh at life's absurdities – story of the Texas diva from the inside out and in her own words, as taken from various letters to her parents signed "Love, Janis" and a raft of behind-the-scenes cinema-verite footage by various photographers and cinematographers. Notable documentarians include Bob Seidemann and David Gahr, and D.A. Pennebaker, who first saw the possibilities when he documented Joplin's leap to fame at Monterey Pop June 18, 1967. Janis' words are credibly narrated in a voiceover by Chan Marshall aka Cat Power.
(Little Girl Blue will have its TV premiere on the PBS American Masters series on Tuesday, May 3. The broadcast features a never-before-seen extended film cut with additional archival performance footage and new interviews with Joplin's sister Laura Joplin and musicians influenced by Janis: Alecia Moore (a.k.a. Pink), Juliette Lewis, Melissa Etheridge and the film's narrator, Chan Marshall, who is best known as indie rock star Cat Power. In tribute, she performs "A Woman Left Lonely" from Joplin's final studio album Pearl, released posthumously on January 11, 1971. This year marks the album's 45th anniversary.)
Berg captures the rise and fall of the heroin-addled heroine in one big mishpucha of a narrative. And I am not being facetious using the Yiddish word for family – the doc is all about the ties that bind, blood- and buddy-relative alike. The film opens with Joplin's sister Laura declaiming on her the singer's early experiences as a bohemian misfit in a town full of squares. "Growing up," she says, "her peers picked on her, bullied her" for her ungainly stature, her Beatnik attire and predilection for the blues. "She joined the choir, they kicked her out of the choir." While this sort of narrative is heard on the soundtrack, the screen pans across an item from a scrapbook: "Janis Joplin Wins Ugliest Man Contest," screams a headline from a school paper when Joplin attended the University of Texas. That sort of thing, and we in the audience immediately share how much these slights hurt the supposedly cool cosmic bitch of steel. We are informed by Janis that "Jesus Christ, I want to be happy so bad."
Columbia/Legacy has issued the soundtrack which includes a previously unreleased audio version of "Piece of my Heart," recorded live in NYC in April 1968. (Full track listing and link below.)
Through her montage show-and-tell approach, director Berg leads us in and out of the smoked dreams of Janis' mind as she ditches stifling Port Arthur for the coffeehouse and campus ambience of Austin. There she indulges her inner Allen Ginsberg and geeks out on beat poetry, bongos, autoharps and the country blues. We see glimpses of early band configurations, heavy on the acoustic instruments and folkie vibe – and we hear from those band members in the talking heads.
Don't miss a post! Sign up for Best Classic Bands' Newsletter; form is on every page.
Being happy, she discovers, is all about being onstage. Through all the recreational tools she plays with over the course of this odyssey from Big Brother to Full-Tilt Boogie and beyond – and they are many and varied – the footlights are the most addictive energy that she skates on. She also realizes at this juncture that she has a voice. Channeling Bessie Smith and Odetta, Janis comes up with a country blues synthesis that is so beyond homage, it verges on inhabitation.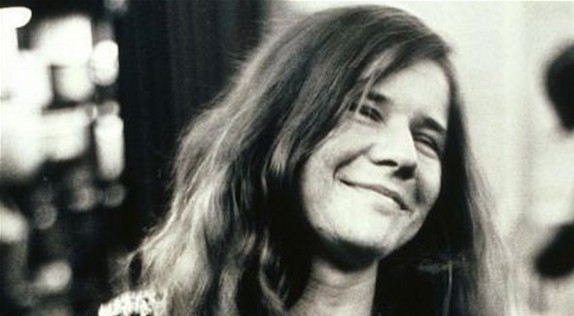 But Janis, in her dogged pursuit of the unconventional, the outrageous and the cool, can never sit stll. In 1963, she migrates to the Beatnik nirvana of North Beach, declaring that San Francisco is "where it's at, 'cause you can do what you want to do." And do it, she does. Before long, her eyes are wide open to the creative juices flowing all over the place in her adopted city. Flying on LSD, she takes in Otis Redding at the Filmore and channels him through the purple haze. From there it's only a Rolling Stone's throw to her triumph at Monterey.
But I digress. Her Haight-Ashbury days are filled with life lived and romance on the fly with the new royalty of the Haight – her new bandmates in Big Brother and the Holding Company and their cohorts in crime from the Jefferson Airplane, Quicksilver Messenger Service, Grateful Dead and the Charlatans. These last two groupings supplied at least one lusty pairing in the biker-stud persona of one Ron McKernan aka Pigpen, with whom Janis carried on a more than sporting dalliance, and Country Joe MacDonald, with whom he carried on a dalliance with himself.
No less a personage than Bob Weir chimes in on camera about Joplin's prodigious appetites. And that's not even halfway through the narrative. The action – and the onscreen magic captured by the cameras ramps up considerably once Janis lands on the bill at Monterey with an assist from Pennebaker, producer Paul Rothchild, Clive Davis and serendipity. This was indeed the turning point of her career and we are along for the long strange trip of a ride she takes to eternity. We are treated to some totally eye-on-the -wall perspective on the back room machinations between the uppity LA people who organized the festival and the San Francisco contingent, which tended to rail against what they called LA slick.
But that's not all either. Monterey would lead to more and more featured performances and collaborations around the world. We see a truly blessed Kris Kristofferson as he pontificates on Janis' connection to his song, "Me and Bobby McGee;" a truly bemused Clive Davis as he describes getting down with the hippies to suss out the well of talent he will nurture in Janis, and the follow-up soon thereafter as Janis moves to Columbia Records and crashes through the charts barrier by making Cheap Thrills a gold record in less than six days; a totally deadpan Peggy Caserta as she runs down all the needle-sticking experiences the two friends shared ("We shot heroin for fun"); Big Brother stalwart Sam Andrews, who stuck it out with her through the ranges of Big Brother, Full-Tilt Boogie Band and the Festival Express; we listen in on the testimony of a truly besotted Dick Cavett as he ponders what could have been had his friend survived; we are treated to the musings of a duly impressed D.A. Pennebaker as he records with loving clarity on film the magic in the studio as Joplin puts the musicians and producers through their paces while recording the bluesy, vampy "Summertime."
The camera loves her as it follows her around from stage to limo to Woodstock and back, New York, Rome, Tokyo and all the places she only dreamed of back in Port Arthur, Texas. The film comes full circle, a portrait that is at once charismatic, charming and colorful. This one's a keeper.
Janis: Little Girl Blue (Original Motion Picture Soundtrack) Track Listing:
(Columbia/Legacy Recordings)
Careless Love – Janis Joplin (from: Janis – Early Performances)
Down On Me – Big Brother & The Holding Company (from: Big Brother & The Holding Company)
Women Is Losers – Big Brother & The Holding Company (from: Janis Boxset)
Ball And Chain – Big Brother & The Holding Company (recorded live at the Monterey Pop Festival – June 17, 1967)
Piece of My Heart – Big Brother & The Holding Company (Live at the Generation Club – April 1968, previously unreleased as audio only)
Catch Me Daddy – Big Brother & The Holding Company (recorded live at the Grande Ballroom, Detroit – March 2, 1968; from: Cheap Thrills Expanded Edition)
Magic Of Love – Big Brother & The Holding Company (recorded live at the Grande Ballroom, Detroit – March 2, 1968; from: Cheap Thrills Expanded Edition)
Summertime – Big Brother & The Holding Company (from: Cheap Thrills)
Raise Your Hand – Janis Joplin with the Kozmic Blues Band (recorded live in Frankfort, West Germany – April 12, 1969; from: Farewell Song)
Maybe – Janis Joplin (from: I Got Dem Ol' Kozmic Blues Again Mama!)
Work Me, Lord – Janis Joplin (recorded live at the Woodstock Music & Art Fair – August 17, 1969)
Trust Me – Janis Joplin & The Full Tilt Boogie Band (from: Pearl)
Cry Baby – Janis Joplin (recorded live in Calgary during the Festival Express Tour – July 4, 1970; from: Pearl Expanded Edition)
Tell Mama – Janis Joplin (recorded live in Calgary during the Festival Express Tour – July 4, 1970; from: Pearl Expanded Edition)
Get It While You Can – Janis Joplin & The Full Tilt Boogie Band (from: Pearl)
Me And Bobby McGee – Janis Joplin & The Full Tilt Boogie Band (from: Pearl)
Little Girl Blue – Janis Joplin (from: I Got Dem Ol' Kozmic Blues Again Mama!)