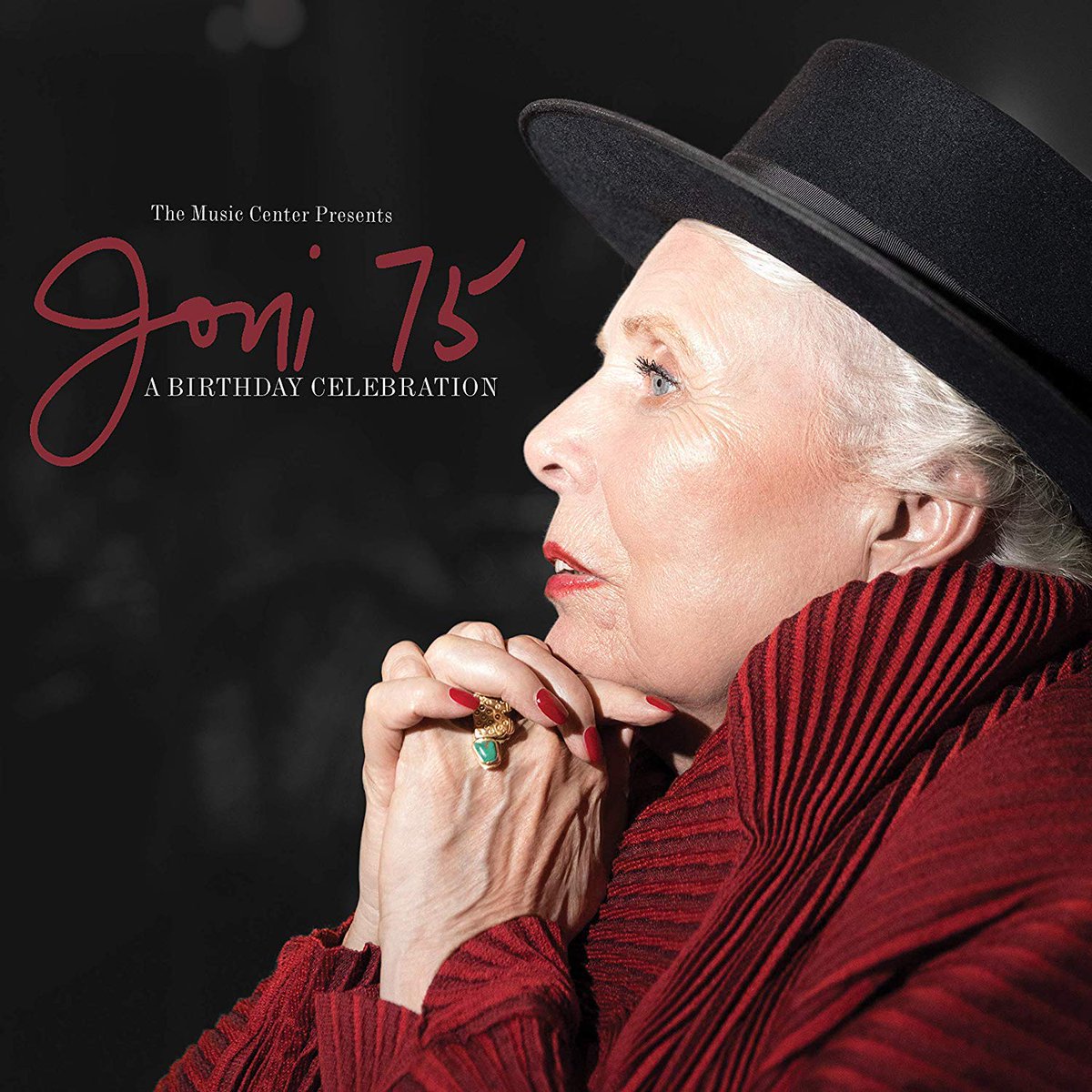 The stars came out in Los Angeles on November 6, 2018, to celebrate Joni Mitchell's 75th birthday. The first of two concerts at the Dorothy Chandler Pavilion at the Music Center, was billed as JONI 75: A Birthday Celebration Live. (Mitchell's landmark day was on November 7, when a second such concert was being held.)
The all-star lineup included such legends as James Taylor, Graham Nash, Emmylou Harris, Norah Jones, Seal, Kris Kristofferson, and more, each performing songs written (or inspired) by the singer-songwriter. See the complete setlist and several fan clips from the concert below.
A DVD of the performance has been released on March 29. (The concert had previously played briefly in theaters and on PBS.) It includes the entire concert and many extras, including backstage interviews with the performers. Order is available here.
The diverse array of singers and musicians also included Brandi Carlile, Glen Hansard, Chaka Khan, Diana Krall, Los Lobos, and Rufus Wainwright. Co-musical directors, providing the musical arrangements for the evenings, were percussionist Brian Blade, who recorded three studio albums and toured extensively with Mitchell, and pianist, composer, arranger producer Jon Cowherd.
Watch the official trailer for the theatrical event
Decca Records released Joni 75: A Birthday Celebration on CD on March 8. It also features Brandi Carlile and Kris Kristofferson ("A Case of You"), Seal ("Both Sides Now"), Chaka Khan ("Two Grey Rooms"), Glen Hansard ("The Boho Dance") and Los Lobos and Friends ("Dreamland"). The house band from the concert featured drummer Brian Blade, pianist Jon Cowherd, guitarists Greg Leisz and Marvin Sewell, trumpeter Ambrose Akinmusire, percussionist Jeff Haynes, bassist Chris Thomas, Bob Sheppard on woodwinds with special guest Scarlet Rivera on violin.
Mitchell herself performed at the Dorothy Chandler Pavilion in 1972 and 1974.
Several of the evening's performers sang a song in each of the concert's halves. James Taylor, for instance, sang "River" in the first half and "Woodstock" in the second.
Listen to Seal close the first half with "Both Sides Now"
Listen to Norah Jones perform at the concert
"I am very pleased to take part in these concerts honoring my friend Joni, without doubt one of the greatest writers we have," said Graham Nash, who famously wrote "Our House" while living with Mitchell.
Watch Emmylou Harris sing two songs back-to-back
Thanks, as always, to the great clips from Cal Vid.
Related: Our Album Rewind of Mitchell's 1974 LP, Court and Spark
Joni Mitchell at 75, November 6, 2018, Setlist
1. Court and Spark – Norah Jones*
2. Coyote – Glen Hansard*
3. For The Roses – Diana Krall
4. Blue – Rufus Wainwright*
5. Cold Blue Steel and Sweet Fire – Emmylou Harris
6. The Magdalene Laundries – Emmylou Harris*
7. Help Me – Chaka Khan*
8. Dreamland – Los Lobos*
9. Nothing Can Be Done – Los Lobos*
10. River – James Taylor*
11. Both Sides Now – Seal*
Second Half
1. Our House – Graham Nash*
2. A Strange Boy – Seal
3. All I Want – Rufus Wainwright*
4. Borderline – Norah Jones
5. Amelia – Diana Krall*
6. The Boho Dance – Glen Hansard
7. A Case of You – Kris Kristofferson*
8. Down To You – Brandi Carlile*
9. Two Grey Rooms – Chaka Khan
10. Woodstock – James Taylor*
11. Big Yellow Taxi – full lineup*
*Included on the CD
Watch the lyric video for "Big Yellow Taxi," released for Mitchell's 75th birthday

Latest posts by Best Classic Bands Staff
(see all)