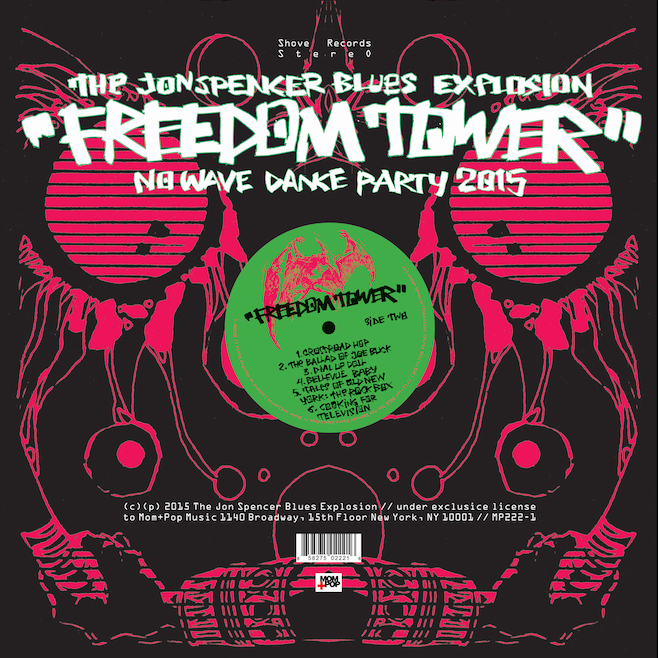 The Jon Spencer Blues Explosion
Freedom Tower: No Wave Dance Party 2015
(Mom + Pop)
In a word: Clattering
The Jon Spencer Blues Explosion packs more damn ideas – words, careening melodies, jarring rhythms – into the shortest of spaces. Listen to a track and you're winded… and it's barely three minutes long.
You'll know it's Spencer from the start on "Funeral." where he (as Spencer often does) shouts the band's name. Freedom Tower is kind of the JSBX version of Lou Reed's New York – tales and jams loosely around the city singer-guitarist Spencer, drummer Russell Simins and bassist Judah Bauer roam.
Or maybe used to roam; the sound and vision on this 13-track disc comes from a grittier time. The NYPD, sex workers and hustlers all collide in the urban jungle. Spencer speed-raps and sings as the JSBX function as a locked-in punk/funk/noise band infected by the wild, untamed spirit of blues. It's a no wave dance party that ricochets every which way. The illusion of chaos, a primal howl driven by a big beat. "Do the Get Down" and "Betty vs. the NYPD" are standouts and I can't help but borrow Spencer's own description of the music: "cooked with dirt and finished in acid rain." Carnal, celebratory, damaged. Old school and new.
Don't miss a post! Sign up for Best Classic Bands' Newsletter; form is on every page.

As a high school baseball player growing up in Maine, I used to pump myself up for games by playing Raw Power by Iggy & the Stooges –the ultimate adrenaline rush. My friends and team mates didn't quite get it. They liked Chicago (the band). But that was OK: the punk rock revolution was around the corner, and that's where my musical taste locked in with many others, bored with corporate rock. Yes, I had Slade, Mott, Bowie and Roxy to get me there, too. That punk (and post) period was a time of extreme excitement (friction, joy, conflict) that inspired me to write about what I loved. And it opened the doors to even more worlds.

I wrote about pop music and other arts for the Boston Globe for 25-plus years, with more than 10,000 stories to my credit before leaving in 2005. Since then I've freelanced for the Boston Phoenix, Boston Herald, Where magazine, Boston Common, Yankee magazine online, Time Out Boston, US News & World Report, the Cape Cod Times. I host the XFINITY on Demand music/interview show "Boston Rock/Talk," and write and edit www.jimsullivanink.com, which serves as a critical guide to arts and events around metro Boston.

Latest posts by Jim Sullivan (see all)