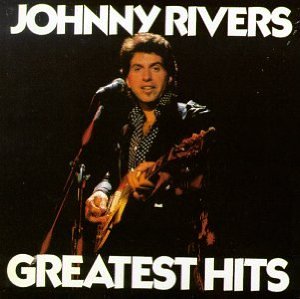 The great Johnny Rivers (born John Ramistella in 1942 in New York City) enjoyed nine Top 10 singles from 1964's "Memphis" (which reached #2) to his last, 1977's "Swayin' To the Music (Slow Dancin')." In between were such classic songs as "Seventh Son" (#7 in 1965), "Baby I Need Your Lovin'" (#3 in 1967) and 1972's "Rockin' Pneumonia and the Boogie Woogie Flu" (#6).
In 1966, he scored his sole #1 hit with "Poor Side of Town." One of his best known songs, 1967's "Summer Rain," stalled at #14.
"Secret Agent Man," written by P.F. Sloan and Steve Barri, at a time when TV series and films about spies were all the rage. His original vocal of just a verse and a chorus were first recorded in 1964 for a short-lived TV series, Secret Agent. Additional verses – and thus the 1966 single – were recorded afterwards. "They've given you a number and taken away your name…."
Rivers' single, released in late February, peaked at #3 on April 23, 1966. The instrumental rock band, the Ventures, released their own version of the song at the same time as Rivers'. Though theirs was the first to chart, it peaked at just #54.
If you knew that Rivers started a record label – Soul City Records – and earned two Grammy Awards for producing the 5th Dimension's "Aquarius"/"Let The Sun Shine In," raise your hand. And if you also knew it was legendary disc jockey Alan Freed who advised the teenage John Ramistella to adopt the stage name he did, we're really impressed.
What a voice! Our Classic Video…
Related: Our career-spanning feature on Rivers
Rivers, born on November 7, 1942, still tours occasionally; check here for dates.
And a bonus… Watch Rivers perform his first chart hit on American Bandstand in 1964

Latest posts by Best Classic Bands Staff
(see all)