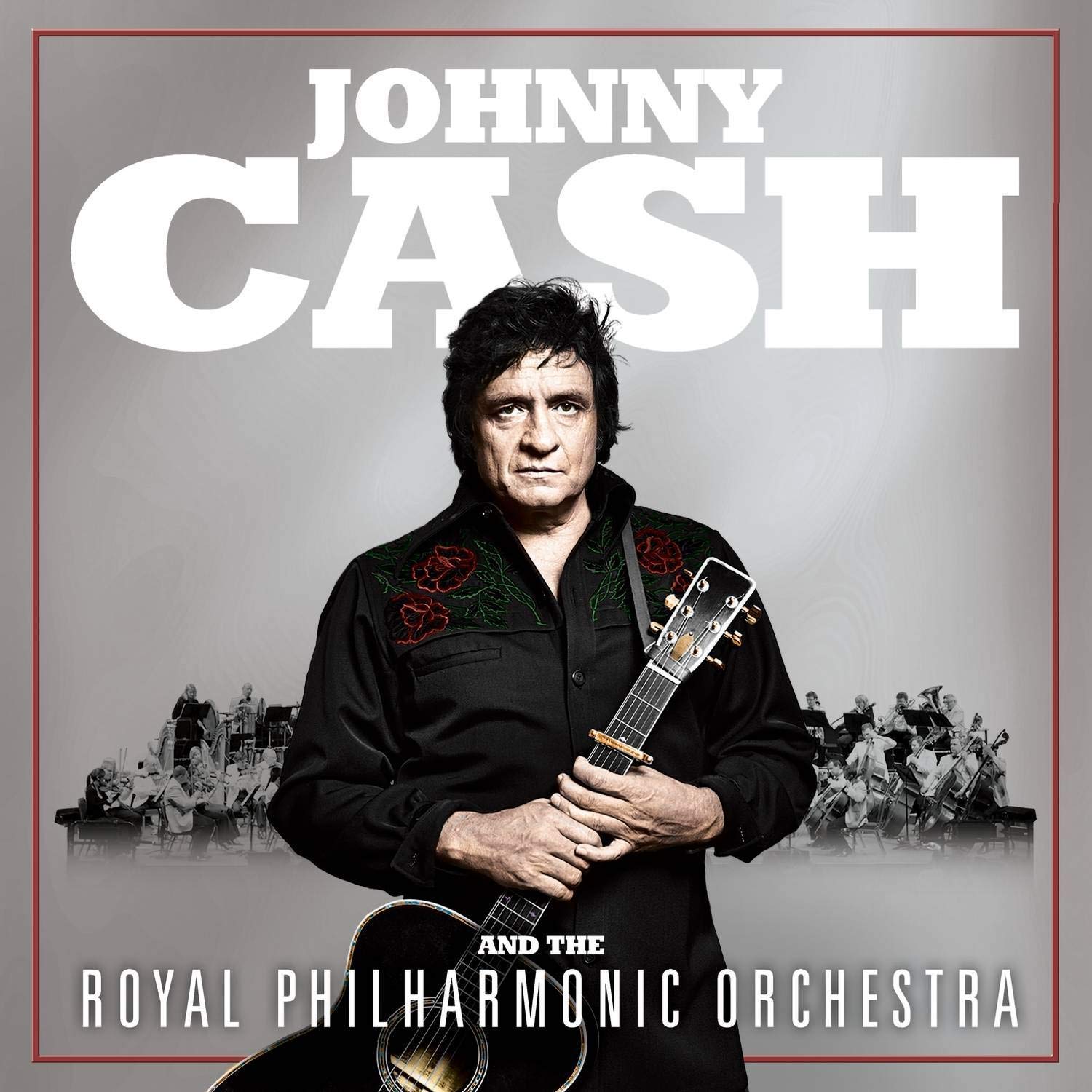 Columbia/Legacy Recordings has released Johnny Cash and The Royal Philharmonic Orchestra, the latest collaboration between Sony Music's catalog division and the renowned orchestra that showcases classic recordings in a new setting. Listen to several performances below, including tracks with Bob Dylan, June Carter Cash, and others. The album was released on Nov. 13, 2020.
The album was produced by Nick Patrick and Don Reedman and recorded at the fabled Abbey Road Studio 2. The pair consulted with John Carter Cash, who serves as Executive Producer. Performances range from Cash classics like "Man in Black" and "Ring of Fire" to essential musical collaborations including "Girl From the North Country" (Bob Dylan with Johnny Cash), "The Loving Gift" (with June Carter Cash) and "Highwayman" (with Willie Nelson, Waylon Jennings, Kris Kristofferson and Johnny Cash).
In 1985, "Highwayman" spent 20 weeks at #1 on the Billboard Hot Country Songs chart while earning Jimmy Webb a Grammy Award for Best Country Song in 1986. "I love that original recording," says Webb, "but as an arranger myself, I often wondered what it might sound like if Johnny Cash and his three bandmates had an orchestra and lush strings behind them. Don Reedman put an end to my wondering: They sound spectacular with the Royal Philharmonic Orchestra behind them. The production is exquisite and provides yet another life for this song that still goes 'round and 'round."
The track "Farther Along" captures the rapturous sound of guitar legend Duane Eddy living his fantasy of playing in Johnny Cash's band as he blends his signature twang into a new arrangement of a deep JC catalog gem. "I always dreamed of playing with John, because of Luther Perkins," says Eddy, acknowledging one of the architects of rockabilly; a key member of Cash's band from 1954 until his death in 1968, Luther Perkins is credited with inventing Cash's "boom-chicka-boom" rhythmic trademark. "Luther and I lived in the same neighborhood, musically speaking (on the bass strings of the guitar), though somehow we managed to have our own sound and style," Eddy continues. "When Luther passed, I thought of calling Johnny and asking for a job to fill in for Luther. But then I decided I was being a bit too presumptuous. So I didn't do it. So thanks to Don and John Carter, I was able to realize my dream after all."
The recordings of "I Walk The Line" and "Flesh and Blood" used in making Johnny Cash and The Royal Philharmonic Orchestra are both previously unreleased alternate takes from Johnny Cash's soundtrack sessions for I Walk The Line, a 1970 film starring Gregory Peck and Tuesday Weld.
"My father, Johnny Cash, was in some ways an orchestra unto himself. His deep rich timbre lent to the rich resonance of French horns and cello. His depth of tone and perfect pitch inspired as deeply as a masterfully conducted symphony," writes John Carter Cash in his liner notes for the album. "But if he were here today and chose to seek an orchestra to support him as the backdrop for the canvas, The Royal Philharmonic Orchestra would be his choice…. I remember when my father introduced me to the RPO. I was around ten years old and he and I went to see three films from the James Bond saga at a festival in New York. When the theme for Goldfinger began, he leaned over to me. 'That's the finest orchestra in the world, son, he said. 'That's the Royal Philharmonic.'…. He knew the music of the RPO. He respected them all throughout his life…. I know my father would be enormously excited to see this new album become a reality. I am beyond proud to introduce this masterwork, the essential work of Johnny Cash with the orchestra that he revered and appreciated above all else."
Listen to "Girl From the North Country" with Bob Dylan
Related: When Dylan sang on The Johnny Cash Show
Johnny Cash and The Royal Philharmonic Orchestra Track List
1. Man In Black
2. Galway Bay
3. Girl From The North Country (Bob Dylan with Johnny Cash)
4. I Came To Believe
5. A Thing Called Love
6. The Loving Gift (with June Carter Cash)
7. I Walk The Line
8. Farther Along (featuring Duane Eddy)
9. Flesh and Blood
10. The Gambler
11. Ring Of Fire
12. Highwayman (The Highwaymen: Willie Nelson, Waylon Jennings, Kris Kristofferson, Johnny Cash)

Latest posts by Best Classic Bands Staff
(see all)