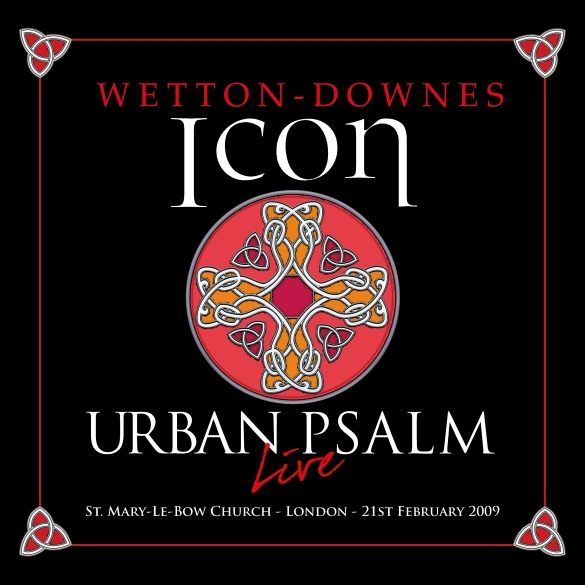 Asia co-founders, John Wetton and Geoff Downes, began collaborating on other projects and in 2002 released a self-titled album. In 2005, they created iCon, and released a series of three albums by that name. Their work has led to the formation of Epicon Records (via Cherry Red) and its first release of a concert album, Urban Psalm, as a 2-CD/1-DVD set on June 9. The album was planned before John Wetton's death in January 2017 and is fully approved by Downes and the Wetton Estate.
The concert was filmed on February 21, 2009, at the iconic St Mary-le-Bow church in London and features a unique set including iCon songs, heritage tracks and the greatest hits of Asia. (See the complete track list below.)
This release of Urban Psalm is the first in a series of definitive re-releases of the iCon catalog.
The recording also features Dave Kilminster (Roger Waters, Keith Emerson) on guitars, Pete Riley (whom Wetton called "the best drummer in the world"), Panic Room's Anne-Marie Helder on vocals and ELO's Hugh McDowell on cello.
Watch them perform "The Die is Cast"
Of the release Downes said: "Urban Psalm emerged out of a very special one-time concert featuring the music of John and I set in an historic church in London. Concertgoers received a DVD as part of their attendance. Few people had the opportunity to see this live and until now has had very limited fan-based distribution."
Related: Tributes to Wetton from his bandmates
Urban Psalm Track Listing
Disc 1
Countdown to Zero
Go
I've Come to Take You Home
Twice the Man I Was
Elstree
Voice of America
The Die is Cast
To Catch a Thief
Starless
Disc 2
Paradox/Let Me Go
Raven
True Colours
Heat of the Moment
Rubicon
Don't Go Out Tonight
My Own Time
Days Like These
In the End
Rock and Roll Dream
Related: Asia has a Wetton tribute concert
Disc 3 (DVD)
Countdown to Zero
Go
I've Come to Take You Home
Elstree
Voice of America
The Die is Cast
To Catch a Thief
Starless
Paradox/Let Me Go
Raven
True Colours
Heat of the Moment
Rubicon
Days Like These
In the End
Rock and Roll Dream

Latest posts by Best Classic Bands Staff
(see all)