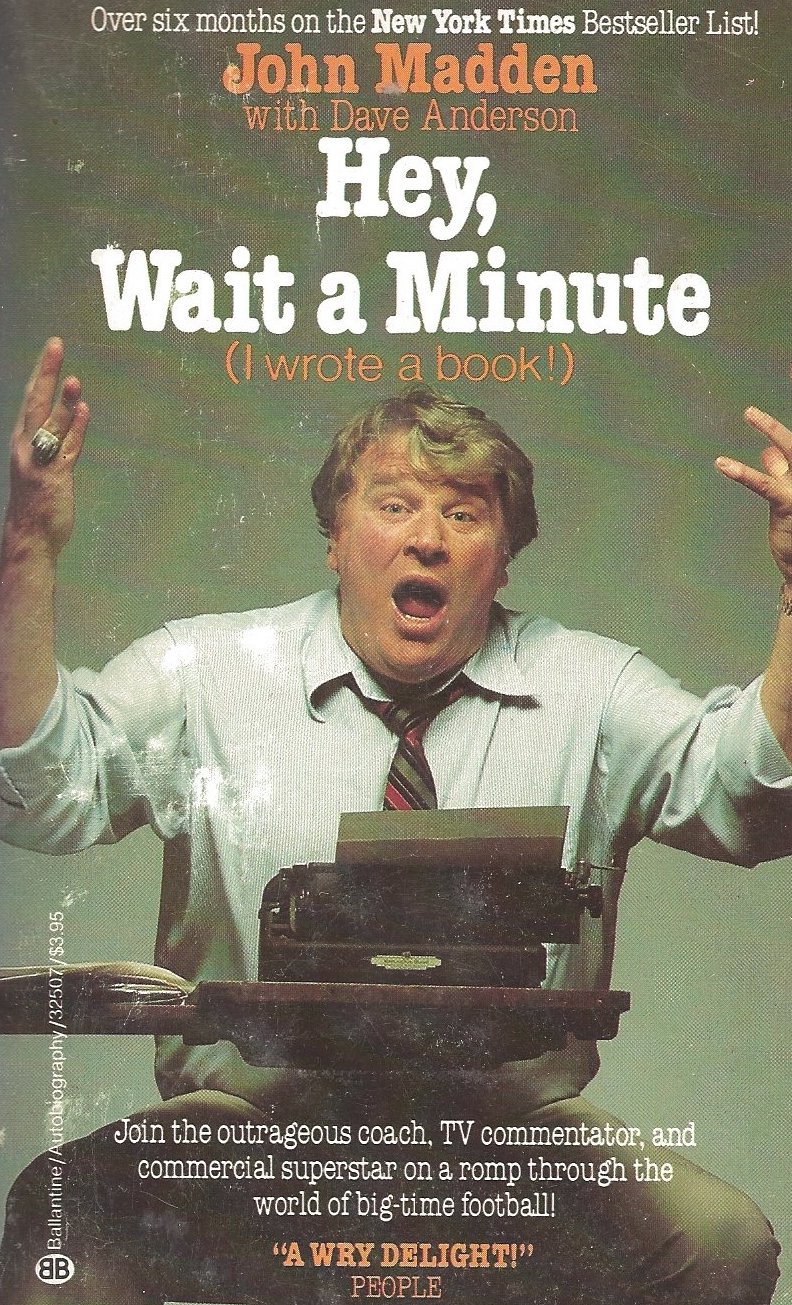 John Madden enjoyed several successful careers. For those who watched the NFL throughout the 1970s, he was a legendary head coach for the Oakland Raiders, leading the team to victory in Super Bowl XI. When he retired at just 42, he had the highest winning percentage, .759, among NFL head coaches with a minimum of 100 games, a record that still stands. A slightly younger generation was first introduced to him as a broadcaster, where he teamed with another former player, Pat Summerall, for 22 seasons, as the #1 team first for CBS, then for Fox. His colorful, unconventional, engaging style, frequently filled with "Boom" and "Bam" for emphasis, earned him an astonishing 16 Sports Emmy Awards.
Madden parlayed his widespread appeal to become a ubiquitous ad pitchman, most notably for Miller Lite and Ace Hardware. He famously travelled by train rather than airplane for his work, and later rode in his own customized coach-bus.
He became such a household name that he hosted Saturday Night Live in 1982. Beginning in 1988, he earned further acclaim as the voice for the top-selling, namesake video game series, Madden NFL.
When news of Madden's death on December 28, 2022, at age 85, arrived, many legendary figures of the sports and broadcasting worlds paid tribute.
A coaching legend. A broadcasting icon. Beloved by football fans everywhere.

Remembering John Madden. pic.twitter.com/6jbIl1kdZq

— NFL (@NFL) December 29, 2021
Hall of Fame quarterback Peyton Manning shared a personal story. "My rookie year, [my grandfather] was always asking if Madden and Summerall were going to broadcast one of the Colts games. I said, 'Pa-Pa, the Colts are 2-8 and we are playing the Bengals who are 3-7. Madden and Summerall don't do those games. But the next year, we played the Cowboys with John Madden & Pat Summerall broadcasting the game, and my grandfather was so excited. We won the game that day, and John Madden said, 'The Colts are on their way.' It's one thing for a fan to say, 'The Colts are on their way.' When John Madden says that, that meant something."
"A brilliant coach. A loyal and trusted friend. A Raider."

We'll always remember John Madden. pic.twitter.com/YG4MET1ZFu

— Las Vegas Raiders (@Raiders) December 29, 2021
From Vin Scully, at 94 the dean of American sports broadcasters…
I was saddened to hear about the passing of John Madden, at age 85. One the all-time greats, he showed me the ropes during our brief football partnership. He was always kind and delightful. He can now join his former partner, Pat Summerall, in calling Super Bowls in heaven.

— Vin Scully (@TheVinScully) December 29, 2021
Dallas Cowboys' owner Jerry Jones: "I am not aware of anyone who has made a more meaningful impact on the National Football League than John Madden, and I know of no one who loved the game more."
Madden was inducted into the Pro Football Hall of Fame in 2006.
John Madden was dearly loved by millions of football fans worldwide. While it's a very sad day, it's also a day we should celebrate the life of a man who brought joy through the game of football to millions.#HOFForever pic.twitter.com/9vi9Xfhbi1

— Pro Football Hall of Fame (@ProFootballHOF) December 29, 2021
Impersonator Frank Caliendo is well known for his great imitation of Madden. He wrote, "I honestly didn't know him all that well… but meeting him and his family, years ago, was one of the most amazing moments in my life. RIP John Madden."
When Madden and Summerall did our games, every player & every coach was excited. It felt big. I told John Madden everything. I trusted him & he never betrayed it. I admired John's passion for the game most and his truth. He was and will he remembered as a GIANT for football. pic.twitter.com/Oyy5C0GZg1

— Phil Simms (@PhilSimmsQB) December 29, 2021
Hall of Fame quarterback Brett Favre: "Felt like my entire career was narrated by 'Coach', one of the best ever in the game. I'll always remember our pre-game meetings, when we would laugh & talk about anything but football."
"Thanksgiving and football. Some things just go together greatly." – John Madden

(via @NFLFilms) pic.twitter.com/jWB1vidnbZ

— NFL (@NFL) December 29, 2021
Danggit!😢 We lost one of the best I must confess may his soul be at rest for a job well done! Coach John Madden. Prayers going out to his family & friends🙏☝️🙏 Bootsy baby!!! pic.twitter.com/P71Cnzt1aX

— Bootsy Collins (@Bootsy_Collins) December 29, 2021
Thanks, Coach pic.twitter.com/jGx8aVdRPj

— Madden NFL 22 (@EAMaddenNFL) December 29, 2021
In a 2013 interview, fellow broadcasting legend, Al Michaels, said, "John Madden is as important as anybody in the history of football. Tell me somebody who did all of the things that John did, and did them over this long a period of time."

Latest posts by Best Classic Bands Staff
(see all)