Moodys' John Lodge: A Singer in a Rock and Roll Band – 2018 Live Review
by Greg Brodsky
The Moody Blues are enjoying a well-deserved resurgence in recent years. In 2017, the British progressive rock band celebrated the 50th anniversary of their 1967 masterpiece, Days of Future Passed, with an orchestral tour and an elaborate reissue. Later that year came the news that the group were finally nominated for induction into the Rock and Roll Hall of Fame. Two months later came the (long overdue) announcement: they were in!
The Class of 2018 induction ceremony at Cleveland's Public Hall was bittersweet for Moodys' bassist John Lodge, when his friend and one of the band's co-founders, Ray Thomas, died after a long illness. At New York's City Winery on October 17, Lodge recalled several phone conversations he had last year with the group's multi-instrumentalist. When Lodge called Thomas to share the December 2017 news, the latter replied: "This Hall of Fame thing… does it mean we're gonna be famous?" The audience howled with laughter.
Sadly, Thomas passed before the Moody Blues were formally inducted. [Best Classic Bands published Thomas' final interview.] But here was Lodge, in the midst of a brief U.S. club tour, clearing enjoying himself while performing with his solid four-piece band, of songs culled largely from the Moodys' catalog as well as several from his 10,000 Light Years Ago solo album of 2015.
Early on, Lodge, born July 20, 1945, played three numbers from "an album that changed my life forever." There was a glorious moment in the first, "Peak Hour," when drummer Billy Ashbaugh builds the song to a crescendo, as keyboardist Alan Hewitt, guitarist Duffy King and then Lodge, join in. Future Passed's "(Evening) Time to Get Away" and "The Sunset," with its beatnik vibe from the band's cellist, Jason Charboneau, and Lodge's vocal delivery, followed.
Watch them perform "(Evening) Time to Get Away" earlier that week, at City Winery Nashville
Midway through the show, Lodge performed "Saved By the Music," from the 1975 duo album that he released with Justin Hayward during the band's hiatus. "It's what I believe in life," said Lodge when introducing the song, which would receive a big ovation.
Related: Our review of a 2018 Hayward concert
Lodge ended the 15-song set in a flourish, with three Moody Blues favorites: "Isn't Life Strange," with Charboneau supplying the much-needed instrument to replicate the album's beautiful orchestration, "I'm Just a Singer (In a Rock and Roll Band)" and "Ride My See-Saw" (from 1968's In Search of the Lost Chord, which is also receiving a 50th anniversary edition). Each brought the audience to their feet.
Watch them perform "I'm Just a Singer (In a Rock and Roll Band)" and "Ride My See-Saw" a few nights' earlier
Related: Our coverage of the Moody Blues' Class of 2018 induction ceremony
While it's always thrilling to see one's favorites in a club setting, here's hoping that Lodge and Hayward decide to share a larger stage.
When Lodge tours, tickets are available here.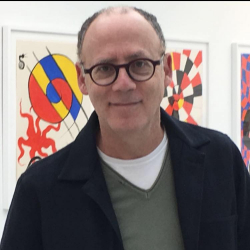 Latest posts by Greg Brodsky
(see all)