While self-quarantining together, John Fogerty and his family have taken to their home studio and other locales to create some music together. Watch their performances of lots of CCR favorites, and other classics, below, including a special one for his 75th birthday on May 28.
"Bringing a little light from our home to yours," he says. "We are having a little family fun together during the pandemic. It's such a great feeling to be making and playin' music surrounded by love. We all need to celebrate the life we have and remember how precious it is. I love music, I am listening every day. Makes everything feel better for me. Put the records on, pull out the old guitar, turn the radio up…and dance to the music!"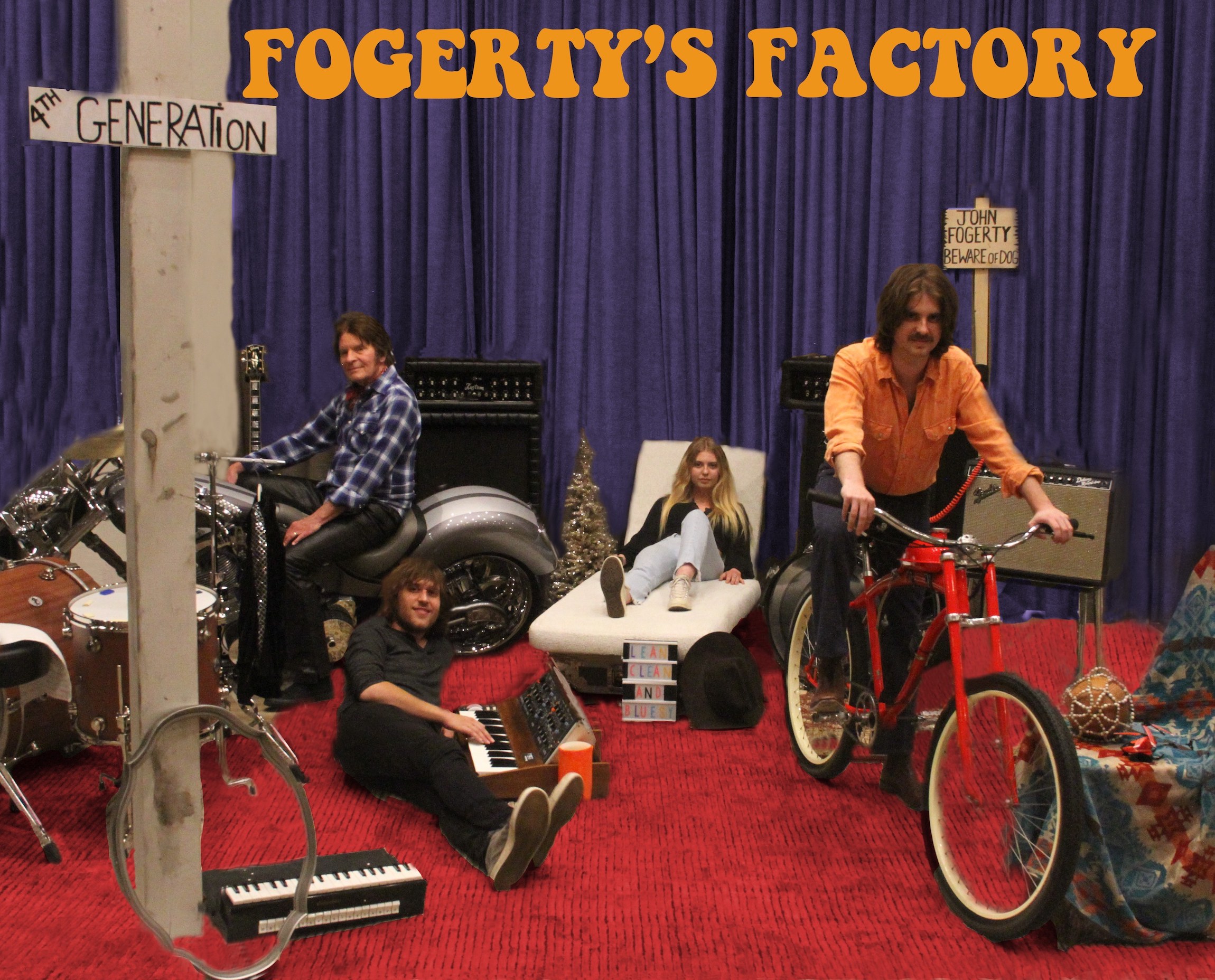 John's brother, Bob Fogerty, who shot the original Creedence Clearwater Revival Cosmos Factory album cover photo, came in to shoot a re-make with the family. Released in 1970, the album turned 50 in July. It was the prolific band's fifth studio LP in just two years.
Related: When Cosmo's Factory hit #1
While the quarantine continues the Fogerty Family – Shane, Tyler and Kelsy – are joining Dad for some musical fun covering songs from the classic Fogerty collection. First up is "Down on the Corner," from one of CCR's 1969 LPs, Willy and the Poor Boys.
Fogerty explains how the song lyrics, "Willy and the Poor Boys," were derived.
"[I] was kind of inspired by seeing an advertisement in the paper one day," he says. "It was an ad from Disney that said in great big letters 'Winnie the Pooh'. Something in my brain said 'Winnie the Pooh and the Pooh Boys'. Obviously that was close to 'Willy and the Poor Boys'. As I began to develop this idea it turned into music in that weird mystical, almost uncontrollable way, music comes to songwriters. Winnie the Pooh is still my favorite character who I've shared with my daughter Kelsy since the day she was born, though she's growing out of it. But I'm not."
Watch the Fogerty Family perform the 1970 hit
The songs are now available for purchase on a new album, Fogerty's Factory, via the link below.
Watch them perform "Lodi" from 1969's Green River album
Watch their explosive performance of "Fortunate Son" on The Late Show with Stephen Colbert's #PlayAtHome series
The family's performance of "Who'll Stop the Rain" was shared on April 24. While introducing the song, Fogerty tells about when Creedence played at the 1969 Woodstock festival, and how their 9 p.m. Saturday showtime was moved back a few hours.
On May 1, Fogerty and fam were shown sitting around the campfire, the perfect place to be "tellin' stories," says John.
Watch him share the tale of how his classic "Green River" came about, followed by the family's performance
On May 21, the family used another outdoor setting, complete with several barnyard animals, to perform a version of the Steve Goodman classic, "City of New Orleans."
Fogerty celebrated his 75th birthday on May 28 by performing "Centerfield" with his family at Dodger Stadium. "Put me in, coach!"
When his 50 Year Trip celebration continues, tickets will be available here.

Latest posts by Best Classic Bands Staff
(see all)