Legendary drummer John Bonham is the subject of his first full narrative biography, Beast: John Bonham and the Rise of Led Zeppelin. The title arrives September 7, 2021, via Hachette Books. The book's author, C.M. Kushins, is doing a live reading and book signing that same evening at the acclaimed Mr Musichead gallery in Hollywood (Calif.). The free event, from 7 – 9 p.m., also offers a tour of the gallery's Led Zeppelin photo exhibit, and refreshments. Attendees can reserve their free tickets here.
Kushins was asked if there was any blow back from anyone in his doing a deep dive on one of the most revered drummers of all time. "Nothing that I didn't anticipate," he says. "The [remaining members of Led Zeppelin, Robert Plant, Jimmy Page and John Paul Jones] are very protective of their personal lives, as they should be. Bonham's family is the same way to protect his legacy.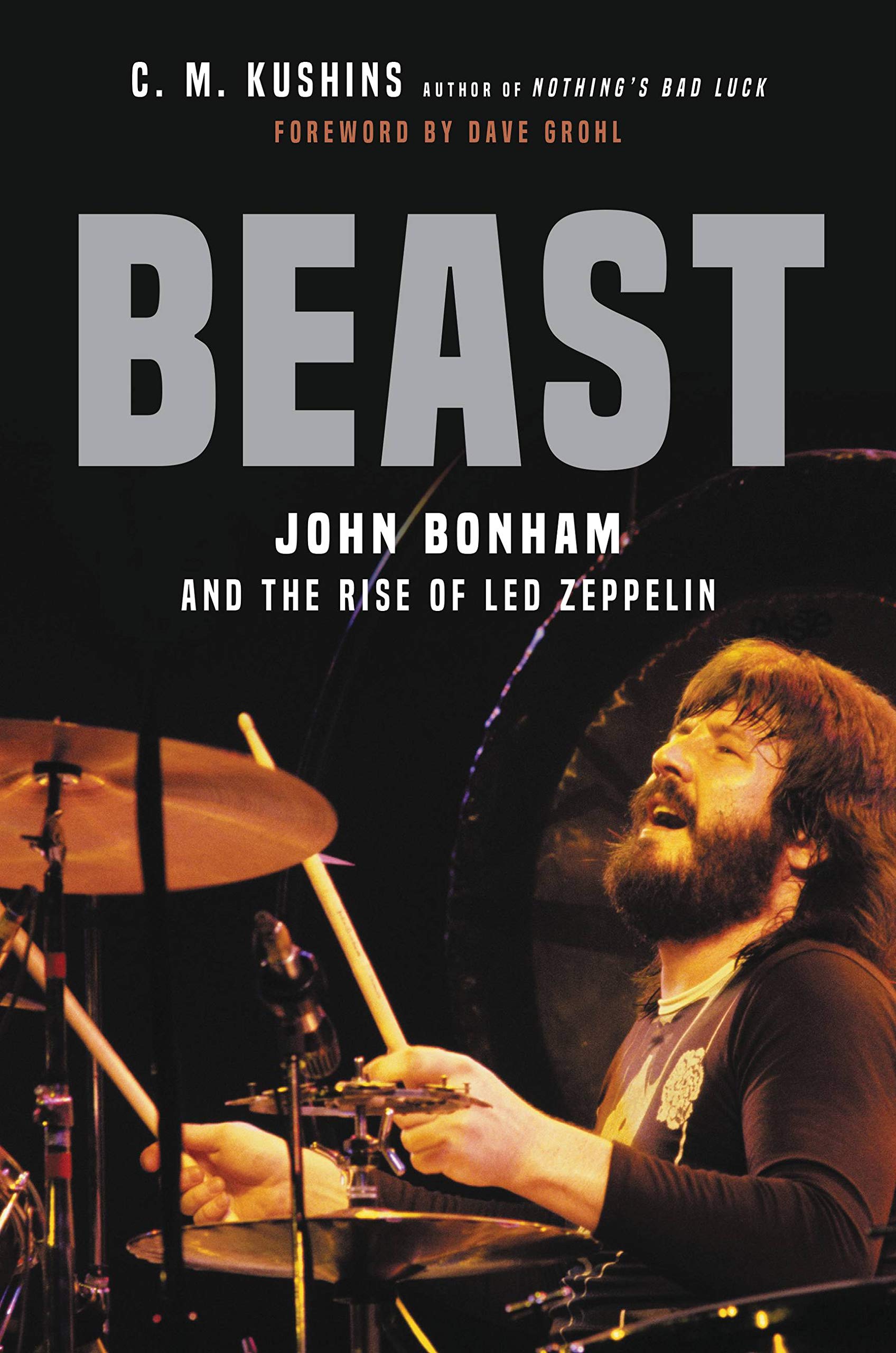 "I love talking about Bonham and Led Zeppelin. People may think, as far as objectivity, whether the book focuses on music enough. I tried to put the music first and foremost and John Bonham's incredible innovations as a drummer and his legacy in rock and roll."
Kushins is asked if there was a common trait about Bonham that came through in all of the interviews that the author did for the book. "There were two discriptions that I heard over and over again," he says. "How much fun he was, and how professional. One of the things that I think is most admiral about him, aside from his tremendous playing, he was known for being an incredible arranger and knowing his instrument, inside and out. He tuned his own drum kit and was also the first person to arrive at a sound check for a concert to make sure that his drums were perfectly tuned and audible from anywhere in the arena."
From the book's original announcement: the iconic John Bonham is considered by many to be one of the greatest (if not THE greatest) rock drummer of all time. Bonham, born May 31, 1948, first learned to play the drums at the age of five, and despite never taking formal lessons, began drumming for local bands immediately upon graduating from secondary school. By the late 1960s, Bonham was looking for a more solid gig in order to provide his growing family with a more regular income. Meanwhile, following the dissolution of the popular blues rock band The Yardbirds, lead guitarist Jimmy Page sought the company of new bandmates to help him record an album and tour Scandinavia as the New Yardbirds. A few months later, Bonham was recruited to join the band who would eventually become known as Led Zeppelin. Before the year was out, Bonham, Page, Robert Plant, and John Paul Jones would become the biggest rock band in the world.
Related: Our story on the band's debut LP
Throughout the 1970s, Led Zeppelin reached new heights of commercial and critical success, making them one of the most influential groups of the era.
Watch a memorable drum solo from Bonzo in 1973
In 1977, the group performed what would be their final live appearance in the U.S. On September 25, 1980, Bonham–plagued by alcoholism, anxiety, and the after-effects of years of excess–was dead.
Beast: John Bonham and the Rise of Led Zeppelin features a forward from fellow drummer Dave Grohl.
Watch author C.M. Kushins talk about the biography
Established in 1998, Mr Musichead was the first institution in Los Angeles devoted exclusively to the art and visual history of music. The gallery started as a 200 square foot storefront in the heart of the Melrose Shopping District. It's now located on Sunset Boulevard's Rockin' Row and showcases the world's largest collection of rock photography, music-related fine art, and all things music history.

Latest posts by Best Classic Bands Staff
(see all)