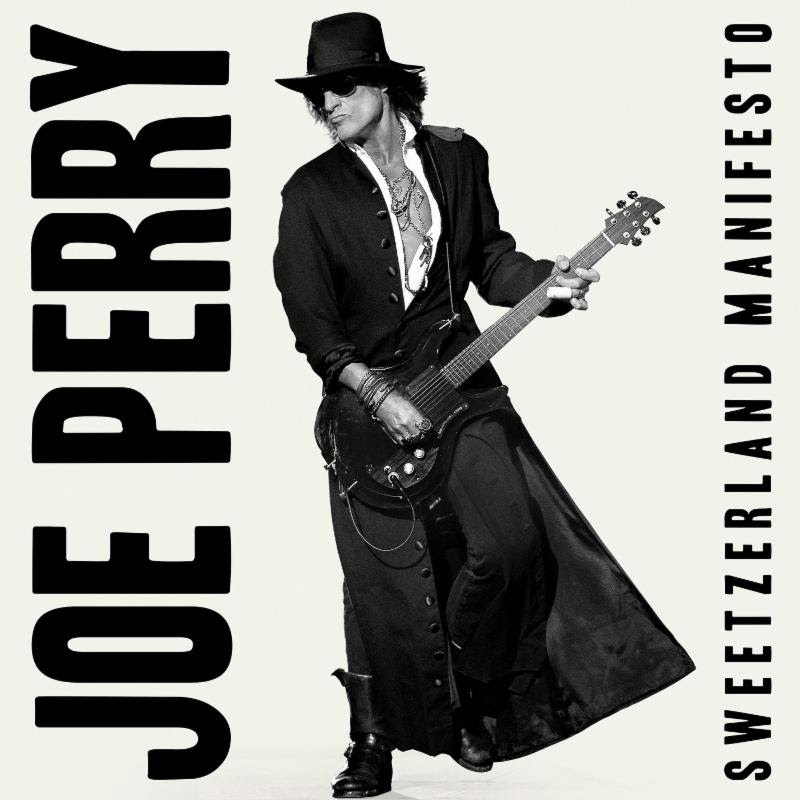 The guitarist, co-founder, principal songwriter and co-producer of Aerosmith, Joe Perry, is readying his new solo album, Sweetzerland Manifesto, for release on Jan. 19.
Due out on his own Roman Records imprint (distributed worldwide by Amped Distribution), Sweetzerland Manifesto, according to a press release, marks Perry's sixth solo album and is composed of 10 new tracks. They were all written or co-written by Perry (many with the album's guest vocalists), except for a cover of the 1965 Barry McGuire hit "Eve of Destruction," with Perry on lead vocals and Johnny Depp on drums.
The album features guest appearances from a long list of Perry's friends, colleagues and rock and roll icons. Highlights include "Aye, Aye, Aye," which Perry co-wrote with the track's vocalist, Robin Zander of Cheap Trick, and three collaborations with David Johansen, who sings "I Wanna Roll," "Haberdasher Blues" and "I'm Going Crazy," plus as many co-writes with Terry Reid, whose lead vocals are on "I'll Do Happiness," (with Zak Starkey on drums), "Sick & Tired" and "Won't Let Me Go."
Listen to "Aye, Aye, Aye" with vocals by Cheap Trick's Robin Zander, which Rolling Stone premiered on Dec. 7
Related: A look back at Aerosmith's Permanent Vacation album
Sweetzerland Manifesto was recorded at Studio 1480 in Los Angeles and produced by Perry and Bruce Witkin, with Depp serving as executive producer and additional help from Jack Douglas, who co-wrote and co-produced a number of tracks. The album was engineered by Witkin and Tony Perry and mixed by Perry with Ari Blitz serving as assistant mix engineer at After Master in Los Angeles.
Perry also teams up with his sons Tony and Roman on "Spanish Sushi," which was produced and arranged by the Perry Boys with Joe Perry on guitars and bass, Roman adding synthesizer programming and Tony handling drum programming.
Track Listing
Rumble In The Jungle (instrumental)
I'll Do Happiness (featuring Terry Reid)
Aye, Aye, Aye (featuring Robin Zander)
I Wanna Roll (featuring David Johansen)
Sick & Tired (featuring Terry Reid)
Haberdasher Blues (featuring David Johansen)
Spanish Sushi (instrumental)
Eve Of Destruction (featuring Joe Perry)
I'm Going Crazy (featuring David Johansen)
Won't Let Me Go (featuring Terry Reid)
Listen to "I'll Do Happiness" from the album, featuring Terry Reid

Latest posts by Best Classic Bands Staff
(see all)