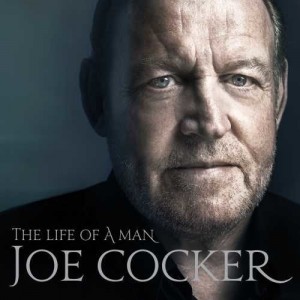 Nearly one year after the death of British rock icon Joe Cocker, Universal Music Enterprises is honoring his memory with the release of the first truly definitive collection of his hits and career highlights – The Life of a Man: The Ultimate Hits 1968-2013. The double-disc compilation of 36 tracks arrives December 11, offering a perfect final curtain call for an artist who is much loved and missed.
Later this week, there will be a tag sale in Hotchkiss, Colorado of items from Pam & Joe Cocker's Mad Dog Ranch to benefit the Cocker Kids Foundation. The notice lists "unique home decor items, exquisite jewelry and collectibles, fabulous fine furniture, and other one-of-a-kind items."
Born to working class parents in 1944, Cocker crafted his distinctive sound (and spasmodic performances) in inner city pubs and clubs prior to his iconic set at Woodstock in 1969. That moment kicked off five decades of music and influence – 22 studio albums, 10 live albums, and 68 singles. The Ultimate Hits features tracks from his 1969 debut With a Little Help From My Friends and his self-titled sophomore album to his final record in 2012, Fire It Up, as well as some tunes never before available in the U.S., like a live version of "You Are So Beautiful," recorded in Cologne, Germany, in 2013. Cocker's popular interpretations of Traffic's "Feelin' Alright," The Boxtops' "The Letter" and The Beatles' "She Came In Through The Bathroom Window" are also included.
The Grammy-winning musician had a knack for curating covers and giving all of them his unmistakable trademark – that husky blues voice. His cover of The Beatles' "With a Little Help from My Friends" reached number one in the U.K. in 1968, and his 1974 cover of "You Are So Beautiful" reached number five in the U.S.
Two additional Cocker titles were recently made available – a reissue of 2007's Hymn For My Soul (his 20th record) and the first-ever U.S. release of Fire It Up, which was a smash hit across Europe. Hymn For My Soul features covers of George Harrison's "Beware of Darkness," Bob Dylan's "Ring Them Bells," and Stevie Wonder's "You Haven't Done Nothin'" while Fire It Up showcases tunes by Joss Stone, Keith Urban and Marc Broussard, among others.
Cocker died from lung cancer at his Colorado home, Mad Dog Ranch, on December 22, 2014. He was 70. His posthumous release is currently available for pre-order via Amazon.

Latest posts by Best Classic Bands Staff
(see all)