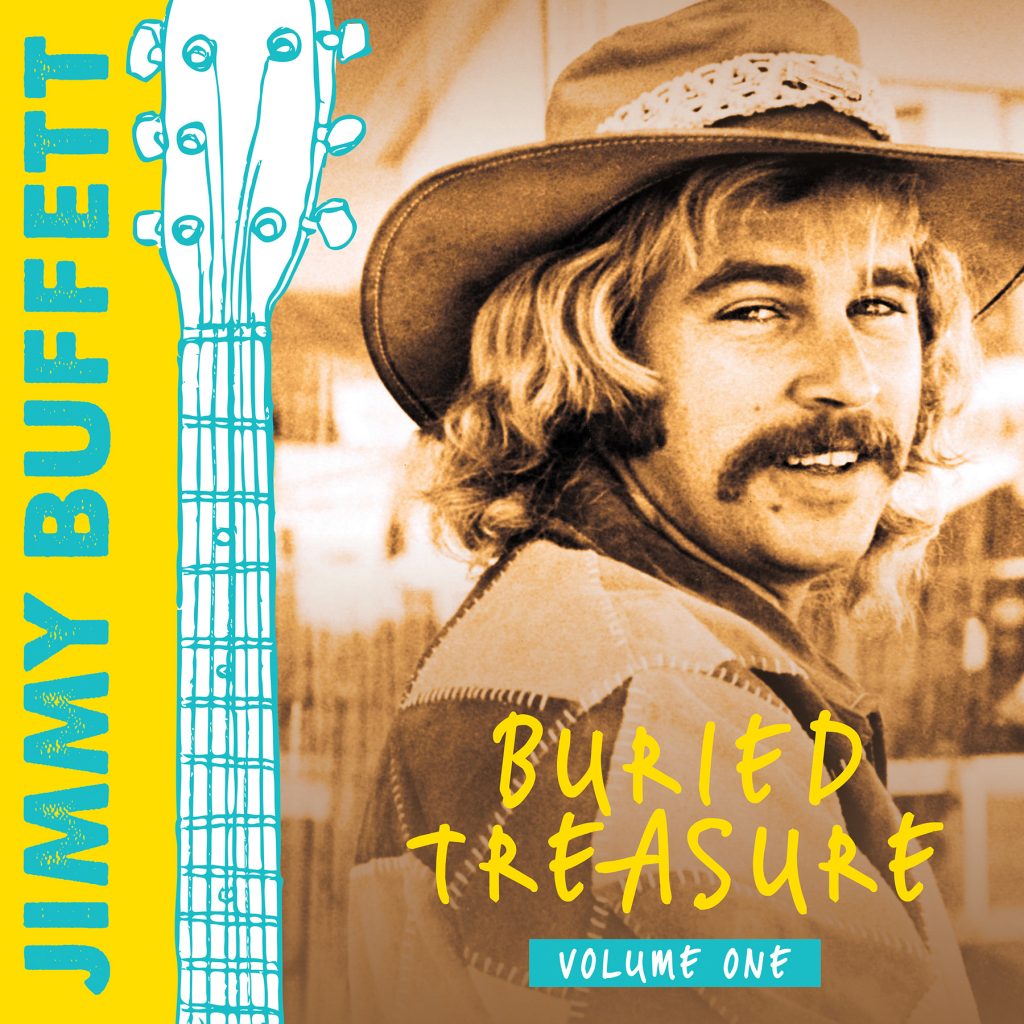 Mailboat Records will release Buried Treasure, Volume One, a collection of early recordings by Jimmy Buffett, tomorrow (Nov. 17) in both standard and deluxe editions, with each release comprising 11 previously unreleased and rare acoustic tracks as well as song-by-song narration by Buffett. Both the narration and track arrangements were produced earlier this year by Will Kimbrough. The Buried Treasure, Volume One standard package includes a 28-page book detailing the album's story; the deluxe version features an exclusive 40-page collector's edition with never-before-seen photos and a bonus documentary DVD, Buried Treasure—Mobile to Nashville.
Pre-order the deluxe CD/DVD here.
Also available now are special bundles at PledgeMusic, including a package with a signed deluxe version and exclusive merchandise such as a t-shirt, vinyl, socks, hat, and pennant.
Related: A Jimmy Buffett musical is coming to Broadway in 2018
According to a press release, the tale of Buried Treasure, Volume One "began when John and Martina McBride purchased a studio once owned by famed Nashville producer-songwriter Buzz Cason. Travis Turk, the studio's longtime engineer and in-house producer, was brought in to oversee the move. He soon uncovered a dusty cache of ¼-inch tapes containing original acoustic demos recorded by Buffett in the late 1960s and early 1970s…Within the moldering boxes of tapes were 125 original Jimmy Buffett songs, written and recorded at Cason's original Creative Workshop studio as publishing demos. As if that weren't remarkable enough, also among the long-forgotten stack of tapes were demos recorded in 1969 by Turk and Milton Brown at Product Sound Studio in Buffett's hometown of Mobile, Ala., before he ventured off to Music City."
"There is a reason we are calling this collection of songs and stories Buried Treasure," says Buffett in the press release, "because they were literally buried in a closet in a recording studio in Nashville for decades. They were discovered by an old friend, Travis Turk, who actually recorded these tracks in Mobile, Alabama, in 1969, and more in Nashville in the years following, when we both wound up moving there. Travis eventually produced the first two albums I recorded in Nashville, as well. When we first found the tapes of Buried Treasure, I didn't know that it would turn out to be such a unique situation where I'd actually get to honor and introduce the people who started me out."
Highlights include "Don't Bring Me Candy" (hear it below) and "Abandoned On Tuesday," both from Buffett's first-ever visit to a proper studio. Other songs, like "Rickety Lane" and "The Wino Who Has Something to Say," were recorded in Nashville but inspired by Buffett's time spent as a young troubadour in New Orleans. Buried Treasure, Volume One also features some surprising covers, including two penned by Gordon Lightfoot, "The Gypsy" and "The Circle Is Small," and a version of the Mamas and the Papas' "California Dreamin'" recorded at a Mobile breakfast buffet celebrating America's Junior Miss Pageant and featuring backing vocals from the Junior Miss contestants themselves. Buried Treasure, Volume One concludes with "Close The World At Five," written in 1969 as Buffett worked a daily 9-to-5 before his nightly gigs at the Admiral's Corner in Mobile, a fitting end for this initial volume of historic recordings. Further editions of Buried Treasure will be announced soon.
Listen to "Close the World at Five"
Just after the release of Buried Treasure, Volume One, Buffett is set to perform at the Florida Hurricane Benefit Concert, "Tryin' to Reason…" Uniting with Kenny Chesney, Toby Keith and Jake Owen together with the Coral Reefer Band, the benefit concert will take place this Sunday, November 19, at the Donald L. Tucker Civic Center in Tallahassee, Fla. The proceeds from the one-night only sold-out engagement will help communities in Florida, Puerto Rico, and the islands affected by hurricanes in 2017.
For more information, visit www.mailboatrecords.com and www.margaritaville.com.
Listen to "Don't Bring Me Candy"
Track Listing
1.) The Mobile Days (narration)
2.) Don't Bring Me Candy
3.) Lightfoot (narration)
4.) The Circle Is Small
5.) Clunker Chord (narration)
6.) Abandoned On Tuesday
7.) Technology (narration)
8.) I Can't Be Your Hero Today
9.) Blame It On New Orleans (narration)
10.) Rickety Lane
11.) Sgt. Pepper in the Gumbo Pot (narration)
12.) The Wino Has Something to Say
13.) Going Where the Wind Takes You (narration)
14.) California Dreamin'
15.) Nashville, Here We Come (narration)
16.) The Gypsy
17.) Hopelessly Gone (narration)
18.) Hopelessly Gone
19.) Simple Pleasures (narration)
20.) Simple Pleasures
21.) Close the World at Five (narration)
22.) Close the World at Five
23.) Thank You's (narration)
Watch the trailer for Buried Treasure

Latest posts by Best Classic Bands Staff
(see all)