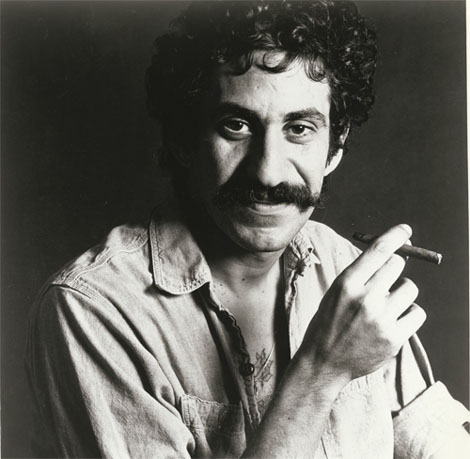 Every early passing of a true talent is tragic. But the death of Jim Croce on this day in 1973 in a small plane crash is especially poignant. In his all-too-brief time as a folk-rock singer-songwriter on the pop charts, he displayed a warm and at times lovingly humorous gift for telling stories and conveying emotions with a genuinely populist touch. Combined with his gifts as a performer, it augured a long and winning career.
The Philadelphia native had spent a number of years pursuing his craft, first during his time at Villanova University (where he was friends with a fellow student who also had aspirations as a singer and songwriter, Don McLean). It was then that he learned a valuable skill that informed the records he later made: being able to perform "anything that the people wanted to hear: blues, rock, a cappella, railroad music… anything," he later explained. He also spent time playing as a duo with his wife Ingrid. During those years he worked a variety of blue collar jobs to keep their heads afloat through which he met the kinds of characters he would write about and developed a deft feel for the feelings and concerns of the common people.
His break came when he began working with the production team of Terry Cashman and Tommy West, and subsequently signed a deal with ABC Records. Croce's 1972 debut album You Don't Mess Around with Jim yielded him a #8 single with its snappy title tune and a #17 hit with the affecting "Operator (That's Not the Way it Feels). " His next LP release in early 1973, Life and Times, brought him his first #1 on the Hot 100, "Bad Bad Leroy Brown." His posthumously released I Got a Name earned Croce a #10 hit with its title song and a #9 single with "I'll Have to Say I Love You in a Song." "Time in a Bottle" from his debut LP was re-released as a single just after his death and went to #1.
Croce died on tour when his plane crashed just after take-off in Natchitoches, LA, on September 20, 1973. He was just 30 years old. Also killed were his accompanist, Maury Muehleisen, manager/booking agent, road manager, the comedian George Stevens who was Croce's opening act, and the pilot. In just two years as a national presence, Croce became a beloved artist whose songs still play and resonate with listeners on oldies radio. His son A.J. Croce, an infant at the time of his father's death, emerged in the 1990s as a successful singer-songwriter in his own right. He released a cover of "I Got a Name" in 2018.
In March 2022, Croce was honored posthumously by the Pennsylvania Historical and Museum Commission with a historical marker.
Related: Jim Croce – What might have been

Latest posts by Best Classic Bands Staff
(see all)