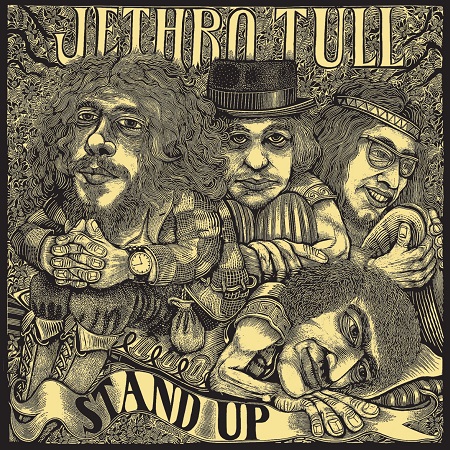 Jethro Tull's second album, 1969's Stand Up, is getting the deluxe treatment this fall from Parlophone Records, which is releasing a 2-CD/1-DVD "Elevated Edition" of the set. Out November 18, the package features rare and unreleased music, plus live footage from a 1969 concert in Sweden.
Stand Up, which peaked at #20 in the U.S. and was eventually certified gold, marked an early turning point for Jethro Tull with the addition of guitarist Martin Barre, along with Ian Anderson's introduction of folk-rock influences to the group's blues-based sound.
Related: Read Best Classic Bands' Ian Anderson feature interview
Stand Up (The Elevated Edition), will include the original album and bonus tracks (including the previously unreleased "Bouree") remixed in 5.1 surround and stereo by Steven Wilson; a 96/24 flat transfer of the original stereo master tapes; a 96/24 flat transfer of the original mono and stereo mixes of "Living In the Past" and "Driving Song"; and video of the band performing live in January 1969. (Pre-order it here.)
Also included is a 112-page booklet with an extensive history of the album, track-by-track annotations by Anderson, plus rare and unseen photographs and the original album's pop-up book artwork, designed by James Grashow.
Watch Jethro Tull perform "Bouree" in 1969
The DVD includes concert footage of the band performing "To Be Sad Is a Mad Way to Be" and "Back to the Family."
Track Listing:
CD1: Stereo Mixes by Steven Wilson
"A New Day Yesterday"
"Jeffery Goes To Leicester Square"
"Bouree"
"Back To The Family"
"Look Into The Sun"
"Nothing Is Easy"
"Fat Man"
"We Used To Know"
"Reasons For Waiting"
"For A Thousand Mothers"
"Living In The Past"
"Driving Song"
"Bouree" – Morgan Version*
"Living In The Past" – Original 1969 Stereo Single Mix
"Driving Song" – Original 1969 Stereo Single Mix
"A New Day Yesterday" – BBC Sessions
"Fat Man" – BBC Sessions
"Nothing Is Easy" – BBC Sessions
"Bouree" – BBC Sessions
CD2: Live at The Stockholm Konserthuset (January 9, 1969)
Introduction
"My Sunday Feeling"
"Martin's Tune"
"To Be Sad Is A Mad Way To Be"
"Back To The Family"
"Dharma For One"
"Nothing Is Easy"
"A Song For Jeffery"
"To Be Sad Is A Mad Way To Be" – first show version
"Living In The Past" – Original 1969 Mono Single Mix
"Driving Song" – Original 1969 Mono Single Mix
Stand Up Radio Spot #1
Stand Up Radio Spot #2
DVD1: Audio and Video
Steven Wilson remixes in 96/24 PCM stereo and DD/DTS 5.1 surround
96/24 flat transfer of Stand Up original stereo master tapes from June 5, 1969
96/24 flat transfer of original mono and stereo mixes of "Living In the Past" and "Driving Song"
Video footage from Stockholm 1969: "To Be Sad Is a Mad Way to Be" and "Back to the
Family"
* Previously Unreleased

Latest posts by Best Classic Bands Staff
(see all)